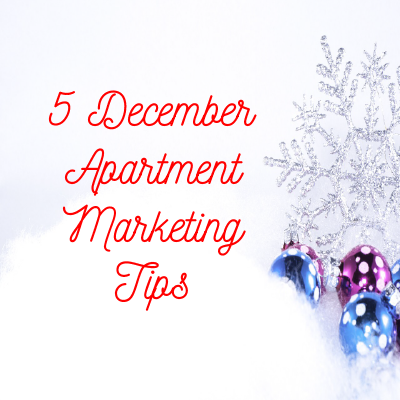 December 21, 2017 12:39 pm
Leave your thoughts
Last Modified: November 14, 2019 9:17 am
Reading Time:
2
minutes
December is here! The air is getting chillier, your residents are getting cozy in their apartments, and you're looking for some marketing tips to keep the leases coming! Here at Market Apartments, we've compiled our best 5 December Marketing Tips for Apartments:
1. Host a Holiday Party or an Ugly Sweater party
Have you considered hosting a holiday party for your residents and their friends? Referrals (LINK) are a fantastic way to get more leases during the slower months. Encourage your best residents to bring friends to the holiday party so they can experience for themselves the friendly atmosphere of your property! You can also offer property tours for anyone interested, and provide residents crafts like making wreaths or decorating cookies.
You can also host an ugly sweater party for your residents who would rather celebrate winter with ugly sweaters! Everyone loves donning their Grandmother's 70s sweater and mingling over hot cocoa!
2. Send out holiday cards
Sending out holiday cards to businesses or neighborhoods near you reminds people you are still leasing, and also could get you a referral! Why not send out a holiday card to people who toured the property but have not yet filled out an application?
3. Post festive social media posts!
It's always a good idea to be posting regularly on social media (LINK), but December presents an especially great opportunity to post on Instagram, Facebook, Pinterest, and Twitter. Take a Snapchat of your party and post it to your story, or include an Instagram photo of the free hot chocolate you have in the lobby. Posting on social media not only increases your visibility on the Internet (which is great for your SEO LINK), but it also reminds your residents that you have not disappeared into hibernation during these chilly months, when you probably have revised winter hours.
4. Speaking of social media…run an online holiday contest!
Why not get your residents involved with a "Best Snowflakes Made" contest or "Best Decorated Door for the Winter"? You can offer a discount off rent that month, a referral bonus, or a gift card. Your residents will appreciate your jolly spirit!
5. Hold Resident Events Specific to your Resident Demographic

After completing your resident persona (LINK), you'll have a good idea of your resident demographic. If you have a lot of children in the complex, why not hire an Old Saint Nick to hear what the youngsters want for the holiday season? To be inclusive, you can host a different holiday event each day of the week for Hanukkah, Kwanzaa, or just plain old fashioned Winter Party!

Tags: apartment marketing, december digital marketing, marketing tips for apartments, seasonal marketing


Categorised in: Apartment Marketing, For Property Managers

This post was written by Market Apartments