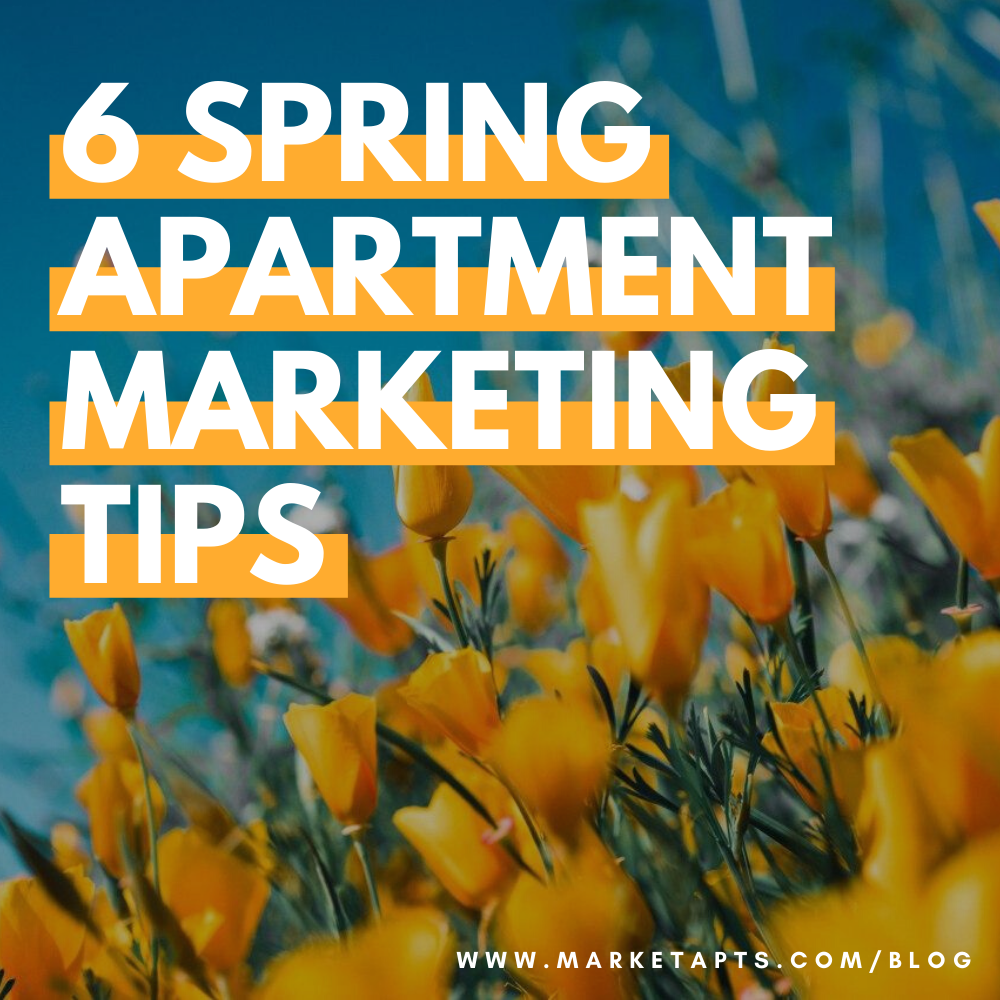 April 11, 2018 12:49 pm
Leave your thoughts
Last Modified: August 10, 2022 8:52 am
Reading Time:
5
minutes
Spring has finally sprung! The sun is out, the flowers are blooming, and your marketing efforts could use some blossoming as well. Spring is a wonderful time for apartment marketing efforts. Prospective residents are starting to analyze where they will be located during the summer, and if they will be moving in the fall. This is often the peak of student housing leases for the following year. During spring, and summer more people are inclined to move since the weather is nice. With that being said, it is time to refresh your marketing efforts and orient them towards the new season. Here we've compiled our favorite 6 spring apartment marketing tips. These ideas will help you to focus on your residents while also increasing your leads.
1 – Spring Clean Your Website  
Spring is also a great time for cleaning. At Market Apartments, we like to do spring cleaning on our virtual spaces as well as our physical ones. Because of that, we love to unveil website updates and upgrades. Is it time for your website to be upgraded? Now is the perfect time to prepare for the upcoming influx of leases! Here are a few signals that may be telling you it is time to make website changes.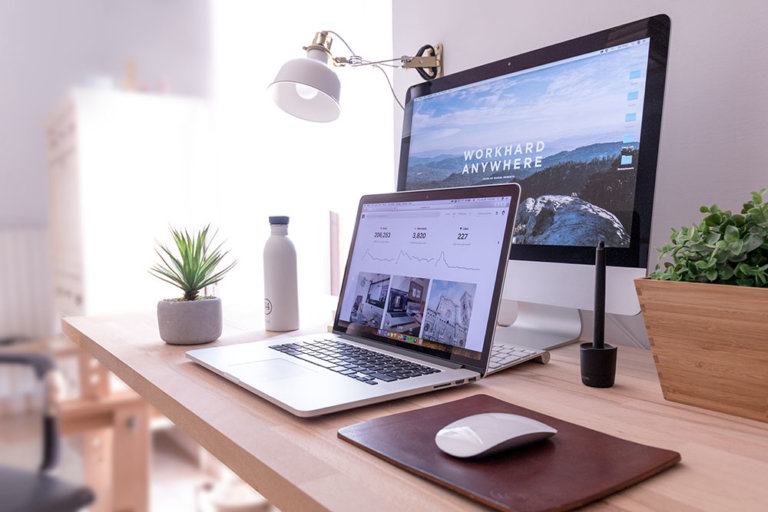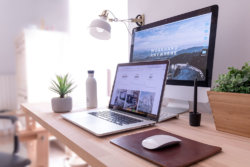 2- Host a Resident Easter Egg Hunt 
This is an especially good tip for apartments with families, but works for millennial apartments as well. Simply hide some plastic eggs around your apartment complex, give your residents little baskets, and watch the fun ensue. For maximum marketing efforts, we recommend hiding cards in the eggs that ask for reviews on Yelp and Google. In addition to review cards, you can also hide prizes like candy, coins, or even a few big prizes like $500 referral bonus, or $100 off rent next month. Essentially you could plan any spring activity, that will your apartment residents to feel more apart of your community. You may consider planning the following Spring Resident events along with doing an Easter Egg Hunt. 
St. Patricks Day Party (March 17th)
Earth Day Celebration (April 22nd)
Spring Dinner Party
Spring Tea Party
3- Start a Community Garden
Spring is great for growing things; everyone knows that. So, how about growing herbs, vegetables, and flowers in a community garden? Do you have a communal green space outside your apartment that is not getting much love? Let your residents know that they may plant some herbs or vegetable seeds, and see your community come together.
This could be the perfect way to celebrate Earth Day which occurs on April 22nd. If you're unable to start your own community garden, you could purchase small succulent plants to hand out to your residents. For a fun resident retention idea, you can even hand out little bags with plant seeds (and perhaps a note reminding them about renewing!). Here are a few plants that are perfect for Spring. 
Vegetables
Broccoli
Brussels Sprouts
Spinach
Carrots
Flowers
Daffodils
Primrose
Tulips
Camellia
Star Magnolia
Trees
Birch
Dogwood
Willow
Magnolia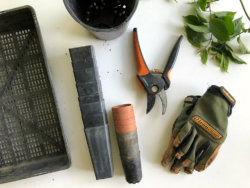 4- Hold a Social Media Contest
Do you have a new social media profile, and you'd like to get more likes or followers? This traffic on your social media, could result in more leads. Let your residents know you're holding a social media contest for the summer: Anyone who takes a photo of the property, tags your property and/or uses a unique hashtag for your property gets a discount off next month's rent. You can also hand out prizes for most likes, most follow, etc. You could host any sort of giveaway that will help your residents become more involved. It will also let your residents know that you care about them.
If you're not interested in a social media contest, you can utilize social media in a variety of different ways. From posting your specials to highlighting your spring resident events, there are so many strategies that can enhance your social media. It can be a fun, and effective way to connect with your residents on a different level. It can also act as a great reminder for rent payments, policy changes, or a newsletter. The world that we live in has gone fully digital! So this season, hype up your social media, and give residents the opportunity to be a part of it.
5- Give Resident Retention Gifts 
Spring is a great time to send your residents the best wishes. The winter months can be very hard on people for a variety of reasons, and this the perfect time to give them a little pick me up. Your residents don't have to big, and they don't have to cost a lot of money. It can truly be anything that reminds your residents how awesome they are. Here are a few of our favorite spring resident gifts below. 
Gift #1: Oven Mitts: Hand out oven mitts with spatulas and an invite to your Spring BBQ Kickoff! We'll even send you a free label like the one in the picture! All you have to do is print it off, pick up an oven mitt, brownie mix, and spatula at your nearest all-a-dollar, and you've got yourself a great resident gift for only around $3.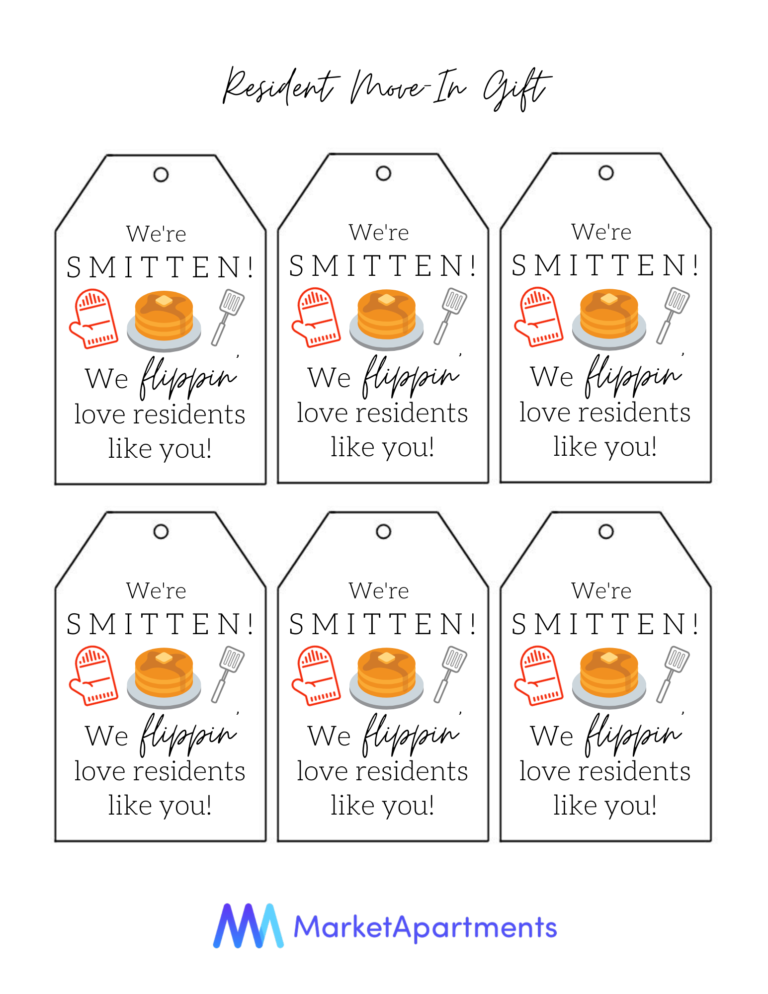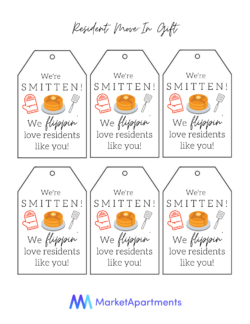 Gift #2: St. Patricks Day Gifts: Use gold coins, gold or green candies, or rainbows to symbolize the leprechaun holiday. You could include saying such as "We struck gold with you as our resident", or "We are lucky to have you as our resident".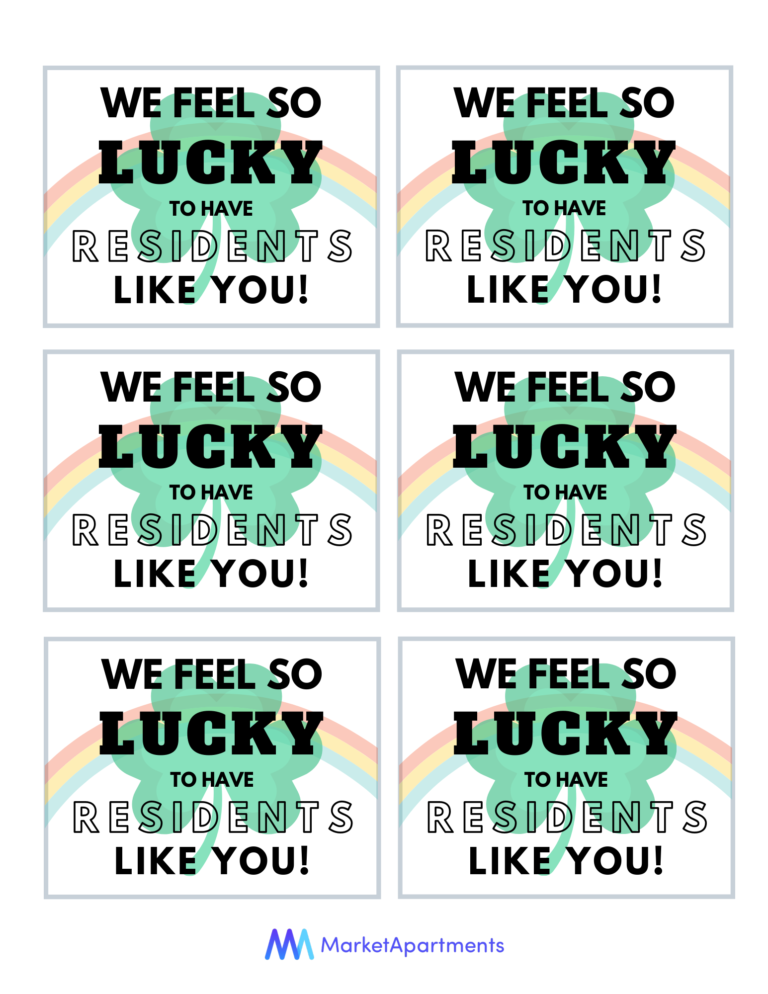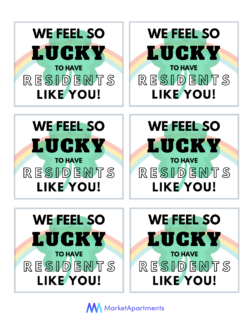 Gift #3: Bloom Gifts: While the flowers are blossoming, you can send your residents the best wishes for the new season. You could make paper flowers, hand out seeds to plant flowers, and use sayings like "We're so glad to have you in our neighborhood, we hope you bloom here!"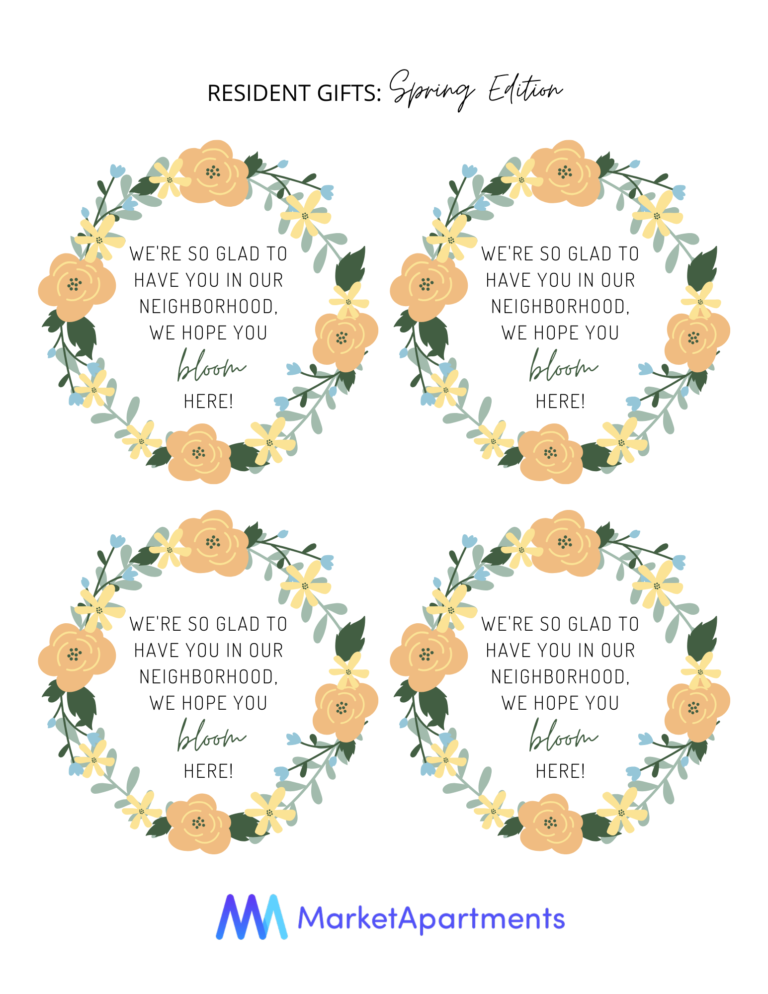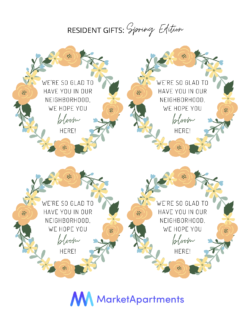 6- Host a Pool Party
It's springtime, and the living's easy! Reward your residents with a grand opening of the pool party. Depending on your local weather, your pool may open earlier, or later in the season. Regardless, you can get ready to host an amazing pool party. Here are some ideas to make your pool party creative, and a blast!
Host A Dive-In Movie (Project a movie near your pool, and invite residents to bring their own floats!)
Pick a Theme (Luau, Glow in the Dark, Carnival, etc)
Include Poolside Games (Cornhole, Volleyball, etc)
To Conclude…
Of course, the easiest apartment marketing advice we can give is to consult an expert apartment marketer. If you'd like a free consultation contact us today.
If you liked these tips, consider downloading our Resident Retention Guide that is filled with over 50 resident event ideas for every season.
Categorised in: Apartment Marketing, For Property Managers
This post was written by Market Apartments