FACEBOOK ADS MANAGEMENT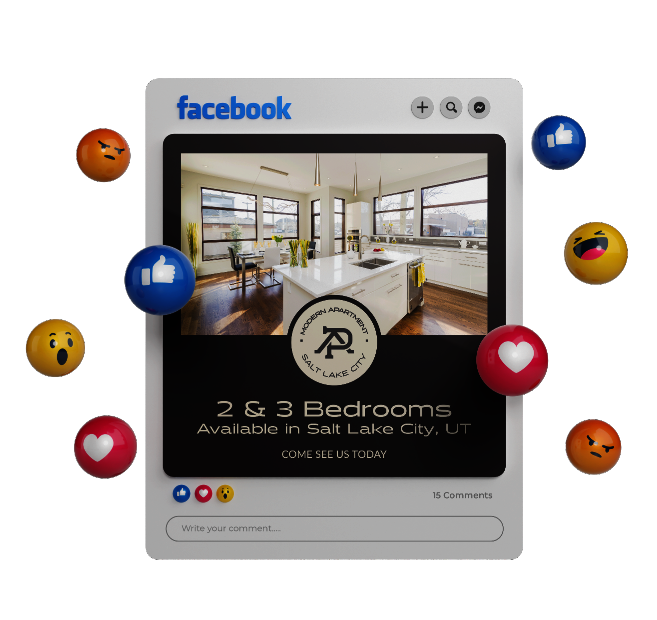 Getting found online is essential to getting new renters, and if you're utilizing social media as part of your marketing campaign (as you should be), optimizing your Facebook ads campaigns is crucial. Gone are the days when flyers and street signs were enough to attract prospects. With today's technology, Facebook ads should be a key part of your marketing approach.

Smart budgeting, continuous monitoring, and utilizing Facebook's analytics and tracking tools allow you to refine your strategies for better performance. A well-crafted Facebook marketing strategy can take your online presence to the next level, driving not just clicks but actual foot traffic to your property. As an apartment marketing agency with a thorough understanding of Facebook advertising for apartments, we can offer practical tips, best practices, real-life examples, a unique Facebook Ads Kit, and complete Facebook Ads Management! We'll help you craft compelling campaigns that resonate with your target audience, drive engagement, and boost conversions. If you want to harness the power of social media, multifamily social media management is the way to go. You'll be able to streamline your marketing efforts with a more cohesive brand and be more efficient with your ad budget.

As we said, Facebook has spent years honing its ads and algorithm, so ads get shown to people most likely to click or take action. That's why it's a great platform for Pay-Per-Click advertising. They do all the targeting for you. With paid Facebook advertising, you can supercharge your reach, targeting renters who are in the 'ready to move' stage and get quicker conversions. This saves you time, energy, and stress because you don't have to do it all. Your Facebook marketing plan can be a dynamic blueprint that evolves based on analytics, seasonal renter behavior, and what makes your apartment community unique. When it comes to FB apartment advertising, tracking user behavior on your website is key. That's where Meta's Pixel comes in. It helps you retarget potential renters with relevant ads based on their searches. It's incredibly effective when advertising rentals on Facebook.

In fact, we know just how well Facebook marketing works for apartment communities. Check this out!