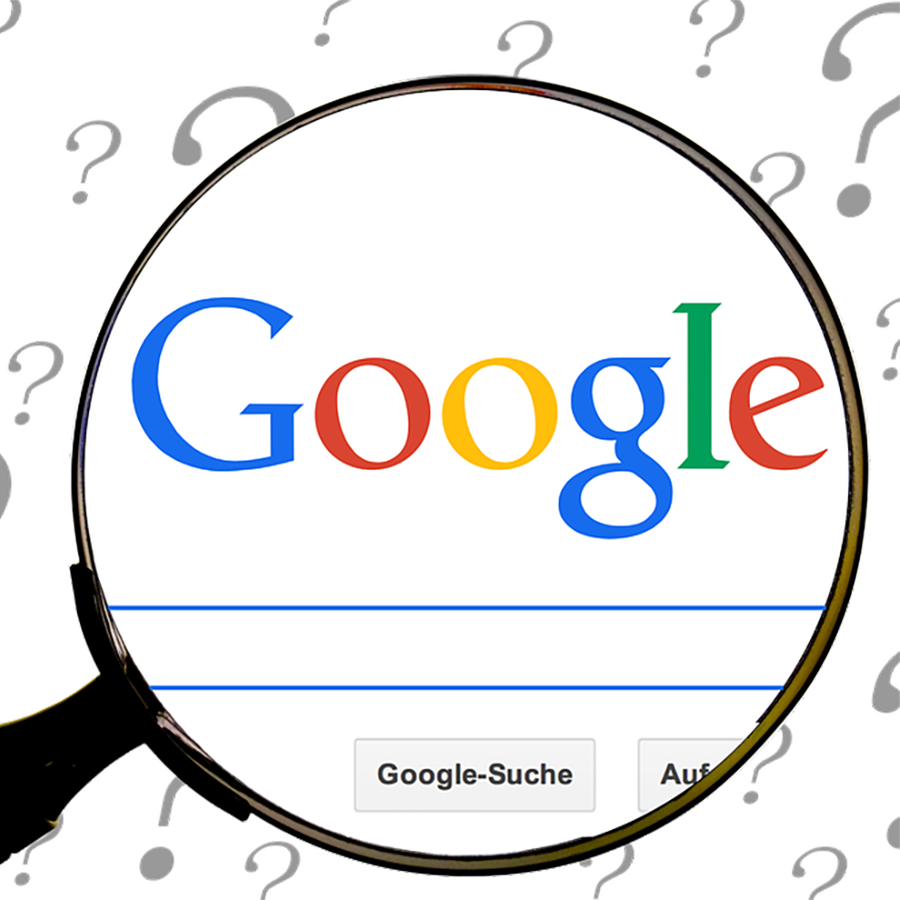 July 10, 2019 9:59 am
Leave your thoughts
Last Modified: November 20, 2023 12:05 pm
Reading Time:
6
minutes
Google is constantly making changes to improve user experience. With Google being the most widely used search engine by far, it's important for businesses and marketers alike to keep up with the changes as it can affect apartment marketing trends. So what's new with Google?
Well, a few things! Google has made search results more diverse and now provides users with more results related to their search query.  This blog will explain how Google is doing this, and what it means for the apartment industry, so let's get to it.
What's new with Google?
Google has decided they will no longer show search results from more than two domains in a given search. The goal is to give users more results by providing information from more domains or websites. For example, when a prospect searches for "apartments in Colorado," Apartments.com will not take up the entire first page of search results.
With the new update, you might also see results from Zillow, Trulia, Apartment Finder, etc. Prospects will now have so many more options to choose from when they're apartment searching. New apartment marketing trends indicate that you should be taking full advantage of this Google update by ensuring your website content adds value to the search query. More on that subject to come.
Related Search Results
Another Google update you may have seen while doing your own Google searching is in regard to the "Related Search" results. It appears that Google is attempting to provide users with even more relevant search results than before. As stated in our previous blog, content is everything! For example, if your content gives detailed information about the neighborhood your property is located in, then your apartment community could be featured in the "related search results", or in one of the new neighborhood pages seen below.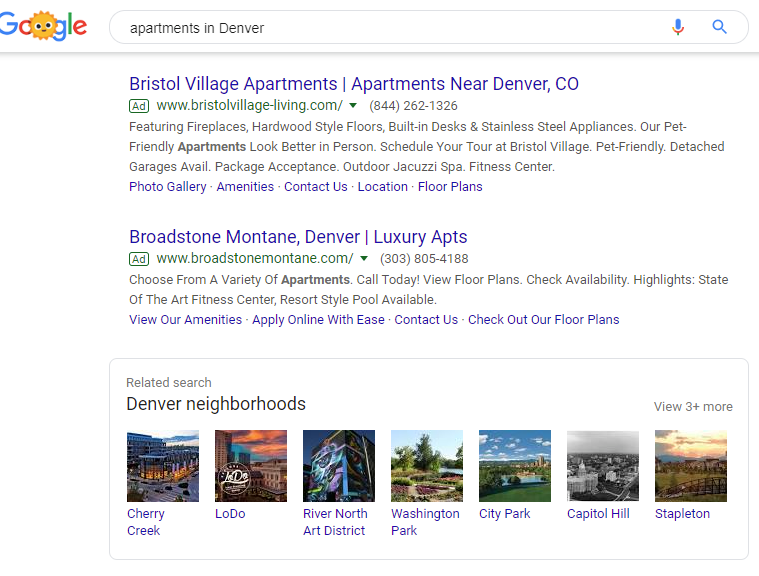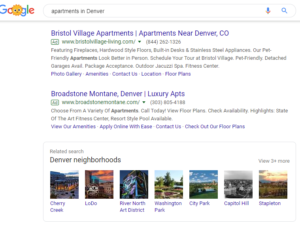 Having organized content that provides users with relevant information to what they may be searching for is definitely in our top 5 most important apartment marketing trends of 2019! Be sure to check out our blog, "Content is Everything" for a more in-depth look into how your website content affects your Google rankings.
Local Search Optimization
Local businesses are given priority in Google's local search algorithm because they are situated close to the consumer. This is crucial in the multifamily industry because renters frequently search for apartments in particular areas. Landlords can enhance their Google My Business listing to show up for relevant keywords in local search results.
Providing complete and correct details about the property, such as the address, opening hours, and phone number, is part of this. As Google takes into account both the amount and quality of reviews when prioritizing local search results, landlords and property managers can also encourage tenants to provide feedback. Property managers should also make sure that their website is optimized for local search, which includes incorporating locally relevant keywords and content.
Google's Algorithms
Because Google's algorithms are always changing, apartment communities have to adapt their marketing plans in order to remain competitive. Recent changes to Google's search algorithm, for instance, have increased the emphasis on user experience and content quality, encouraging the development of tactics like user-focused content and page experience optimization.
The way apartment buildings advertise themselves online has also changed as a result of these changes. Apartment complexes might benefit from local SEO to boost their visibility to prospective tenants, given Google's concentration on local search results. They have to do this by adding pertinent keywords and details about their location, amenities, and pricing to their website and online listings.
Online reviews and ratings have become an important part of apartment marketing as a result of Google's algorithms. Apartment complexes have to set a priority on maintaining positive reviews and responding to negative feedback as soon as possible because Google has integrated reviews into search results and Google Maps. This has prompted the adoption of social media and other online channels to interact with renters and promote positive feedback, as well as the growth of reputation management tactics.
How does it affect Apartment Marketing Trends?
So how does this benefit your apartment community? Well, with these awesome new updates, Google is giving your websites the chance to shine. If your apartment website was already ranking high with Google, then you shouldn't be affected. Keep up the good work! However, if you find your website to be on the last pages of Google search results, then now is the time to act. With compelling and relevant content and sufficient keywords, your apartment community can end up closer to the first or second page of Google results. You may also want to consider using Google Ads to get you there even quicker! If you're interested in taking advantage of these Google updates with PPC (Pay-Per-Click) ads, contact our SEO specialists today!
Turn Google Apartment Marketing Trends into Experience-Driven Results
Apartment complexes should put their attention into making the possible tenants' experience a priority if they want to convert Google apartment marketing trends into outcomes that are based on their user-centricity. This involves providing attention to their needs at each stage of the apartment search and lease process.
To achieve this, one strategy is to take advantage of Google's focus on user experience and content quality. Apartments can produce interesting and instructive content that addresses the most frequent queries and worries of prospective renters, such as those regarding floor plans, amenities, and cost. Additionally, they may localize their website and online listings, making it simple for users to find them when looking for apartments nearby.
Apartments can generate results that are driven by the user's experience and stand out in a crowded market by adopting a user-centric strategy and leveraging Google's apartment marketing trends.
Latest Apartment Products and Services
Success in the apartment marketing industry depends on being current with Google trends. One major trend that has developed in recent years is the significance of mobile optimization. Because more and more potential tenants are looking for apartments on their mobile devices, apartment buildings have to make sure that their property websites are user- and mobile-friendly.
Leveraging video content is another trend that has surfaced in apartment marketing. In order to give potential renters a better idea of what it might be like to live in the complex before even visiting, video tours of the apartments and amenities are becoming more and more common. Because of Google's focus on user experience and content quality, producing excellent video content can help apartment buildings stand out and draw in more prospective renters.
Online Reputation Management
The significance of online reputation management has also become an evolving multifamily trend. Apartment complexes are compelled to actively manage their internet reputation through review sites like Yelp and Google My Business as more and more prospective tenants conduct online research before making a decision. In order to raise the complex's overall rating, this entails keeping an eye on reviews, replying to them, and motivating tenants to leave positive ones.
Google Ads Changes
Google has made a number of updates to the platform in recent years. Google Ads is an important part of multifamily marketing. For example, Google's "lead form extensions" allowed property managers to directly collect leads from their Google Ads campaigns. New targeting options were also made available by Google, such as "in-market audiences," which let landlords target renters who are actively looking for rental units.
Multifamily Declining Marketing Trends
Apartment flyers, signs, and brochures have long been well-liked marketing strategies for multifamily buildings, and they are still popular in the market. These resources can be utilized to promote available apartments, emphasize a property's features and facilities, and give prospective tenants important details about the neighborhood.
Multifamily marketing has been trending more recently toward digital platforms including social media, email marketing, and internet listings. However, flyers and brochures continue to be a part of the marketing mix.
Digital marketing changes all the time, so it's important to keep up on the trends. Google is the number one search engine prospects use to find your apartment communities. At Market Apartments, we are constantly looking at new apartment marketing trends and staying up to date on the changes with Google as well as other resources used to bring in leads. Follow us on Instagram, Twitter, or Facebook to be on the lookout for all things apartment marketing. We find ways to bring apartment communities more leads and keep their current residents happy!
Categorised in: Apartment Marketing, For Property Managers
This post was written by Dana Perez
Dana Perez is the operations manager and writer at Market Apartments. She writes about apartment marketing strategies and shares it with our audience.