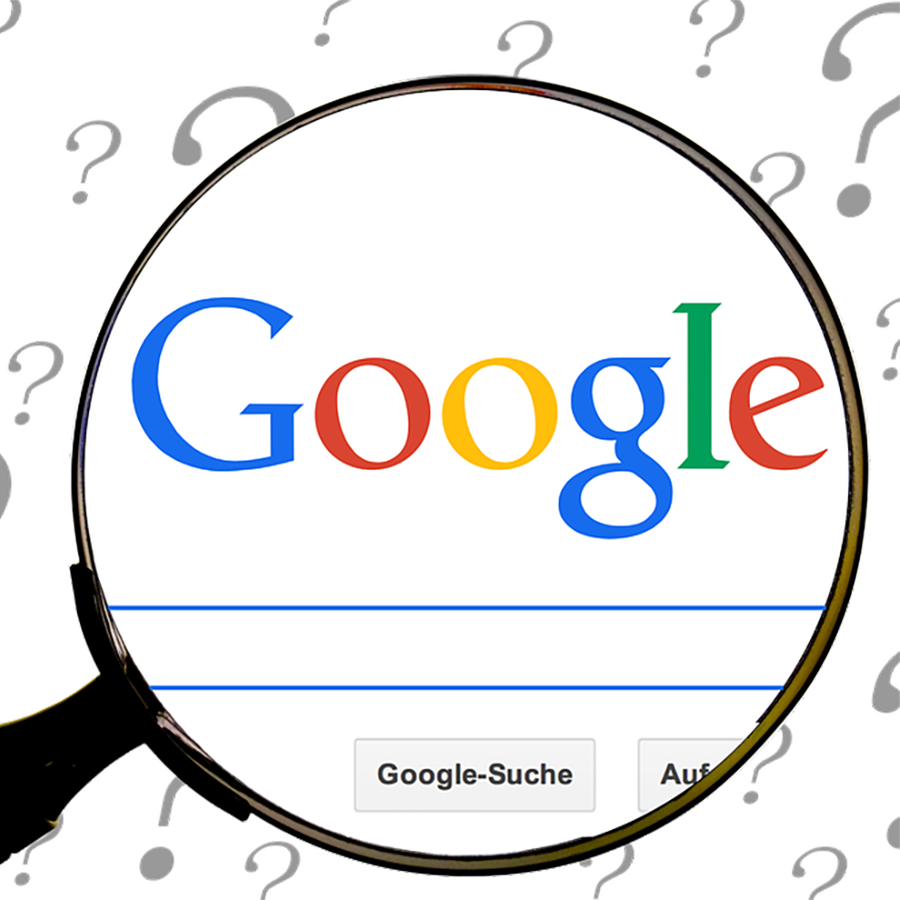 July 10, 2019 9:59 am
Leave your thoughts
Last Modified: August 10, 2022 5:24 pm
Reading Time:
3
minutes
Google is constantly making changes to improve user experience. With Google being the most widely used search engine by far, it's important for businesses and marketers alike to keep up with the changes as it can affect apartment marketing trends. So what's new with Google?
Well, a few things! Google has made search results more diverse and now provides users with more results related to their search query.  This blog will explain how Google is doing this, and what it means for the apartment industry, so let's get to it.
What's new with Google?
Google has decided they will no longer show search results from more than two domains in a given search. The goal is to give users more results by providing information from more domains or websites. For example, when a prospect searches for "apartments in Colorado," Apartments.com will not take up the entire first page of search results.
With the new update, you might also see results from Zillow, Trulia, Apartment Finder, etc. Prospects will now have so many more options to choose from when they're apartment searching. New apartment marketing trends indicate that you should be taking full advantage of this Google update by ensuring your website content adds value to the search query. More on that subject to come.
Related Search Results
Another Google update you may have seen while doing your own Google searching is in regard to the "Related Search" results. It appears that Google is attempting to provide users with even more relevant search results than before. As stated in our previous blog, content is everything! For example, if your content gives detailed information about the neighborhood your property is located in, then your apartment community could be featured in the "related search results", or in one of the new neighborhood pages seen below.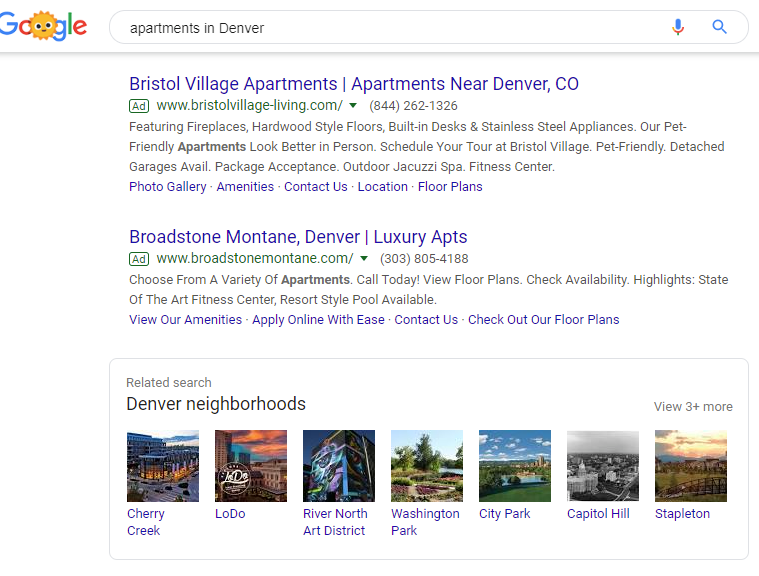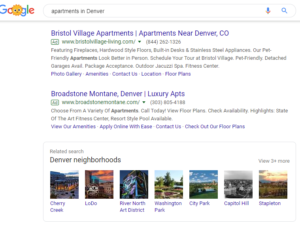 Having organized content that provides users with relevant information to what they may be searching for is definitely in our top 5 most important apartment marketing trends of 2019! Be sure to check out our blog, "Content is Everything" for a more in-depth look into how your website content affects your Google rankings.
How does it affect Apartment Marketing Trends?
So how does this benefit your apartment community? Well, with these awesome new updates, Google is giving your websites the chance to shine. If your apartment website was already ranking high with Google, then you shouldn't be affected. Keep up the good work! However, if you find your website to be on the last pages of Google search results, then now is the time to act. With compelling and relevant content and sufficient keywords, your apartment community can end up closer to the first or second page of Google results. You may also want to consider using Google Ads to get you there even quicker! If you're interested in taking advantage of these Google updates with PPC (Pay-Per-Click) ads, contact our SEO specialists today!

Digital marketing changes all the time, so it's important to keep up on the trends. Google is the number one search engine prospects use to find your apartment communities. At Market Apartments, we are constantly looking at new apartment marketing trends and staying up to date on the changes with Google as well as other resources used to bring in leads. Follow us on Instagram, Twitter, or Facebook to be on the lookout for all things apartment marketing. We find ways to bring apartment communities more leads and keep their current residents happy!

Tags: Apartment Blogging, apartment marketing, apartment marketing ideas, Apartment Marketing Trends, apartment websites, content marketing, digital marketing, multifamily housing, property management, property managers


Categorised in: Apartment Marketing, For Property Managers

This post was written by Dana Perez