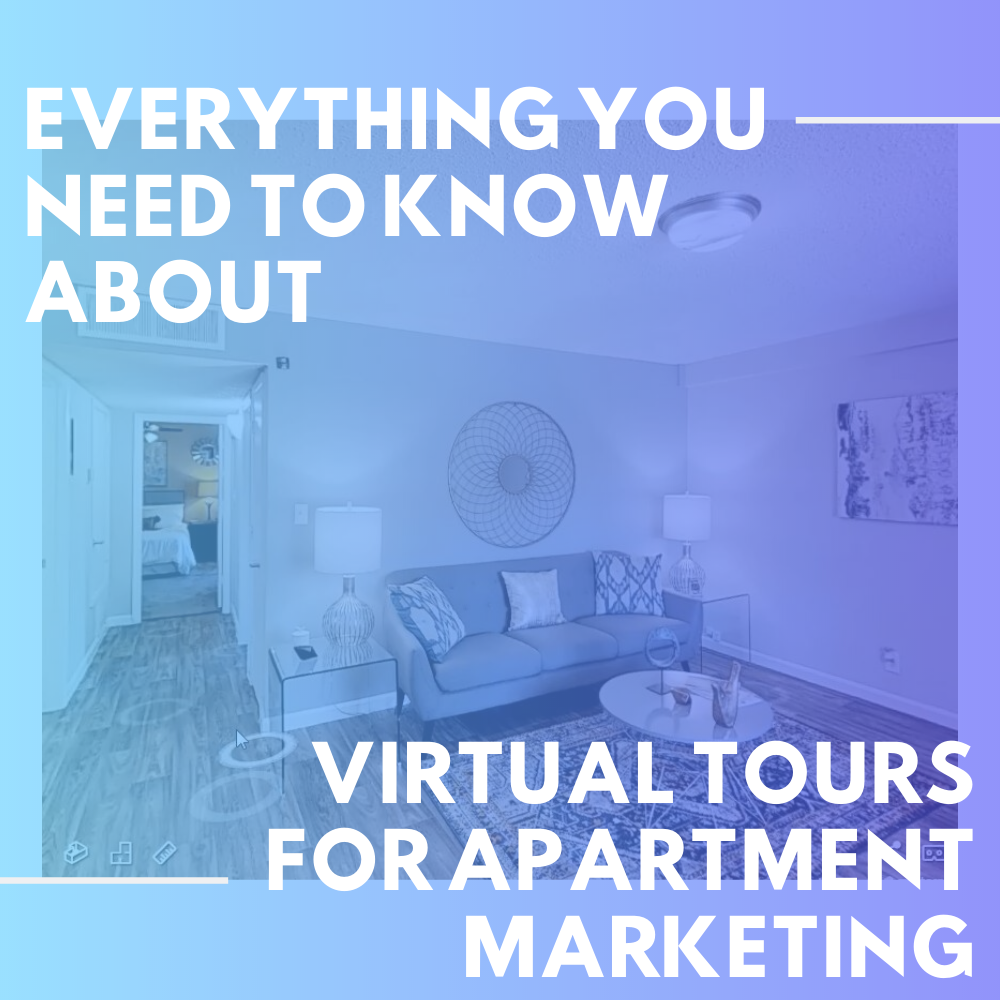 February 27, 2019 2:55 pm
Leave your thoughts
Last Modified: August 22, 2022 11:58 am
Reading Time:
3
minutes
Want apartment marketing secrets sent straight to your inbox?
Sign up for our newsletter below!
Virtual Tours for Apartment Marketing
I don't think I can stress the importance of virtual tours for apartment marketing services enough.  Especially when it comes to long term commitments like renting an apartment.  It's important for a prospect to know what they are getting themselves into before they sign that lease. The floor plan page is the most visited page on the website other than the home page. On top of that, it's often the most recommended update on apartment websites. So why not go a little bit above and beyond when it comes to floor plans? Why not give the prospect the chance to fully immerse themselves into the apartment? I'm talking about offering your future residents a tour of your community without ever leaving their home.
What are the Benefits of Virtual Tours for Apartment Marketing?
A few months ago we released post about the best apartment marketing ideas in 2019 and virtual tours for apartment marketing was on that list for a good reason. Virtual Tours are not only the future of floor plans, but they also come with benefits for both prospect and leasing staff alike! Here are some of the ones I felt are most noteworthy!
1. Interactive & User Friendly
Virtual Tours allow viewers to explore your property independently and in the way they wish. They can view the apartment room by room, and inspect everything without feeling any outside rush or pressure. We all enjoy shopping at our own pace and this allows your potential resident that luxury!
2. Saves Time & Energy
Time is money and anything that saves us money is a great idea. Virtual Tours not only reduce the time for prospects who want to look at the apartment but it also frees up the leasing staff from holding as many property tours.  This also allows people who can't make it within your hours of operation a chance to see the property. Your website never closes!
3. Filters Less Serious Inquiries Out
As I said above, allowing people to tour the property before ever setting foot there lessens the number of property tours your leasing staff has to host. It seems odd but this is one of those "less is more" situations. When given the option to see the property on your computer or phone it allows people to decide right then and there if they truly want to visit in person.
People who decide to come to visit are going to be the people who are more likely to rent from your property because they already want to or else they wouldn't have scheduled a tour! If your leasing staff has more time and energy to spend on these more serious inquiries the better the chance to get that prospect to sign a lease!
Just How Important Are Virtual Tours for Apartment Marketing?
In short, pretty important. We know that most renters (around 90%, in fact) find their apartments through the internet. More than 50% of apartment searchers take between 14 to 90 days to find an apartment. Apartment renters do not select housing on a whim. They research and plan and select the best housing for them, using the internet. Virtual tours are a strong and vital way to push your apartment community over the top.
How do we know virtual tours will help you in leads? A recent study found that apartment listings with virtual tours receive 87% more views than apartment listings without virtual tours. Yes, you read that right. 87%! Why the increase in views? Essentially, your potential residents can virtually tour your apartment unit from anywhere with a computer. You can reach leads who are out of town, or extremely busy (or even shy!).
How Do I Create a Virtual Tour?
The easiest way to make a virtual tour is with a Matterport camera. These things are incredible and have reshaped how the real estate industry shows properties and they are extremely easy to use! You simply set it up, scan the room then move it to the next room until you get every nook and cranny and the whole thing gets set up on the Matterport app on your tablet. The tricky part is getting the camera. They certainly aren't cheap so the more cost efficient method is to reach out to a company, like ours, that offers to create one for you!
Categorised in: Apartment Marketing, For Property Managers
This post was written by Market Apartments