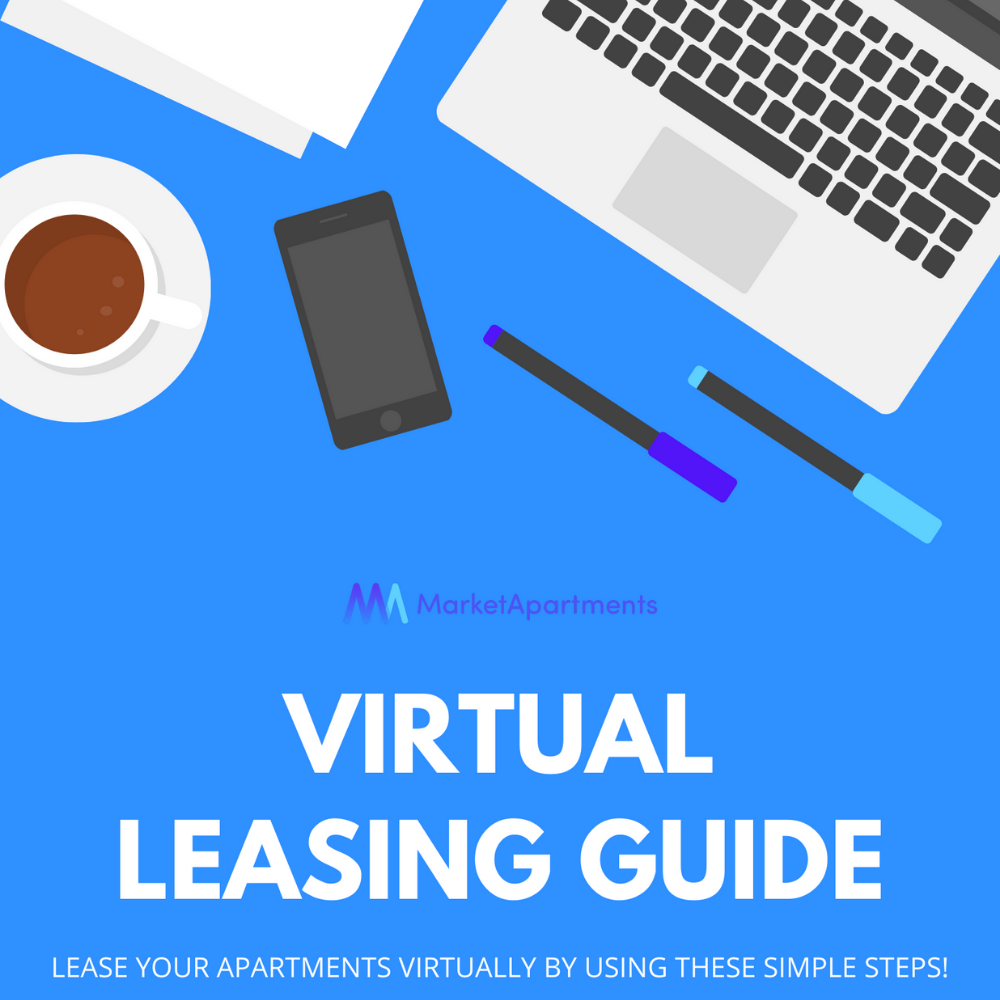 April 21, 2020 4:40 pm
Leave your thoughts
Last Modified: November 13, 2023 11:24 am
Reading Time:
3
minutes
The new normal for touring apartment buildings and units is now a fully digital experience. Download your free virtual leasing guide and start implementing emerging technology, and innovative strategies today. Over the past several weeks, every multifamily community has been able to see the impact of COVID-19.
Sudden economic changes and challenges have brought many new tasks for property management teams. Perhaps the most relevant transformations that have occurred are the ones involving virtual leasing. Properties are revising their current leasing strategies to avoid face to face contact and to maintain everything in a virtual manner. Virtual leasing is becoming an essential option for today's leasing agents.       
With this comes many new ideas, methods, and practices that can be implemented! However, it can also bring an abundance of challenges, and new questions. The Virtual Leasing Guide will walk you through a variety of categories that will enhance your current marketing strategy. It will also bring your team together, help you to stay motivated, and supply you with needed resources.
The Virtual Leasing Guide Will…
Educate you more about the concept of virtual leasing.
Show you a step-by-step model of how to utilize virtual leasing methods.
Provide you with ideas on how to motivate your property management team, and stay organized.
Give you 25+ ideas for virtual resident events, and resident satisfaction.
Supply you with new ideas for resident outreach, and resident retention.
Kickstart your virtual marketing efforts.
Supply you with the needed resources to combat the changes to the multifamily industry caused by COVID-19.
What is virtual leasing?

Virtual leasing transforms the entire leasing process to be fully online. This means that prospects can find all of the information that they need with a click of the mouse. It helps them to save time and feel confident enough to sign a lease, without seeing the property in person. This method is essential for all rental properties as it provides greater opportunities for more leases.
And virtual apartment tours allow leasing agents to show prospects the space, amenities, appliances, and answer any questions they might have along the way. With a virtual apartment tour, you give your potential renters an inside look into all your community has to offer. This gives them a chance to evaluate the space and decide to move forward without having to schedule anything unless they are really interested. Virtual leasing saves both you and your prospects a lot of time.
In reality, with the help of modern technology, virtual leasing is not all that different from walking through the property in person. That means everything from touring to signing a lease can be done without leaving your home.
However, in order to lease your apartments virtually, you will need to walk prospects through the entire virtual leasing experience. This guide gives you the opportunity to showcase your property in the best way, and to get started on your virtual journey!
How should I use the guide?
Once you have downloaded the guide, we recommend saving it to your device so that you can continue to reference back to it. Each category will walk you through new ideas, services, or leasing hacks. Next, you can take notes as you read through the guide to determine where you want your team to start.
Going category by category will help you to develop a detailed strategy for all of your virtual leasing efforts moving forward. Lastly, share the guide with your team so that everyone will be on the same page!
What should I do if I have questions about the guide?
If you have any questions about the guide or the content and services inside, feel free to contact us at Market Apartments. We are here to answer any of your questions, as well as to help you gain as much as you can from this guide. We also want you to be able to access the guide conveniently, and without any problems. So please do not hesitate to reach out in the case of any questions arising.
Share your thoughts!
Let us know in the comments below how you plan to use the guide, as well as the impact it has on your community! We can't wait to see your success.
Categorised in: Apartment Marketing
This post was written by Isabella Housel
Isabella Housel is a passionate and versatile professional writer with a deep love for words and a commitment to crafting compelling content that engages, informs, and inspires. With many years of experience in the industry, she has honed her skills across various genres, from creative storytelling to informative articles and technical documentation.