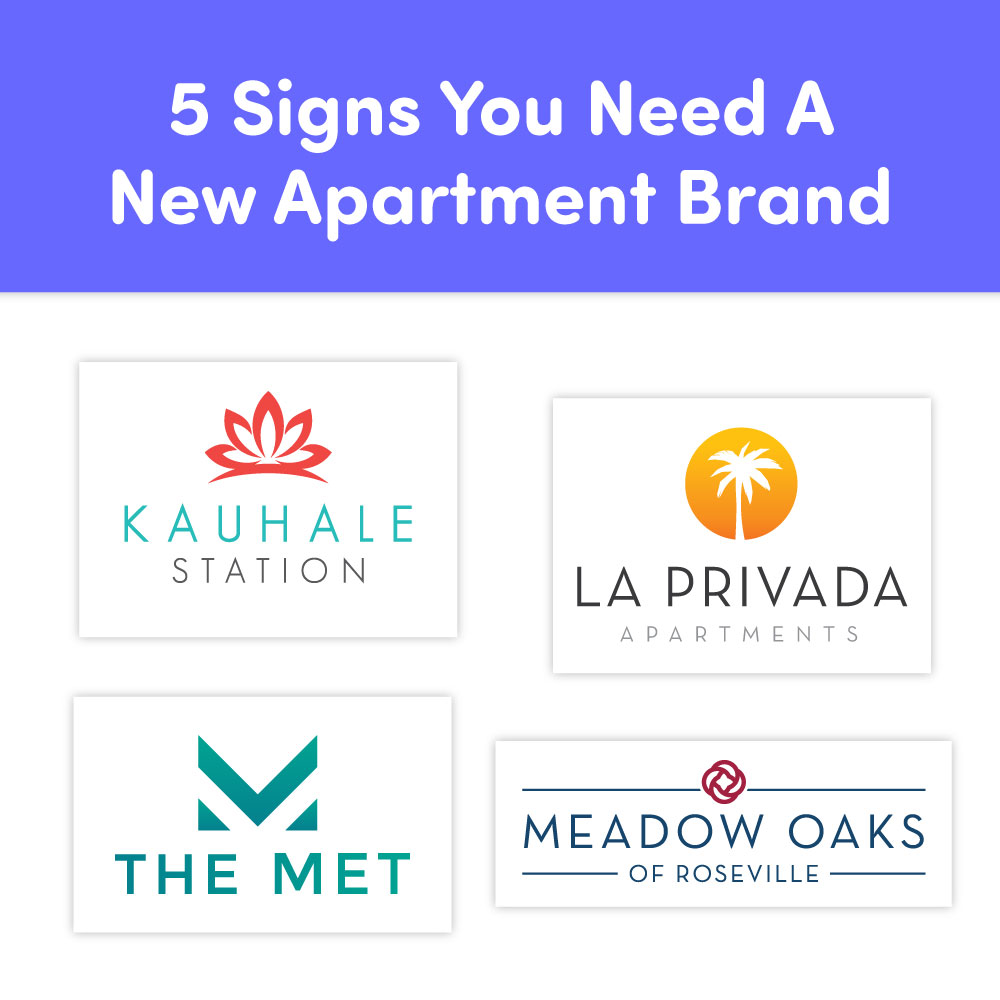 August 14, 2019 2:46 pm
Leave your thoughts
Last Modified: April 14, 2023 11:15 am
Reading Time:
4
minutes
When coming up with a marketing strategy, branding is everything. Because branding is your online image, marketing is all the strategies and objectives used to express that image,
Branding ensures that prospects can easily find and recognize you. When they recognize you, they will trust you, if the associations they have with your brand image are positive and clear. If your property is struggling to find new prospects, it might be time to consider rebranding.
Invest in new design elements with a more modern look, make sure they align with the feel of your property and what tenants can expect while living there. Be clear about your brand message and your target audience so that when you rebrand your apartment community, every aspect works together. Prospects will find you more easily, know what you're about, and be more likely to reach out for a tour.
When it comes to branding, logos are an essential part of the process. Logos are the face of the brand. Just as you keep up with new hairstyles and makeup trends, you must also keep up with design trends in marketing. Does your current brand truly represent your apartment community the way it should? Below are the top 2019 design trends for apartment marketing.
Have you ever thought about the distinction between marketing and branding? If you are heavily invested in marketing, you could even question the necessity to bother about branding at all. The fact is that branding and marketing are related yet different from one another.
Apartment Design Trends
The biggest trend seems to be minimalism. Designers are creating more with less, and we're loving the designs that play around with negative space. While not a new concept for logo design, 2019 fully embraces its minimalist roots, and many logos are returning to their early days of design. With that, logo design trends are following very specific patterns as people invest more in their brands. Here are a few of our favorites.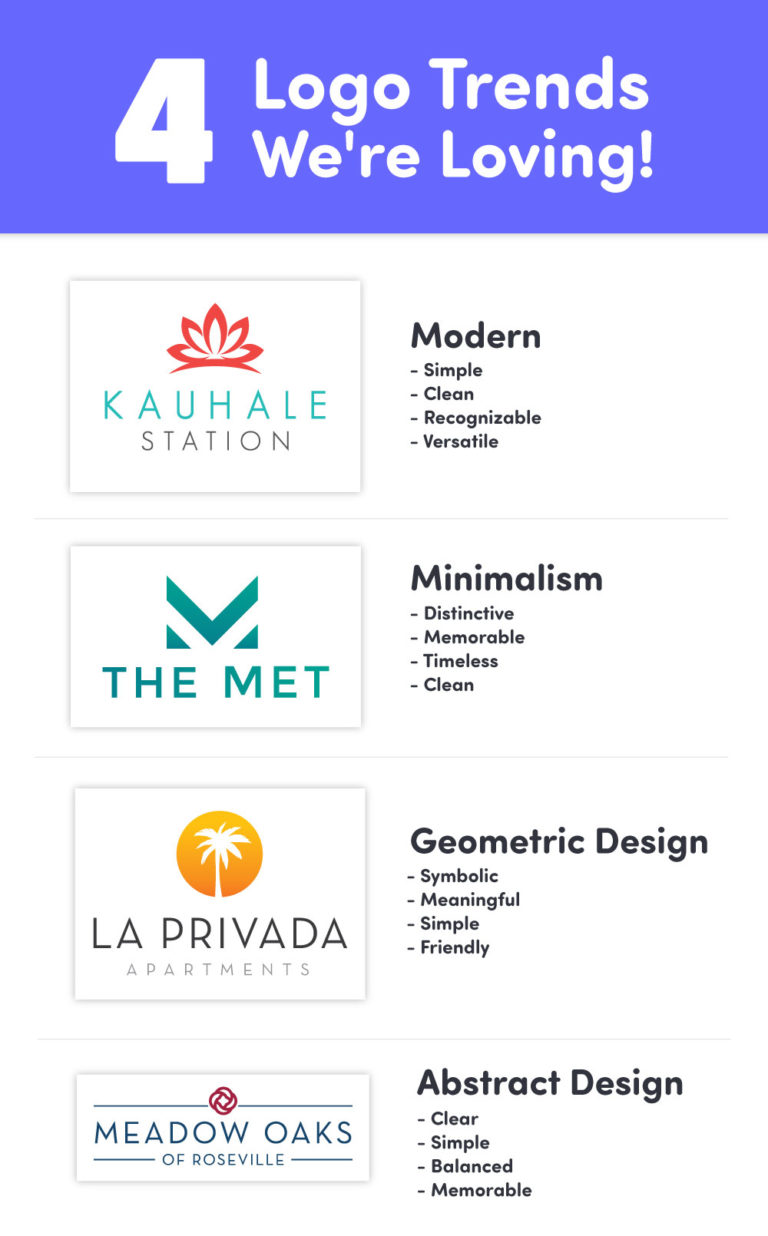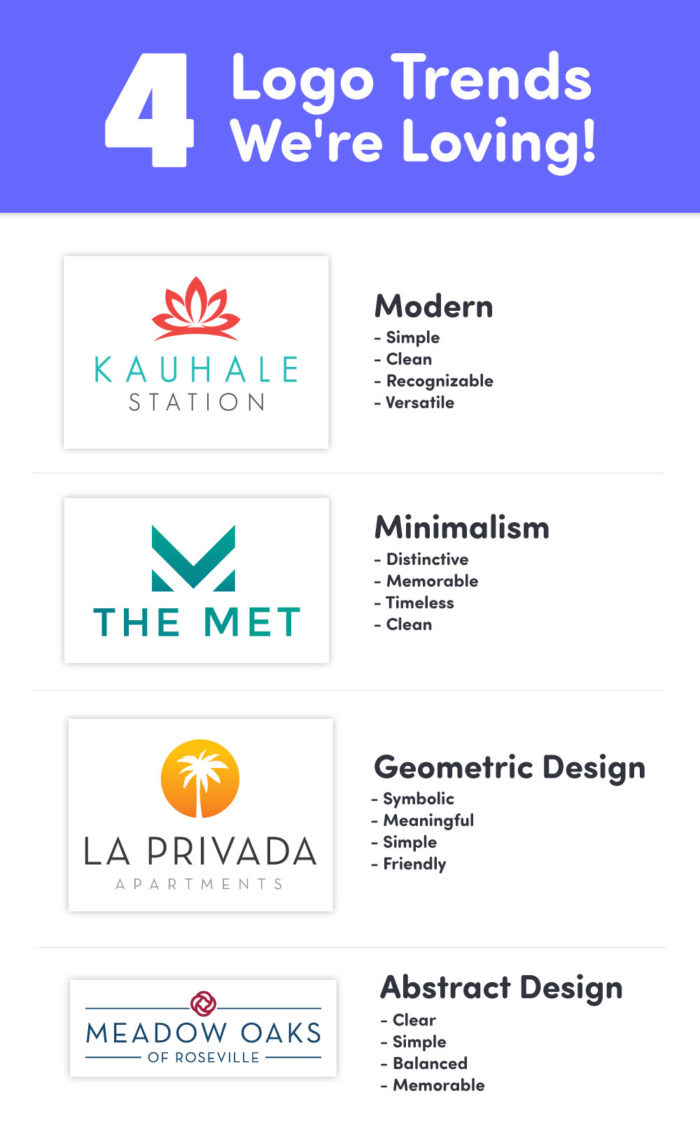 So, with these things in mind, you must now ask yourself the following questions.
1) Has your apartment brand become outdated or overly complicated?
Do your logo and overall apartment brand have a clear and unified message? You want prospects to remember your name and logo as soon as they see it. If prospects can't make out what your logo is, you have a problem. Many logos from years ago were designed with too much going on. As we've mentioned before, less is more!
2) Having trouble raising prices to meet your current standards?
Have you updated your apartment units with all the latest appliances, flooring and lighting yet you STILL have trouble raising your prices? This could be an apartment branding issue. Your brand is associated with your reputation. Creating a new look could let prospects know that you aren't the same old property. You have a new and improved apartment community, so your brand should reflect that.
3) Are you finding it difficult to attract the right prospects?
We all know how important it is to find long term residents and how difficult that can be sometimes. Your brand plays a crucial role in attracting the right prospects to your apartment community. If your logo and overall brand is the first impression of your apartment community, what do your prospects see? Luxury? Urban? Your prospects know what they're looking for in an apartment. If your brand isn't giving them the right impression, they'll keep looking elsewhere.
4) Do you need to get away from a bad image?
Is your apartment community trying to get away from a bad image from the past? We've seen this time and time again. You know your property no longer operates the way it used to, but your prospects don't. You have better staff, upgraded units, a new website, EVERYTHING! But your old reputation still follows you like a shadow lurking behind all the new changes you've made. Well, you guessed it! It's time for rebranding.
You might even consider a name change at this point, but you get the idea. New apartment branding creates a new image. Out with the old and in with the new. When prospects no longer associate your old logo with your new and improved apartment community, your reputation will begin to change.
5) Having a hard time standing out amongst the competition?
We can't say it enough. Your brand is what people remember. Prospects are doing their research when it comes to apartment searching. They're going to see a LOT of properties. What will they remember about yours? It's important to make your brand stand out from the others. You might have the same amenities as others, but if your apartment logo, color scheme, etc. is the one prospects remember more clearly, they're going to go with you. Make a statement with your apartment branding style but remember, less is more!
Are you ready to create a new brand for your property, but don't know where to start? Contact us today for a price quote and a FREE DEMO of our products!
Categorised in: Apartment Marketing
This post was written by Dana Perez
Dana Perez is the operations manager and writer at Market Apartments. She writes about apartment marketing strategies and shares it with our audience.