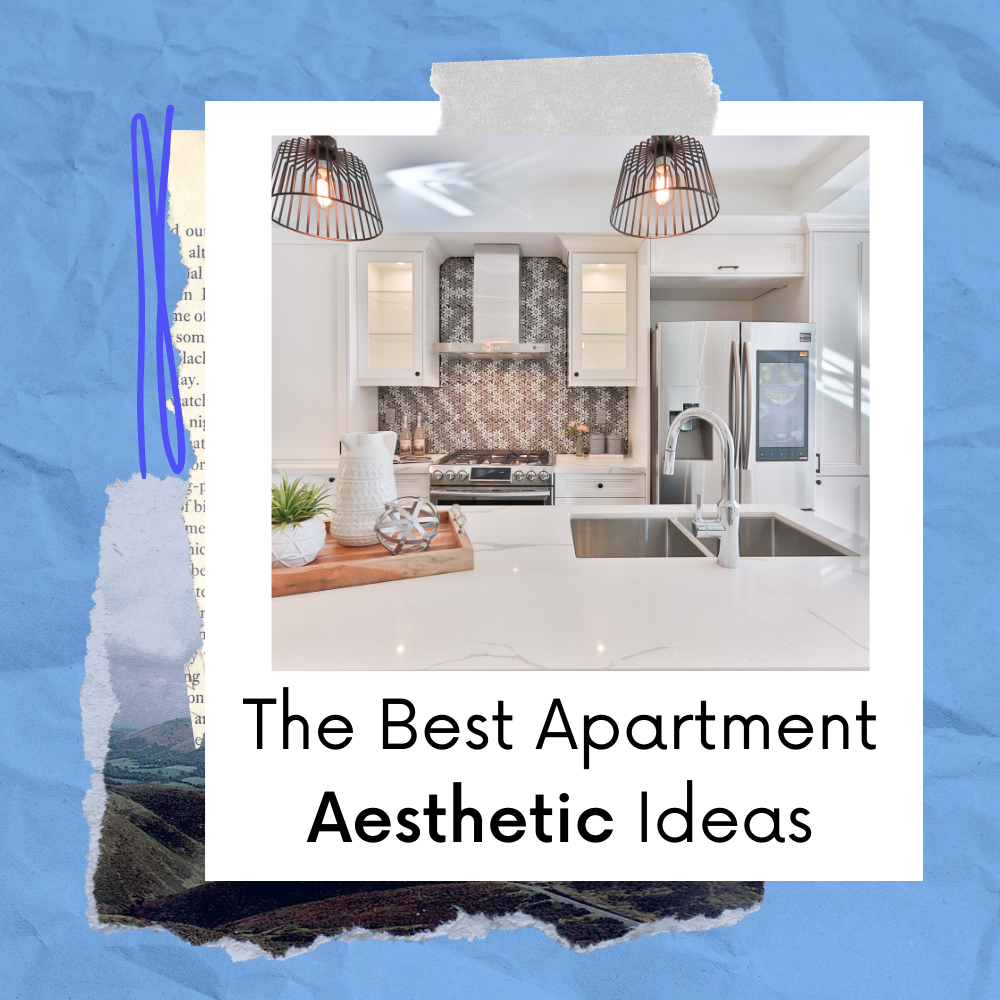 July 31, 2020 2:39 pm
Leave your thoughts
Last Modified: August 12, 2022 7:20 pm
Reading Time:
5
minutes
Are you trying to find the perfect aesthetic for your apartment? Do you like more or less clutter? Bold or muted colors? Whatever your preference is, these aesthetics are sure to inspire your next decorating or DIY project for your apartment!
1. Bohemian Inspired Aesthetic
This type of room involves colors and elements from Mother Earth! Neutral tones, gold elements, plants, and natural lighting are just some of the most common elements in a boho-inspired apartment. The term "boho" actually refers to artists and intellectuals who live with minimal possessions and prefer living away from big cities.
Bohemian-inspired apartments involve minimal furniture and opt for rugs and pillows on the ground. People who rock the bohemian lifestyle tend to be more reflective and enjoy meditation. Usually, they connect with more spiritual ideas that are shown through crystals, salt lamps, candles, spiritual statues, string lights, and mirrors throughout their apartment.
Many celebrities even opt for the Bohemian aesthetic like Vanessa Hudgens, Kate Hudson, and Selena Gomez!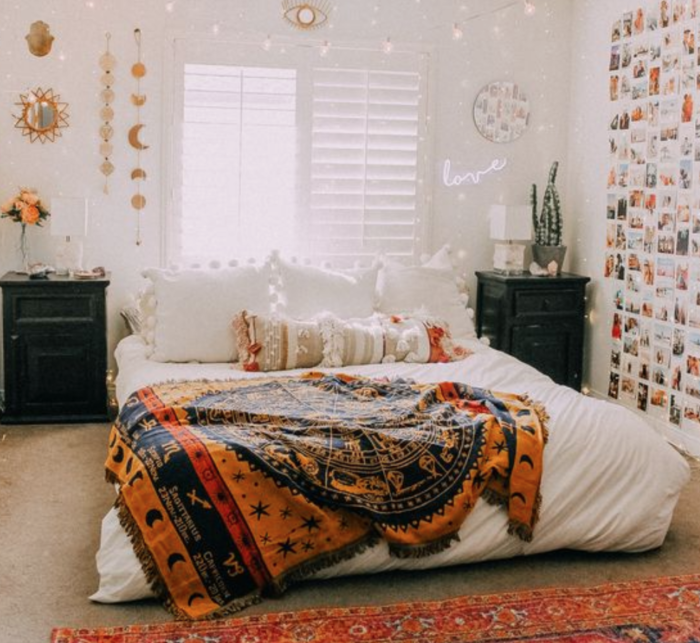 2. Punk/Edgy Aesthetic
On the other side of the spectrum are dark colors with pop culture elements. Black and dark tones, vinyl records, posters, tie-dye, and string lights are just some of the basic elements for a punk-inspired style. People who rock this aesthetic usually love music that is also considered punk and is displayed on their walls through posters, vinyl records, pictures, and tapestries. Adding a tapestry is a great way to use a bare wall without putting a lot of tiny holes in it. String lights and unnatural lights like lava lamps are typical of punk-inspired decorating.
You can also add plants and pampas grass to give a natural, urban vibe to your room. Keep in mind, Punk aesthetic in decorating stemmed from the punk music genre from the '90s and early 2000s. Even if you don't like music from that decade play around with music displays you like and different textures to create a cohesive edgy vibe.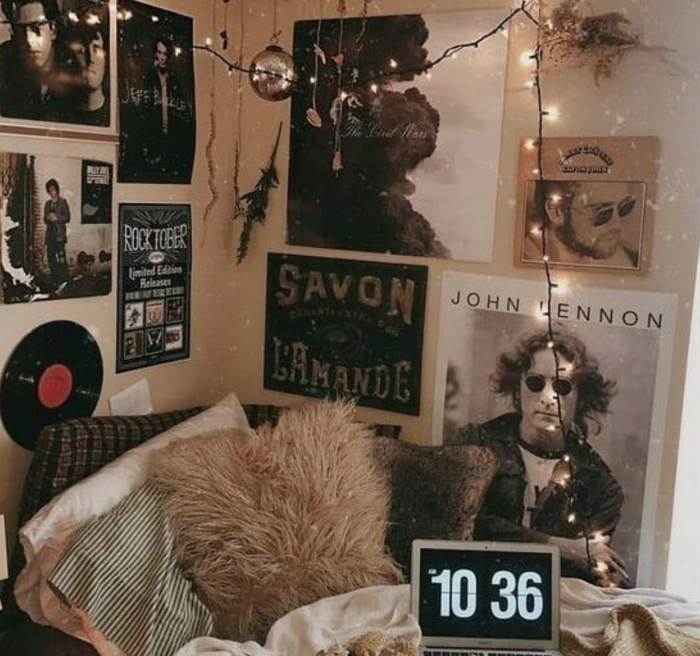 3. Urban Jungle Fever Aesthetic
The name is pretty obvious for what this aesthetic entails. Plants, plants, and more plants! This type of decorating has only come into popularity within the last few years. Don't let the size of your apartment hinder you from filling it full of plants as if to create a jungle inside! Many plants have health benefits and are a perfect touch to a table, desk, corner, or kitchen sink. You can also try and hang plants from a rope or weave a holder made out of rope to hang plants from the ceiling. There are even plants made for pets to chew on in case you have some curious friends in your apartment. If you want to learn how to grow a garden inside your apartment, check this page out!
Many people love the jungle aesthetic because it helps them feel connected with nature and it breathes life into any space. Many people mix the green tones from the plants with neutral tones from bedding and wall color like white and brown. This creates a very pleasing mix of colors that feel cozy and natural. Try it yourself and see if you might have jungle fever!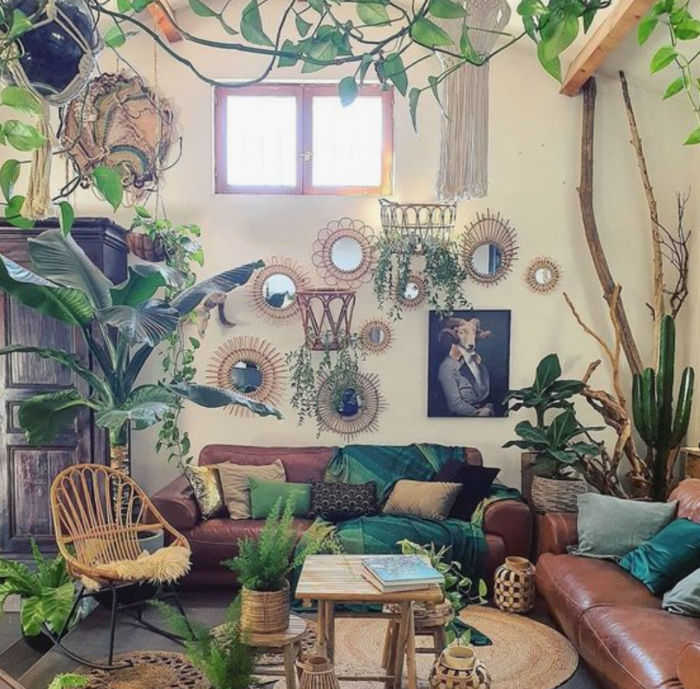 4. Minimalist Aesthetic
If you like space and comfort and want to feel clean and organized, opt for the minimalist aesthetic! Neutral, earthy, and grey tones are typical for this type of aesthetic. As the name implies, this style has minimal furniture and very limited clutter and knick nacks. Unlike the punk/edgy aesthetic where you optimize your wall space, this esthetic is focused on clean, minimal living. There are a few accessories in certain places that add styles such as a few hats on a wall, candles, and picture frames on a shelf and one or two plants scattered about. All the colors in the apartment should be mostly neutral with one or two pops of colors throughout.
Many people who enjoy this aesthetic place a tall mirror in the corner of a room or hallway to draw the eye to the corner. It can be decorated with a lamp or floor plants like a fern or fig. You can also use dried pampas grass in a vase as a nice touch to a desk or shelf.
Minimalist Aesthetics are nice for smaller apartments because you tend to have more space because there are less clutter and more natural light. Try out a minimalist aesthetic in your apartment and see if you like it!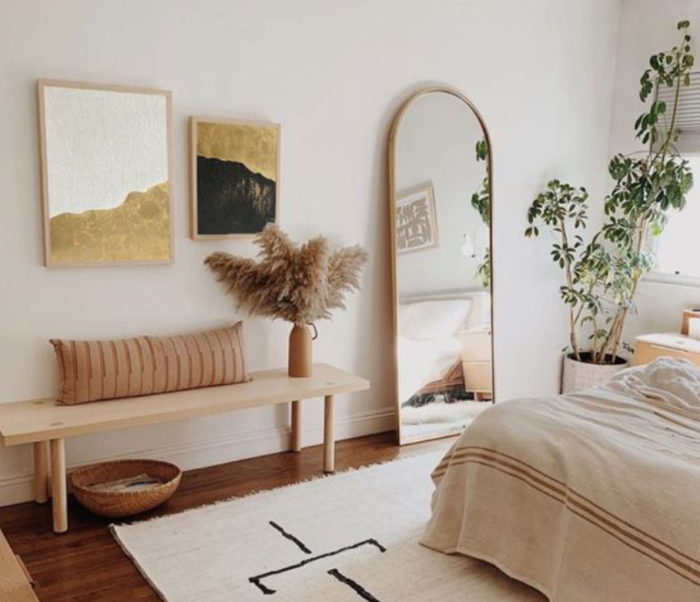 5. Paris Aesthetic
This style is based on the apartments in Paris that are normally high off the ground with big windows, balconies, and vintage touches. It is different from the minimalist aesthetic because although you have a more clean and minimal style, the pieces have an older, vintage look than modern minimalist decor. If you have a balcony or a large window in your apartment this might be the perfect style for you! Try moving your bed in front of the window so the headboard is up against it. You can still incorporate ideas into your apartment to get the aesthetic, even if you don't have a large window.
You can optimize a balcony by putting a chair and side table outside to read, paint, or enjoy a glass of wine at night! Other Paris elements include large paintings, mirrors, plants, marble and gold tones, lamps, vanity and mirror and french style tubs, and furniture pieces. If you have a window that is big enough you can even put a flower box outside of it if you're able to. Adding drapes or curtains is also a great way to show off a large window.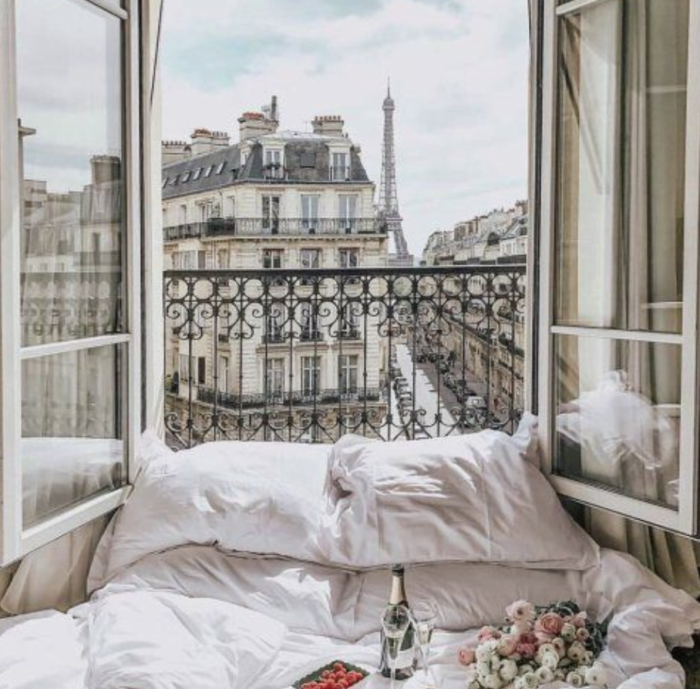 Whatever your style is, make sure to feel at home in your apartment and pick ideas that feel comfortable to you! An apartment aesthetic is any theme or idea that guides your decorating! You can also try incorporating a mix of ideas to create a whole new aesthetic that is personal to your own style. Moving into a new apartment is a great thing because the possibilities are endless! If you're thinking about moving into a new apartment or want more apartment living tips, check out Market Apartments. We have listings, ideas, tips, and the best place to find your next apartment!
Categorised in: Apartment Living
This post was written by Morgan McKinney