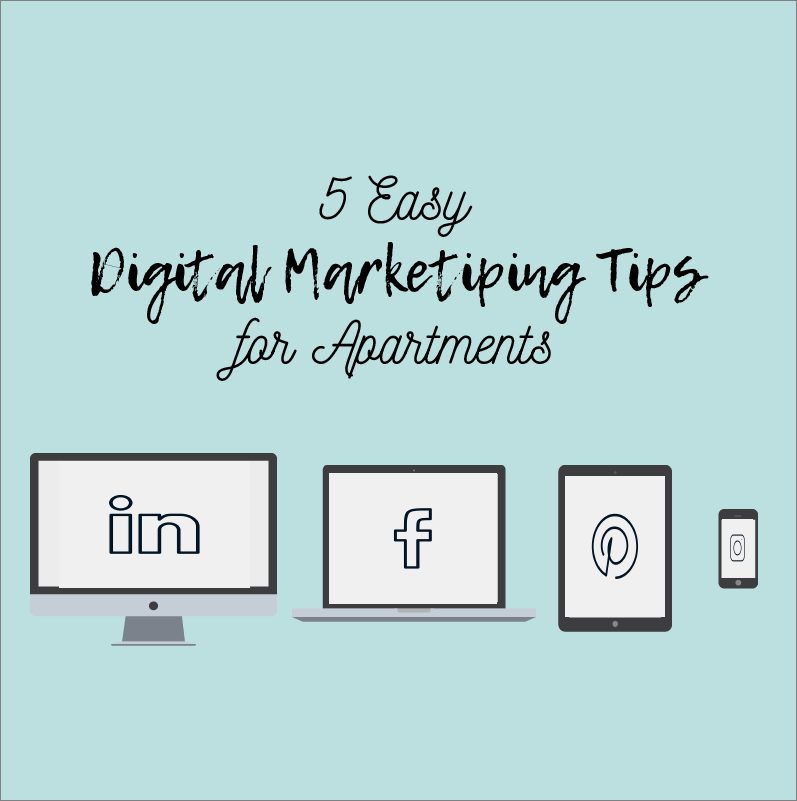 November 28, 2017 9:10 am
3 Comments
Last Modified: January 11, 2023 6:15 pm
Reading Time:
4
minutes
For apartment managers and properties, digital marketing is integral to finding renters. Just to see how important digital marketing is to properties, simply ask your residents how many of them found you through either a website or a digital ad. Probably most of them! To help your digital marketing strategy, Market Apartments has compiled our cheat sheet of 5 Easy Digital Marketing Tips for Apartments:
1. First Impressions Matter! 



When meeting someone for the first time, you want to look nice, be articulate, have a firm handshake, the works. In a world where Americans spend more time on the internet than not, the first impressions your business is making are of the virtual kind. Think of someone visiting your website for the first time in the same terms as someone meeting you for a leasing appointment. How are you going to seal the deal? What are you going to do or say to make them trust you?
Digital-first impressions are even harsher, though, than the ones you make in person. Visitors (on average) will have the first opinion of your website in .05 seconds, as compared to 30 seconds in person. It takes them 2.6 seconds to lose key focus, and 94% of their opinion will be based on website design. In other words, if your website doesn't look pretty, they are not going to stick around, no matter how amazing your content is.
Think about it like this: if you showed someone an AMAZING apartment, but the grounds were flooded, would you rent that apartment? Probably not. Your website works in much the same way. SOMEONE did a study that found people would rather spend time on a site that was beautiful than one that was functional.
Designing a beautiful website that people want to spend time on is tricky. It takes time and care and attention. See our advice for website trends, logo designs, or contact us for a free demo of web design products!
2. Learn SEO
SEO stands for "search engine optimization," and it refers to how likely it is that Google will show your website in the top searches when someone seeks out your business. Google is very good at sensing the difference between spam tactics (or "black hat" practices) and user-conscious tactics (or "white hat" practices). If you turn to a "black hat" SEO company, Google could penalize you, sending your search results to the fifteenth page, and burying your content.
Good SEO practices are those that focus on the customer (or future resident, in the case of apartment marketing!). If you're just starting out in SEO, focus on coming up with shareable content, good title tags that
3. Be mobile and be fast!
Internet users expect sites to load fast, and when we say fast, we mean FAST. Usually, about 40% of internet users will abandon a site if it takes longer than 3 seconds to load, and 79% are less likely to return. Likewise, users want to see instant results on their phones, so optimizing your apartment's site for mobile use is a MUST. This includes formatting pictures for mobile size and making sure they load fast on a phone as well as a computer.
Not every phone has the same size screen, so rather than choosing one size for your site, you'll likely want to adopt a fluid layout (link). Compress your images for faster load times, and think of ways you can incorporate touch into your layout, as mobile users are working with a touch screen (likely).
4. List your property! 
Making sure your property is listed on other sites is key to getting your name out to future residents. Some sites (just to name a few) like ApartmentSearch, Hotpads, MyNewHome, Bing, Yahoo, Google Business, ApartmentGuide, ApartmentRatings, Apartments, and Rentals will all list your property for future residents to find. You'll also want to list your business on your own sites, like Facebook and Yelp.
5. Remember Social Media
Even if you don't use social media that often (we suggest you do, considering potential renters will find you through these sites), having social media profiles will increase your brand awareness and digital marketing footprint. Google will have more ways to find you, as will prospective renters. When you google your brand, having social media profiles allows you to have multiple pages in the top five searches. It's really a win/win! We suggest having profiles through Facebook, Pinterest, Snapchat (yes! Snapchat!), and Instagram, just to name a few.
But above all, the biggest rule of digital marketing for apartments is to focus first on a good website. Having a website with a solid design, a rental portal to pay rent, and a place for online applications means more to your residents than print marketing will in the 21st century. If you'd like help setting up your apartment website, we'd love to help! Contact us at Market Apartments today for a free demo of our services, or just to ask a few questions.
If you liked these marketing tips, and want more, why not subscribe to our weekly newsletter??


Categorised in: Apartment Marketing, For Property Managers
This post was written by Market Apartments