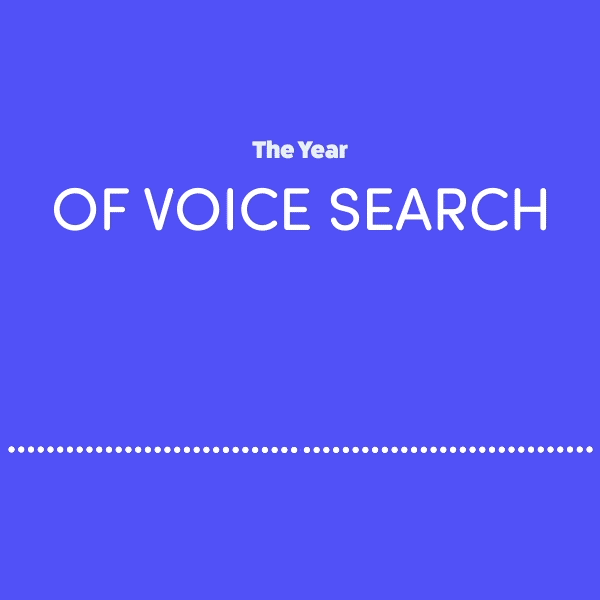 November 21, 2018 9:59 am
Leave your thoughts
Last Modified: August 10, 2022 4:43 pm
Reading Time:
4
minutes
As technology advances, we too must adapt with it – especially in the digital marketing world. Just think a few years back when the internet was starting to be readily available in everyone's pocket. We had to adapt – companies had to adapt, or else they would be left behind. Well voice search is the next step in the mobile evolution of digital marketing and if we don't focus our attention on it, then we could be left behind. We highlighted voice search in our 12 Best Marketing Ideas for 2019, but we felt that we needed to do this topic more justice as it has been causing quite the stir among the digital marketing world. 2019 will be the year for voice search for apartment marketing!
2019 is the Year for Voice Search for Apartment Marketing
Voice Search is growing and way faster than most anticipated and if we look at some of the biggest companies in the world, we start to see a trend over the past couple of years – Google Assistant, Cortana, Alexa, Siri, and the list is growing.
Companies like Google, and Amazon are pumping millions of dollars into voice search technology and to us – that is a clear indicator of voice search's potential. It's a safe bet that this is no fleeting trend but something that will soon be a vital tool in our lives – much like GPS and texting has become. There is no doubt that this is the year for voice search for apartment marketing!
Still Unsure about Voice Search?
I understand skepticism without seeing numbers or facts with my own eyes – check out these facts and see for yourself that this is the year for voice search.
According to Tech Crunch 1 in 6 Americans Now Own a Smart Speaker and that number is projected to increase to 1 in 2 by 2022
Over the next few years 75% of internet-connected devices, other than your laptop or smart phone, won't have a search bar, which means they will rely heavily on voice search.
A recent study put out by Google stated that nearly 20% of all searches came from voice search.
By 2020 50% of All Searches will be voice searches
According to the ADI Consumer Electronics Report, more than half of all owners of voice assistants use it at least once per day, and more than 20% rely on it for online shopping.
The stats say it all. The future of apartment marketing is headed toward voice search and it's vital that we stay ahead of the trend and start focusing our efforts on it right now.
How to Optimize Voice Search for Apartment Marketing in 2019?
It is one thing to tell you how important voice search for apartment marketing is, and a totally different thing to show you the ways we are starting to implement it into our marketing efforts!
1. Long Tail Keywords & Natural Speech
We use voice search so much differently than we do text searches. We have all tried to have conversations with our digital assistants and it is nothing like how we type to a computer or phone. When you are looking for an apartment we might type "Best Apartments in Salt Lake City."
It's very robotic and a little bit cryptic, but when we use voice search our behavior in speech is quite different. When looking for an apartment with voice search we ask "What are some of the best apartments to live at in Salt Lake City?" or "What are some affordable apartments near me?"
The searches are much more natural and it's almost like you are asking a close friend rather than a digital assistant. Voice search inquiries are longer and tend to be a question and as a result, creating content with a more natural voice that answers questions is truly key when optimizing for voice search for apartment marketing.
2. Local Listings
This is huge. I can't stress how important it is that a property has a Google my Business, Facebook, Yelp, and anything and everything they possibly can to get their names out there. Try it out right now ask your phone "What are the best apartments to live in near me?" I guarantee that it will tell show you a list of places that have great reviews that are all nearby.  Google will pull the location and the reviews all from local listings.
3. Testing
As multifamily marketing professionals, we know that we have to stay ahead of the game. We make sure that we are keeping up with trends and technology in an effort to stay ahead, and in doing so we have befriended: Siri, Alexa, Bixby, Cortana, and a variety of voice assistants to help us make sure your property's voice gets heard. We consider the questions and phrases potential residents are asking so that we can optimize for SEO and make sure that your property is the one answering those questions.
What Else Do We Do For You?
You think killer SEO and captivating blogs are all we do? Check out all of our marketing services, and more blog posts on our apartment blog to find out a little bit more about Market Apartments!
Categorised in: Apartment Marketing, For Property Managers
This post was written by Market Apartments