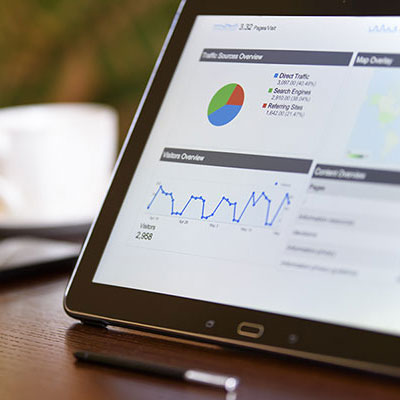 September 19, 2017 10:33 am
Leave your thoughts
Last Modified: November 14, 2019 9:14 am
Reading Time:
6
minutes
---
As an apartment manager, a significant chunk of your time is busy with obtaining and keeping good residents. In order to do this, you Instagram, Facebook, Pinterest, and hashtag. It seems like you're doing everything right, so why are you not attracting new leads? Welcome to today's Marketing Mondays topic: creating a Resident Persona (also called marketing personas, or buyer personas)! A resident persona can help you understand your apartment demographic, so you can better target potential residents with your marketing.
What is a Resident Persona? 
To have a good relationship with your residents (and potential residents), you'll have to first understand your audience: who will be reading your Facebook posts, looking at your pictures, commenting on your blogs. We suggest starting out with 3-4 target resident personas, i.e. the 3 most common types of residents you see.
Are they (generally speaking) old or young?
Do they have families, go to school, or drive a car?
Are they worried about safety in the neighborhood, or concerned about recycling initiatives?
Remember: even though each one of your residents are unique and different, your resident persona is trying to target the average resident. There are two different informational areas your resident persona will display: demographic information and psychographic information. Demographic information can tell you things like: age, occupation, educational level and more. Psychographic information is more abstract, like: desires, challenges, hobbies, and more! Marketing works best when it targets its right audience, so you'll need to understand which residents want to move into your building before you can come up with a social media strategy.
Steps to Creating Your own Resident Persona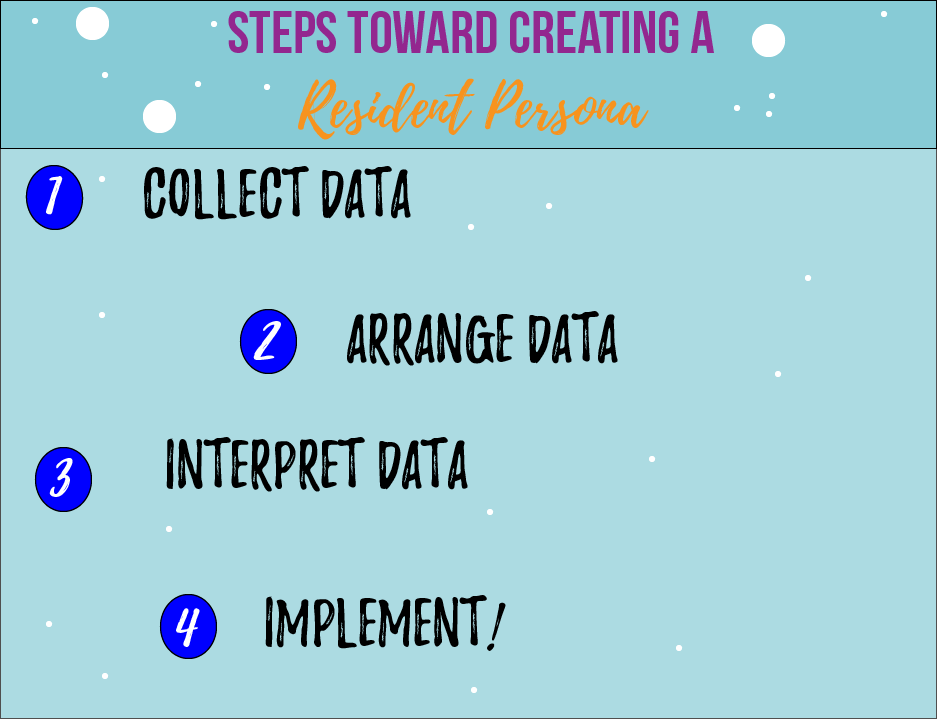 Step 1: Collect Data!
Understanding your current residents as well as neighborhood demographics will help immensely in constructing your resident persona. Much of the information you need can come from your own observations, and some you might want to send around a resident survey. Offer incentives for residents to take the survey, like gift cards or free food! Some things to ask of your neighborhood and of your current residents:
Do they go to school?
Do they have children?
What is the average age? (Is it a younger neighborhood or older?
Is the neighborhood residential or commercial?
What are the businesses surrounding you like? Do they draw in a younger crowd (bars and clubs), or an older crowd? What is the average price of the services around you?
What is the transportation like around you? Does your average resident own a car?
Do your residents own pets?
Do your residents typically work nights or days?
What are their interests? Hobbies? Goals? What do they like to do on the weekends?
Step 2: Arrange Data!
Ok, so you've collected your data. Now, what are you going to do with it? Next, you'll want to arrange your information in an easily readable way. We've provided a free template, specifically geared towards apartment managers, that you can use  to get started. If you'd like to download the template, please fill out this form!
We've provided two very different resident personas, illustrating the differences between residents. We've included four different basic categories to get you started: Demographics, Needs and Challenges, Hobbies, and Goals and Values.  Take the information from your surveys and educated guesses to translate this into your own resident persona.
Step 3: Interpret Data
Now that you've arranged the data nicely on the page, and your persona is starting to seem more and more like a real person, how do you interpret all this data?
In our example resident persona, Rich and Steve's differences will mean different marketing techniques. Let's start with Steve. How do you market to a student with a bike who enjoys working out and values the environment? We suggest starting with a six-step plan: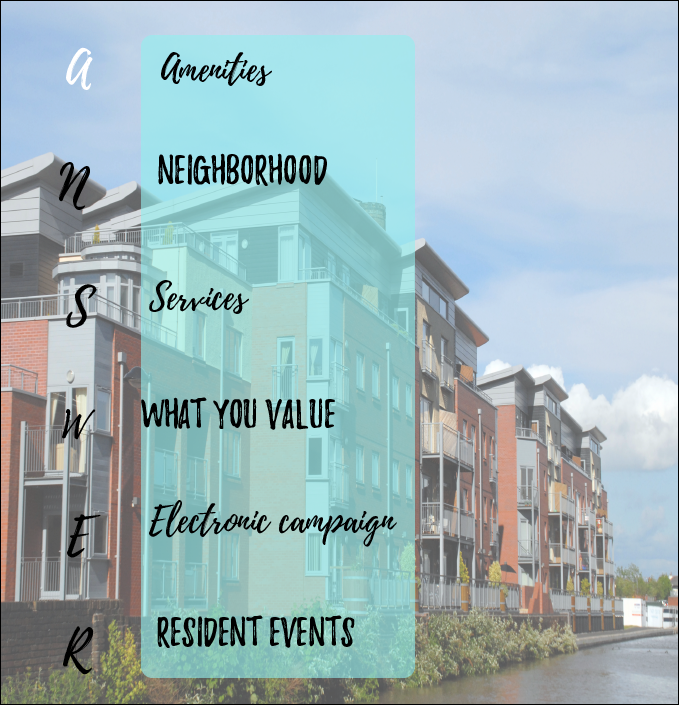 You'll notice it's an easy ANSWER! (See what we did there?!).
Answer the following questions:
Amenities 
Starting with the A, what amenities can you offer Steve? You'll notice that he enjoys working out and going out with friends. Your 24-hour fitness center and BBQ Grill station are perfect for Steve. He works at night, so he'll likely use the gym at odd hours. Be sure to play this up in your marketing. Post pictures of your fitness center, and Snapchat people hanging out by the grill.
Rich, on the other hand, would use very different amenities. What kind of parking do you offer? Do you have assigned and covered spaces? Do you have a playground for his kids to utilize?
Neighborhood
Neighborhood: location is important! Because you work in real estate, you know this! Steve only has a bike, and often needs public transportation. Use Facebook to post about events near you, as well as post bus routes.
Rich has kids, and so school districts are very important to him. What daycares are near you? Post about awards nearby schools have won, or qualifications of the local daycare.
Services
Services: what can you do for Steve? Perhaps your apartment complex offers a shuttle service. Seeing as Steve doesn't have a car, this would be perfect for him! What you value: your value statement is important and should be somewhere on your website. Do you value connection? Growth? A quiet environment? Be sure to list these so people like Steve can see.
Do you implement quiet hours, or have security on site? These services would be invaluable to Rich and his family!
Electronic Campaign 
Electronic campaign: in other words, digital marketing!! How you market towards Steve needs to be unique, as compared to say, Rich. As Steve is 25, he is likely to be on Instagram, and probably on his cell phone. Schedule posts around his hours and make sure they are mobile-friendly. Post lots of pictures of things he values and needs.
Resident Events
Lastly, Resident Events: Since Steve enjoys meeting new people, he would get a lot of the pool parties, book clubs, and/or bowling nights your apartment throws.
Rich would likely enjoy resident events that are kid-friendly and marketed towards families.
Step 4: Implement! 
This step is most important! Now that you have all this information, you next need to use it to your advantage. Here are some basic tips for your digital marketing to keep in mind:
Facebook is the most diverse social media site in terms of users' ages, so this will be the easiest way to reach a wide audience. The best days to post are Thursday, Friday, Saturday, and Sunday with the best times being 9am, 1pm, and 3pm. Source:
Twitter users are 181% more likely to be on Twitter during their commute, meaning if your target personas have a long commute, Twitter will likely be the way to go!
Wednesday at noon or 5pm is a peak moment for Twitter (during work breaks). If your residents work odd hours, perhaps Twitter is not the ideal platform.
Instagram has the highest engagement on Mondays and Thursdays around 2am, 9am and 5pm. If you have a lot of families in your complex, 2am is likely not the best time to post….
Analytics: the second part of implement a plan is to measure how well your efforts are working out for you. All the social media sites mentioned above have Analytics tools built in to help you measure engagement, clicks, and likes so you can tell which posts, days, and times are best for your resident persona!
Remember! Steve and Rich might be cartoons in this post, but for you they are real people out there, waiting to find your apartment! Once you figure out your ideal renter, you can better target them!
If you'd like to learn more about apartment marketing, or perhaps contact us for a free demo, head over to marketapts!


Tags: apartment marketing, buyer persona, buyer persona for apartment marketing, free download for buyer persona, marketing persona, organizing social media, resident persona, social media for apartments, target audience


Categorised in: Apartment Marketing, For Property Managers, Social Media

This post was written by Market Apartments