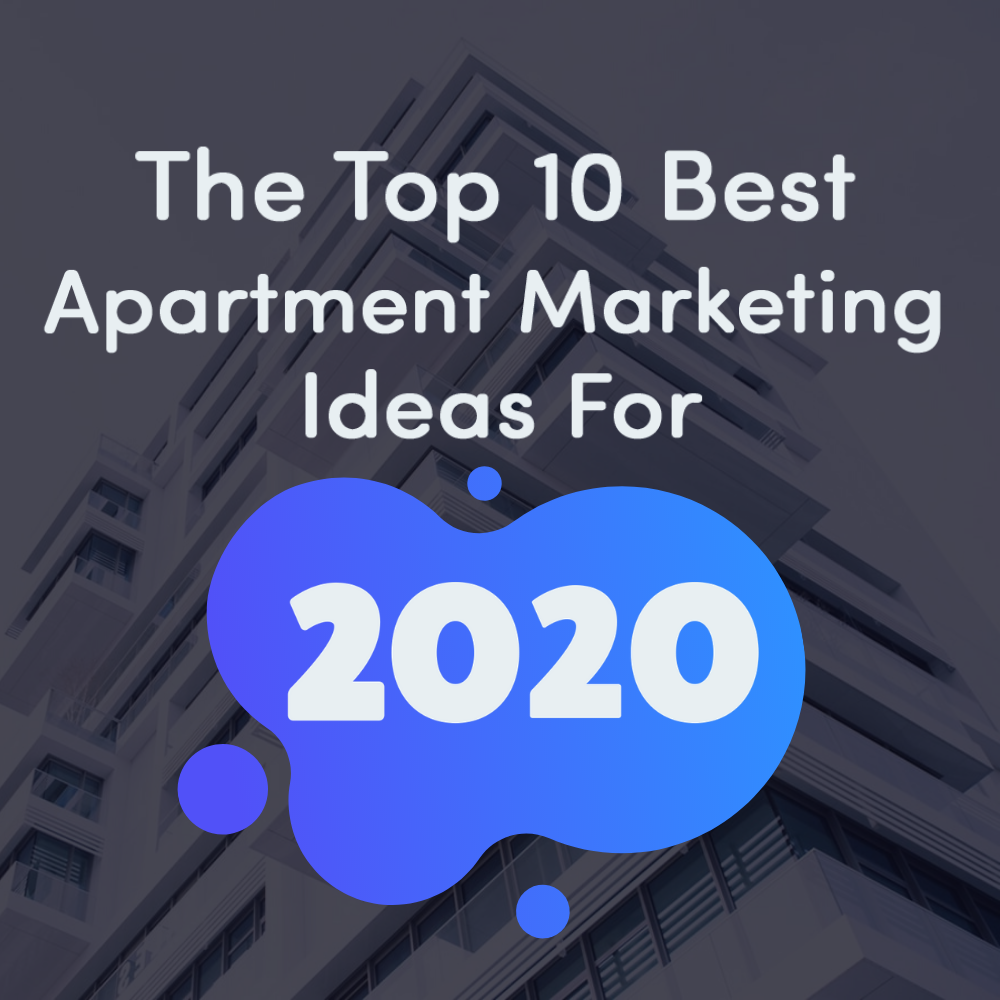 December 11, 2019 12:05 pm
10 Comments
Last Modified: April 7, 2023 3:29 pm
Reading Time:
8
minutes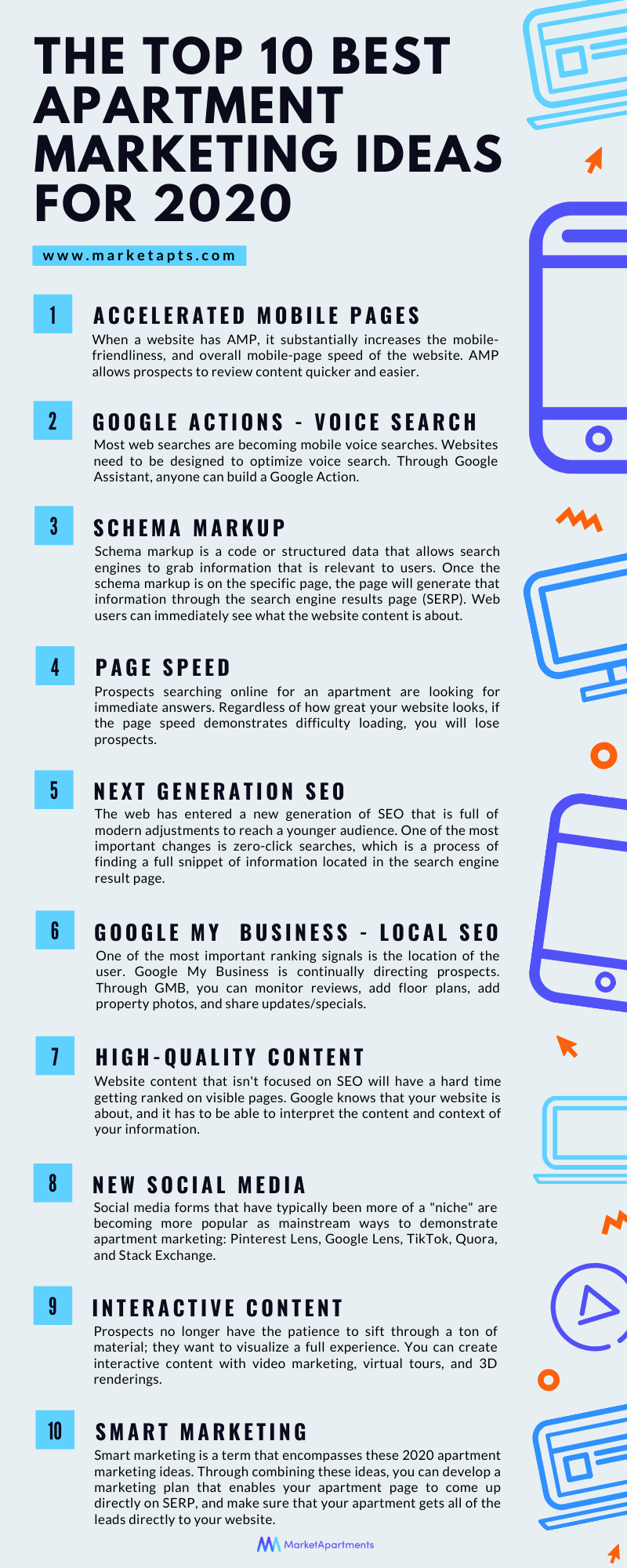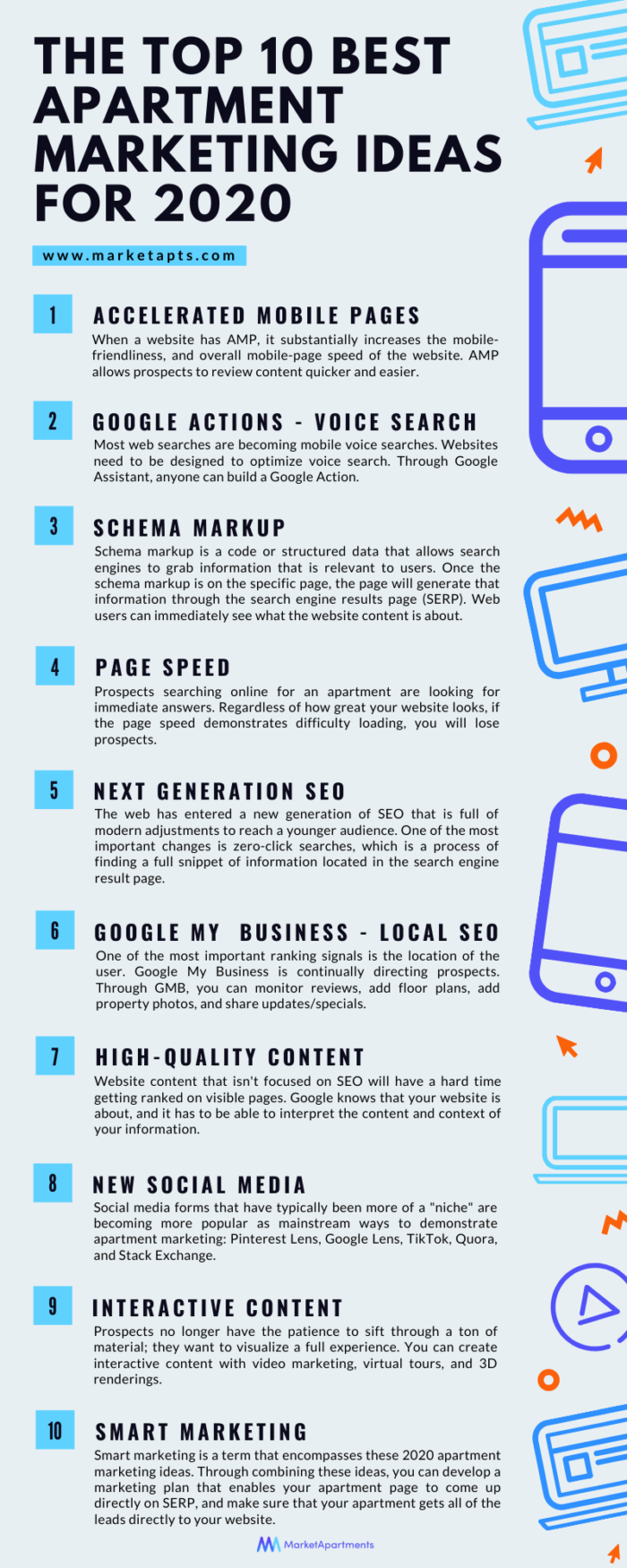 The internet is constantly flooding with apartment marketing ideas, and it's important to narrow it down to the ones that will help your multifamily community the most. In a competitive niche, it's crucial to stay up-to-date on the latest marketing strategies that can take your apartments to the next level.
The top 10 best apartment marketing ideas for 2020 are methods that will completely transform your digital presence. It is no secret, that simply marketing through word of mouth is not effective. Now is the time to use creative apartment marketing ideas, that make your property hard to resist. These strategies have proven to increase your ranking on search engines. They also lead to a larger influx of prospects, which results in more leases.
1. AMP (Accelerated Mobile Pages)
First, and foremost, is optimizing your website for mobile devices. It's no secret that the majority of web searching is done through a mobile device. The truth is, younger generations are clearly only using their mobile devices to scan the web. Accelerated Mobile Pages were introduced by Google in the fall of 2015. Since then, AMP pages have drastically changed the overall performance of mobile web usage. The framework consists of specific components that provide a mobile-focused delivery.
When a basic website has AMP, it substantially increases the mobile-friendliness, and overall mobile-page speed of the website. This feature is highly convenient for loading 2D and 3D floor plans, and images.
Let's look at an example of an apartment website utilizing AMP.
You will notice in this video that the entire web search experience is definitely enhanced by the mobile speed. The pages load at almost an instant rate. This includes the full content on the page and the images.
As prospects search the internet for a future apartment, their experience on a website paired with AMP will greatly increase their chances of signing a lease. The accelerated mobile pages allow them to review the content quicker, and easier.
2. Google Actions
Google Actions are directly correlated with Google Assistant. This method highlights an important aspect of the future of marketing. Most web searches are becoming mobile voice searches.
Websites that are designed to optimize voice search are going to have a far better opportunity to connect to their audience. Google Actions specifically allow the user to extend Google. By using voice search, a user can turn a basic web search, into a conversation.
The truth is, anyone can build a Google Action by following along with a few simple steps. In the photo below, you'll notice that actions can be created for many different things.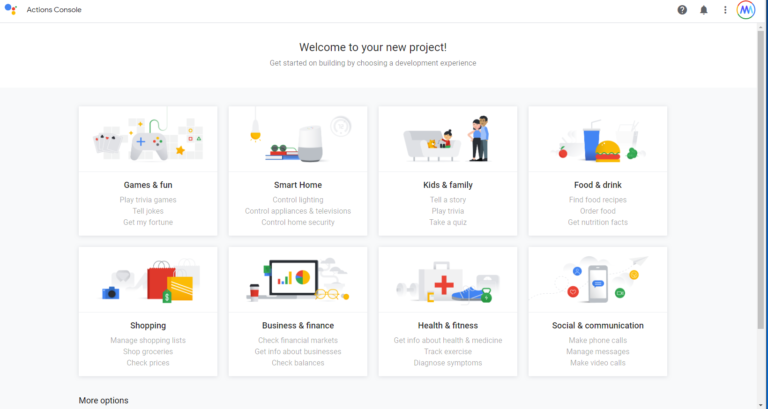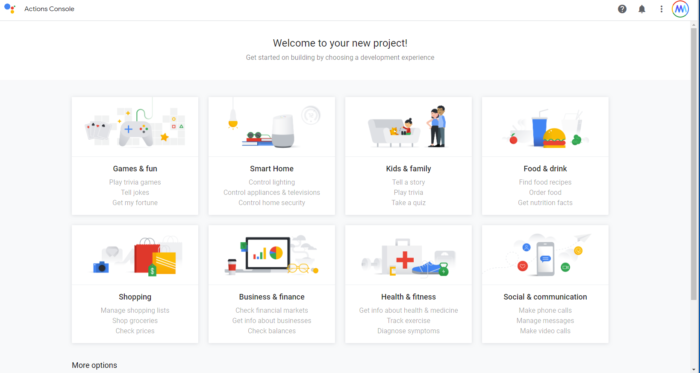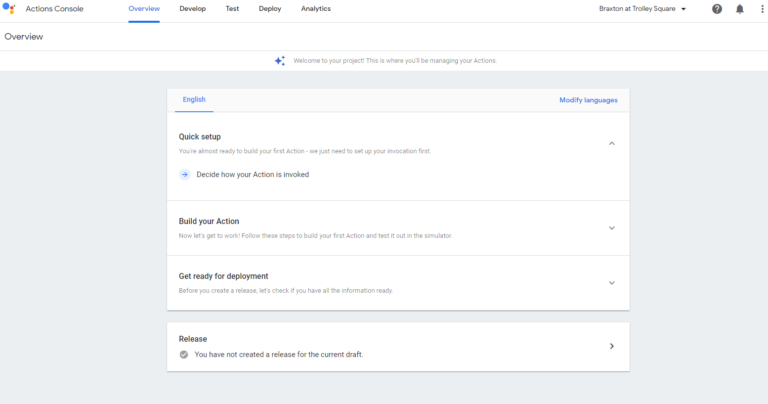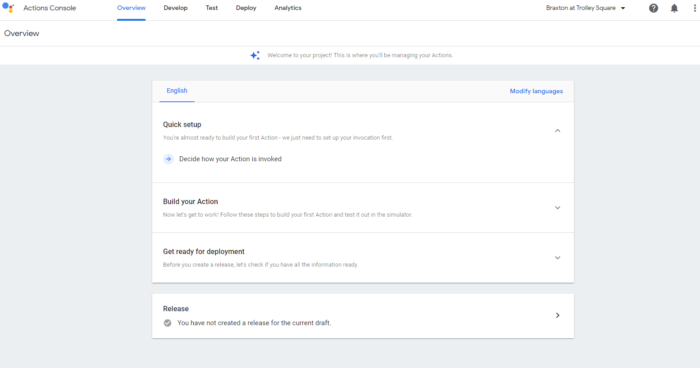 An action may say something like "1 Bedroom Apartments in Sacramento", or perhaps "Layton View Apartments Utah". The idea is that the action will be perfectly catered to what individuals would say. This is the future of voice search and searching in general.
3. Schema Markup
Schema markup is a code or structured data that allows search engines to grab information that is relevant. Once schema markup is on a specific page, the page will then generate that information through the SERP (search engine results page.)
First, when you search Bella Grace Floorplans on Google you'll notice the schema markup. In addition, the description now includes reviews, and you can also see the overall rating as well as the price for the floorplans.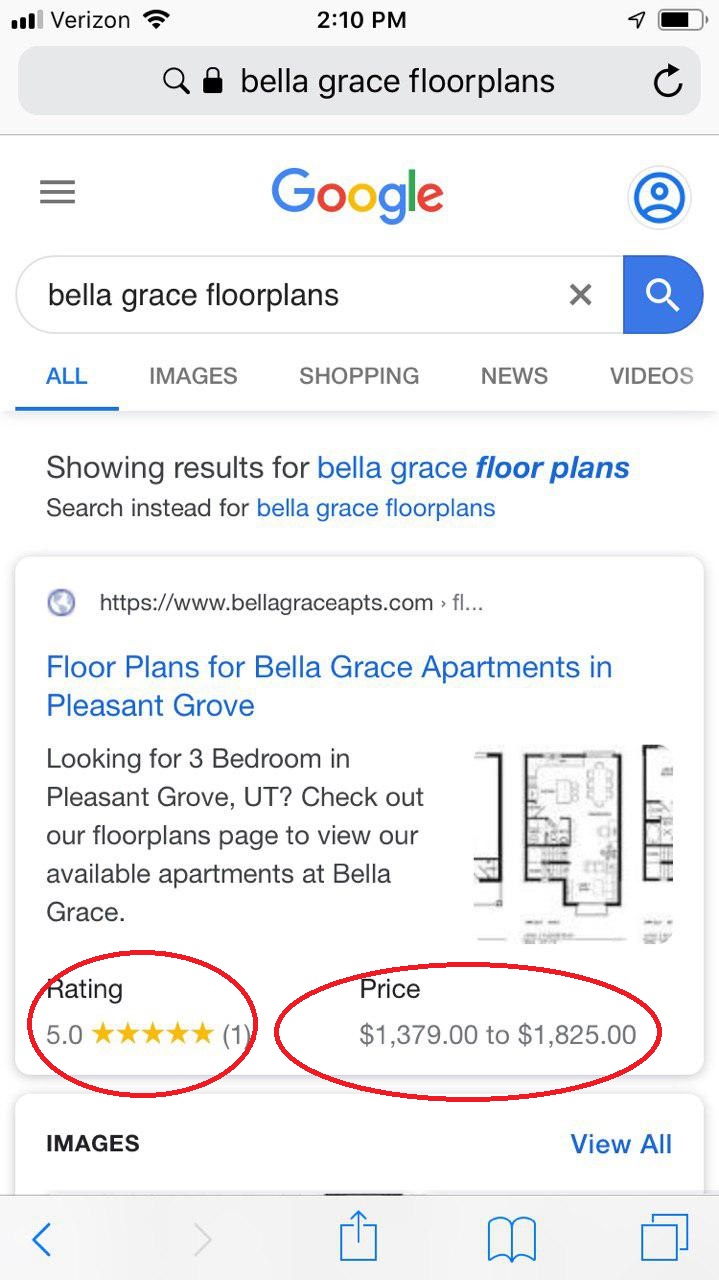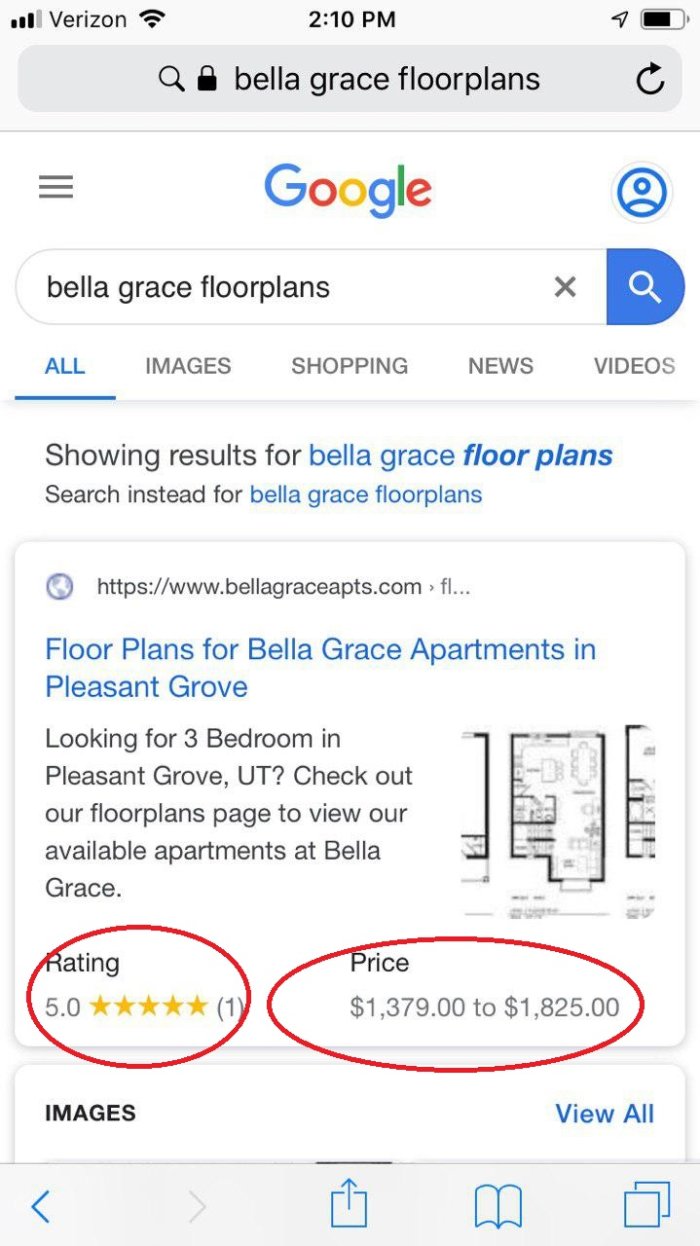 With this method in place, web users can immediately see what the website content is about. Schema markup is going to benefit web users as they're trying to navigate through a lot of information. It gives them the details they want to see the right upfront.
This allows prospects to make quicker decisions and motivates them to select your website.
4. Page Speed
Have you ever gotten on a website only to click away because nothing on the page was loading? This experience may be one of the most frustrating parts of searching the web.
When a prospect is searching online for an apartment, they're looking for immediate answers to their questions. Lease decisions are also often made in a matter of seconds. Through specific page speed coding, your website can load almost immediately, which is ideal for every prospective resident.
A slow page speed means that you will lose prospects in their search. It also means that search engines will spend longer crawling your website, to see what information is there. The video below demonstrates the benefits of page speed.
5. Next Generation SEO
It is crucial to stay up to date on SEO information and optimize your website for new changes. The web has entered a new generation of SEO, that is full of modern adjustments to reach a new, and younger audience.
One of the most prominent changes has been the evolution of "zero-click searches."
What is a zero-click search?
A zero-click search is a process of finding a full snippet of information located in the SERP (search engine result page). This means that you don't have to click on anything to understand more about the property, floor plans, reviews, etc. This type of SEO gives prospects the best opportunity to grab the information they need to.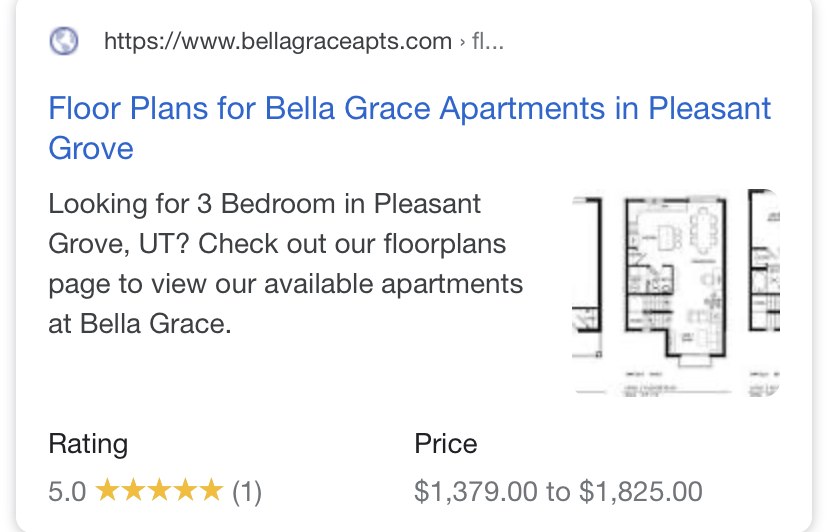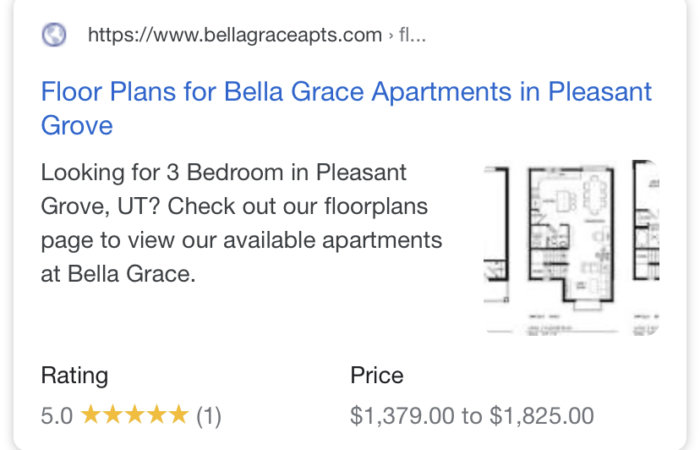 As you'll notice in the example, someone can immediately see the price of the floorplans. The information was instantly available.
This is possible through custom website designs and local SEO.
6. Google My Business – Local SEO
Along with a focus on new SEO strategies, one approach remains to be completely powerful, and absolutely crucial for apartment marketing in 2020. Now more than ever, local SEO needs to be emphasized as people search within a local mile radius.
Google has recently proved that perhaps the most important ranking signal is the location of the user. Google My Business, along with other local listings such as Bing, and Yelp are still continually directing prospects.
This makes it absolutely crucial to have a fully updated Google My Business. Along with, localized keywords for your apartment website as a whole.
Through Google My Business, you can monitor your reviews, add floor plans, share updates/specials, add photos, and gain important insights.
Making an appearance in a hyper-localized search is a major component to gaining new leads and leases.
Did you also know that 91% of people read online reviews?

People are constantly looking for the experience others had within the apartment community. In fact, this may be how most people make their ultimate decision.
7. High-Quality Content
When SEO strategies combine, a website will perform better. However, without being paired with high-quality website content, these methods won't work as well as they should.
In this example below, you'll rapidly notice the huge shift in this website's position ranking. This increase comes from creating high-quality SEO content. SEO can deeply impact the position of a website on the SERP (search engine results page.)


As hard as it is to believe, Google is just getting smarter, and smarter. Website content that isn't focused on SEO is going to have a very hard time getting ranked on visible pages. Google knows what your website is about, and it has to be able to interpret the content, and context of your information.
Using keywords that are central to your apartment identity is essential.
8. New Social Media


Social media is still constantly on the rise for bringing in potential residents. In the last several months, many new forms of social media have become more popular.
Social media forms that have typically been more of a "niche" are becoming more popular as mainstream ways to demonstrate apartment marketing.
Adventure outside of your comfort zone with social media, and try new sites to establish your brand.
The world today is looking for entertainment and involvement. Video marketing is one of the many ways that you can grab a prospect's attention, and make an impact. It should be noted that prospects no longer have the patience to sift through a ton of material.

You can create interactive content through many different forms. You can implement interactive content by including video marketing, apartment virtual tours, and 3D Renderings. Try to develop ways that you can include interactive content in your regular apartment marketing ideas. It will clearly change the way prospects view your community. Above all, you want to help give prospects enough confidence to move forward.
10. Smart Marketing
Last but not least, is the combination of each of these trends in a method that is called Smart Marketing. Smart Marketing is the multi-family apartment marketing strategy that reduces concessions, lowers exposure, raises rents, and increases your NOI.
Here is a simple breakdown of smart marketing.
SEO & Schema Markup
Maximizing Website Leads
Automated Email marketing
Reputation Management
Top-Level Local Listings
Through combining apartment marketing strategies, you can develop a marketing plan that enables your website to come up directly on SERP (search engine result pages.) Alternatively, on apartment ILS pages, you have to compete directly with thousands of other apartments. Smart Marketing gives you the opportunity to put your website first, along with increasing your search engine rankings. In the end, the overall goal of smart marketing is to generate a lead directly to your website. Nonetheless, smart marketing essentially summarizes the apartment marketing ideas discussed above. With this method, your budget goes directly towards the things that matter the most.
To Conclude…
Without a doubt, each of these apartment marketing ideas will help take your property to the next level. Firstly, the strategies will allow you to more fully optimize your website. Secondly, the methods will give you the opportunity to focus on what matters most. Finally, these plans will provide you with more leads, and leases. So what are you waiting for? Get started today, and watch your apartment marketing absolutely transform.
Frequently Asked Questions
What is apartment marketing?
Apartment marketing is the marketing strategies, methods, and approaches used for multifamily communities. It ranges from print services to full-service digital processes. The end goal for any apartment marketing is to increase the number of leads, and leases.
Does print still sell when marketing your apartment?
Even though the multifamily industry has entered an extremely digital era, there are still many advantages to using print services for your community. Every apartment should invest in print materials that will enhance their day-to-day marketing.
What is the first step to getting started with apartment marketing?
Before you can invest in further apartment digital marketing, your apartment website will be your number one priority. Your website is the home of your prospects, and it will be where the majority of your leads come from. Start with your website, and continue upward from there.
Categorised in: Apartment Marketing, For Property Managers
This post was written by Isabella Housel