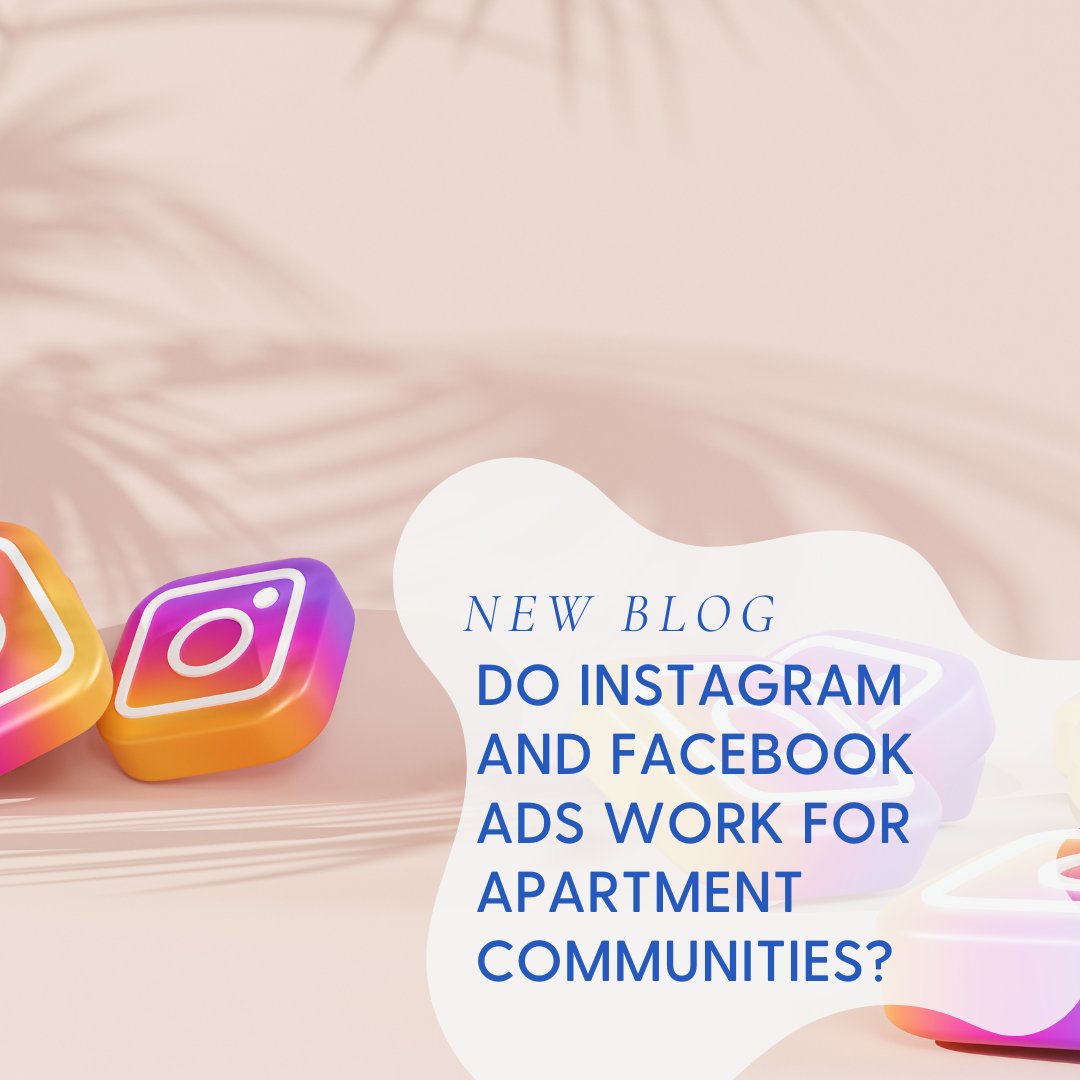 February 8, 2023 8:00 am
Leave your thoughts
Last Modified: November 10, 2023 12:01 pm
Reading Time:
19
minutes
Digital advertising has become an essential tool for property management companies seeking to promote their apartments on Facebook and Instagram. Through comprehensive advertising campaigns, property managers can effectively reach their target audience and showcase the unique features and amenities of their properties.
For instance, they can leverage Facebook's precise targeting options to reach potential renters based on location, interests, and demographics. By creating visually appealing ads, interactive virtual tours, and compelling ad copy, property managers can engage potential tenants and drive leads, resulting in increased occupancy rates and overall success in the competitive rental market.
Apartment Instagram and Facebook ads work and can be what your property needs to take it to the next level! Both platforms give you the ability to reach a brand-new audience. You can cater your ads to your target audience with paid social media campaigns. When done correctly, apartment social media ads will bring in a new wave of renters and increase your high-quality leads. It is easy to overspend on paid social apartment ads, so it's crucial to ensure that you have the right team and methods.
Make sure you understand ad formats and the appropriate targeting options before advertising on Facebook and Instagram to guarantee a successful campaign. The benefits of Instagram and Facebook ads for apartments include the following:

Large User Base: Both platforms have a large user base, making it possible to reach many potential renters with your ad.
Targeted Advertising: You can target specific demographics, interests, behaviors, and locations to ensure your apartment ad reaches the right audience.
Cost-Effective: Compared to traditional advertising methods, Facebook and Instagram ads can be more cost-effective, as you only pay for the ad when it is shown to a target audience member.
Measurable Results: You can track the performance of your ads and see how many people have viewed, engaged, and converted from your ad. The promising data will help you make decisions in the future.
Flexible Budget: You can set your ad budget based on your goals and adjust it as needed. The beauty of social media ads is that you can adjust them daily if necessary.
Multiple Ad Formats: Both platforms offer a range of ad formats, including images, videos, carousels, and stories, allowing you to showcase your apartment community in various ways.
Brand Awareness: Facebook and Instagram ads can help increase brand awareness and establish your apartment community as a top choice for potential renters.
Apartment social media ads can help expand your property and apartment website traffic. The best part is that you can cater your ads to your demographic, location, and audience interest. Rather than using your budget for interested people, you can create a very targeted segment of people who are likely to be super interested in your community. The success of the ads will depend on many factors, such as the quality of the ad content, target audience, ad budget, and competition. Apartment Instagram ads can be confusing, but working with the right team of experts will ensure you have the proper methods in place.
Are apartment seekers on Facebook and Instagram?
Yes, you may find people looking for apartments on Facebook and Instagram. Younger generations, who are more likely to use social media in their apartment hunt, frequently use these social media platforms to look for rental apartments. Think about what a first-time renter looks for in an apartment and what they don't know to look for. Give them the information they need on your ads and social media.
Many multifamily properties have successfully used Facebook and Instagram to promote their vacant units or amenities. Case studies have shown that apartment buildings can generate significant revenue by running targeted ads, building engaged communities, and creating shareable content.
By choosing particular demographics, behavior, and interests, you can target apartment seekers using Facebook and Instagram's advertising options. For example, you can retarget individuals who have expressed interest in apartments and rental homes.
In order to offer potential tenants a sense of what it would be like to live there, you can also use social media to showcase your apartments and building amenities using images and virtual tours. Property managers can advertise on Facebook and Instagram to attract new renters and showcase their rental properties to a wide audience.
Understanding Paid Social Media
Facebook promoted posts are one type of paid social media advertisement. A company can spend money to boost a Facebook post's exposure and reach by having it appear higher in users' newsfeeds. Promoted tweets on Twitter, sponsored posts on LinkedIn, and sponsored posts on Instagram are other examples of paid social media ads. To differentiate them from organic content, these ads frequently appear as a separate post or as a sponsored article, and they are typically marked as "Sponsored" or "Promoted."
The Facebook algorithm is a system of rules and calculations that determines what appears in a user's News Feed. It tailors the content to the user's interests, interaction, relationships, and timeliness. Its purpose is to provide relevant, entertaining, and diverse information to improve the platform's user experience.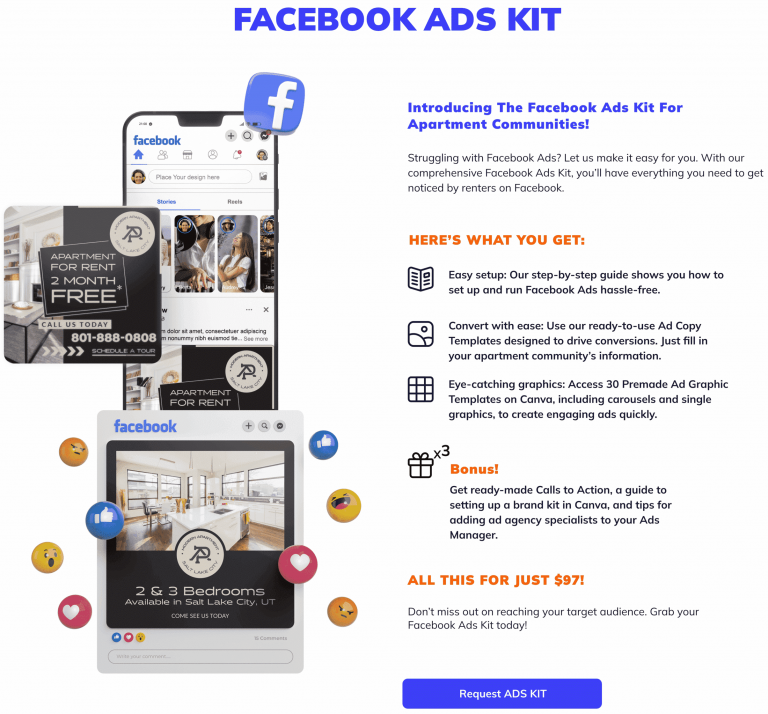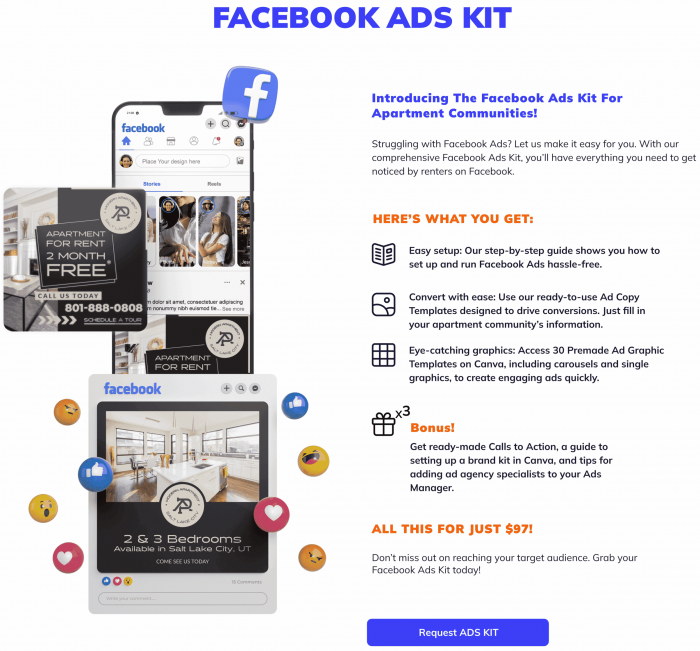 Why Instagram and Facebook advertising is a powerful marketing strategy?
Advertising on Facebook and Instagram may be effective marketing tactics for apartments for a number of reasons:
Large user base: With a combined 2 billion monthly active users across both platforms, businesses have access to a huge market to advertise to.
Capabilities for targeting: Both platforms include very advanced targeting options that let advertisers target particular user groups.
Results that can be measured: Both platforms offer in-depth information on how your campaigns performed, making it simple to determine the success of your efforts.
Visually appealing: Instagram is well known for its visually appealing content, which makes it a wonderful platform for property managers to showcase their rental units and amenities.
Driving Traffic: SEO vs Social Media
Both SEO and social media can be effective strategies. However, the approach and outcomes of each may differ depending on the property, target audience, and marketing goals.
SEO for apartment communities typically involves optimizing website content with keywords that potential renters are likely to use in their search queries. This can include descriptions of amenities, location information, and even specific keywords like "luxury apartments" or "pet-friendly apartments." By improving the website's ranking in search engine results pages, apartment communities can attract more organic traffic to their website and increase their visibility to potential renters.
On the other hand, social media marketing for apartment communities involves building relationships with followers and promoting the property through social media channels. Social media can be a powerful tool for showcasing property features, sharing testimonials from current residents, and running targeted advertising campaigns to reach a wider audience. Social media allows apartment communities to engage with potential renters in a more informal, conversational way and build trust with them before they even visit the property.
Should you advertise apartments for rent on Facebook and Instagram?
It can be a smart idea to run an apartment ad on Instagram and Facebook, as this will allow you to reach a larger audience and perhaps quickly find a tenant.
Due to the fact that Facebook and Instagram are both owned by the same company and provide similar advertising platforms, the method for creating and running a paid ad will be the same for both platforms. However, the demographics and user behavior of the two platforms do differ somewhat.
In contrast to Instagram, which is more well-liked by younger people, Facebook has a broader user base and tends to draw an older audience.
What should apartment complexes post on social media?
It's important to create content for social media posts that will interest potential tenants and highlight the advantages of residing in your complex. There are a variety of ways to use Instagram in your apartment marketing and it's easy to share your posts on Facebook as well. Get creative and highlight the best features of your apartments. Here are a few ideas for social media posts:
Photos and videos of your apartments: Take professional photos and videos of your amenities, then post them on social media. Potential tenants will get a sense of what it's like to live in your complex. Video marketing of apartments is a way to reach your target audience clearly and quickly while highlighting all the benefits they will get by choosing to lease with you. Don't miss out on getting to the next level with your multifamily property by including apartment marketing with video in your marketing strategy.
Highlight neighborhood events: Inform people about neighborhood gatherings your complex hosts. This will demonstrate to potential tenants that your complex is a community as well as a place to live.
Promote special offers: To attract in potential tenants, advertise any move-in discounts or other advantages that your complex may be offering on social media.
Share positive reviews: Post positive reviews on social media from current or previous residents. This will give prospective tenants a glimpse into what it's like to live in your complex from the viewpoint of a resident who has already occupied it.
Share neighborhood news and events: Let potential tenants know about neighborhood news and events that might be of interest to them.
Introduce the team: Introduce the members of your team, such as the property managers, leasing agents, and maintenance personnel. Show prospects that they would be in good hands if they decided to live in your community.
Can Facebook and Instagram ads work together?

Facebook and Instagram ads can work together to provide excellent results for your apartment community. With the right strategy, you can maximize your reach and potential exposure. Meta owns both platforms, and the ad platforms allow you to run multifamily campaigns together. Advertising your apartments can be a lot of work, and these platforms allow you to reach a much wider audience.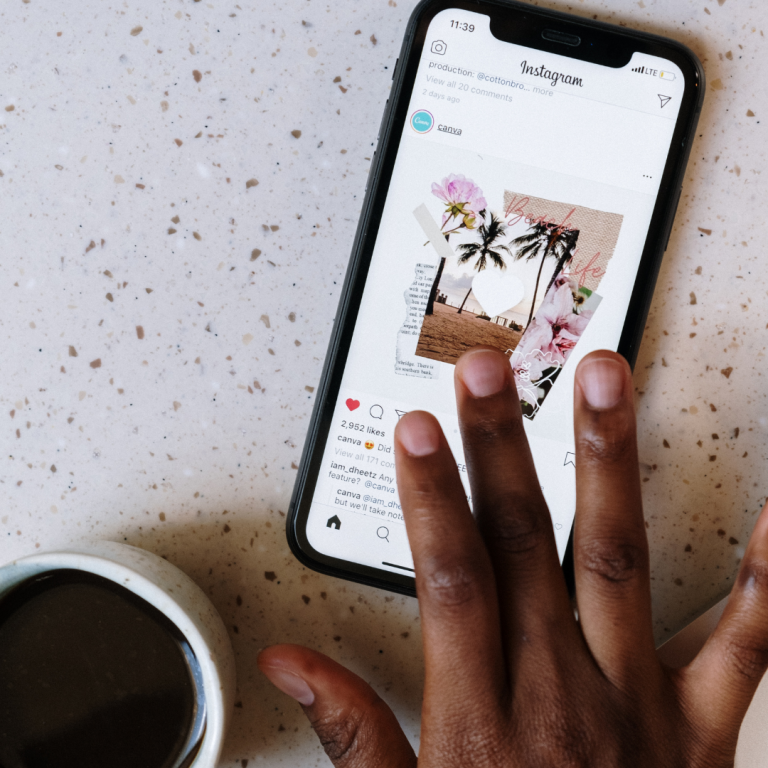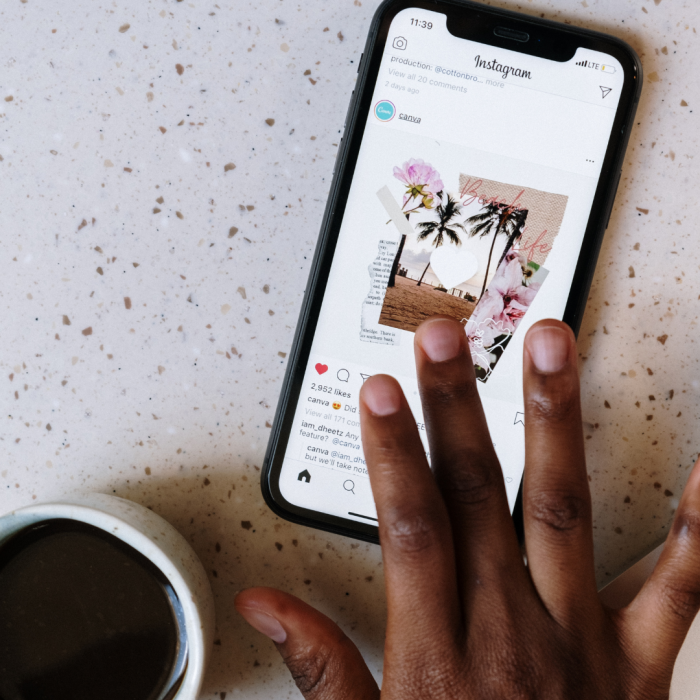 Running apartment ads on Instagram and Facebook can increase your reach and provide more opportunities to engage with potential residents. It's essential to consider the ways each platform works so that you can tailor your content for the best results. When created correctly, Facebook and Instagram ads work together to bring you much greater property success! An effective multifamily marketing funnel will likely include advertising your apartments on Facebook and Instagram.
There are requirements for Facebook housing ads
In order to comply with fair housing laws and stop discrimination, Facebook has specific guidelines for housing ads that marketers must follow. All housing-related ads, including those for rental properties and mortgage services, must follow these rules.
Here are the basic parameters for Facebook housing ads:
Ads that convey a preference, restriction, or discrimination based on a variety of criteria, such as race, color, religion, national origin, sex, familial status, or handicap, are prohibited by Facebook.
Nondiscrimination policy: Advertisers are prohibited from employing discriminatory advertising tactics and are required to abide by all applicable laws, including fair housing rules.
Advertisers must make sure that their targeting choices do not bar individuals based on a prohibited trait.
Advertisers are responsible for making sure that the content of their advertisement does not promote discrimination and does not state a preference, restriction, or form of discrimination based on an unlawful characteristic.
Record-keeping: Advertisers are required to keep a minimum of one year's worth of records of their advertising campaigns, including targeting details and ad content.
Failure to follow these rules could result in account suspension or termination from Facebook as well as legal repercussions. It's important to become aware of these requirements if you're running apartment rental advertisements on Facebook and to take the necessary procedures to make sure your ads comply.
What is the best time to post for maximum exposure?
Weekdays, especially midweek: Research has shown that weekdays often have higher engagement rates than weekends, and that the best days to post are typically midweek – Tuesday through Thursday.
Midday: People accessing their social media during their lunch breaks between 11 a.m. and 2 p.m., posting around this time can increase engagement.
Avoid posting early in the morning and late at night: People are less likely to be checking their social media at those times, which can lead to lower engagement rates.
What is the success rate of Facebook and Instagram ads?
A number of factors, including the target audience, ad format, and industry, affect how successful Instagram and Facebook ads are. The average conversion rate for a successful social media advertising campaign is between 2 and 5%, while it can be significantly higher for marketing campaigns that are extremely targeted and well-optimized in particular industries.
You can accomplish this with the help of a solid social media plan. It takes a lot of commitment and discipline to continuously provide helpful content. Instagram has a conversion rate of 1.08%, which is far greater than that of Facebook or Twitter and makes it a much better choice for advertisers.
How do I post an apartment ad on Facebook?

If you're wondering how to run Facebook ads, first, you need to establish a Facebook Ads Manager account and a Facebook Business Page. You may then specify your target audience, develop ad content, pick a budget, and launch your advertising campaign. The ads management platform is intended to assist businesses in the creation, management, and optimization of advertising campaigns on Facebook and its linked platforms, such as Instagram and Messenger. Follow these step-by-step guide to set up your account.
Get ready to start gaining more traffic to your apartment website! Learn the necessary methods to start leveling up your multifamily marketing strategy. To post an apartment ad on Facebook, follow these steps:

Create a Facebook Business Manager account: This free tool allows you to manage your apartment's Facebook ads and make needed changes.
Set up a Facebook Page: If you don't have one already, you will need a proper Facebook page that will allow you to have a Facebook presence! You should utilize a free Facebook page even if you aren't open to social media ads.
Create an ad campaign: To create an apartment ad campaign, go to your Facebook Business Manager, click on the "Create" button, and choose "Ad Campaign." Select your possible ad objective, such as "Lead Generation" or "Traffic." Choosing an ad objective can be difficult, so make sure that you connect with apartment advertising professionals for the best choices.
Target your audience: Define the target audience for your ad by selecting demographics, interests, behaviors, and geographic location. To avoid wasting much of your marketing budget, you must carefully select the correct audience that will bring you the most eligible renters.
Create your ad: Choose the format for your ad, such as an image, video, or carousel, and upload your content. You will likely need to test different ads to see which will perform the best for your property!
Set your budget and schedule: Determine your ad budget and the time frame for your ad to run. Start slow and add more to your budget if the ad performs well.
Launch your ad: Review your ad and make any necessary changes, then click on "Submit" to launch your ad campaign. Congrats, you are now on your way to getting greater online visibility.
It's essential to regularly track the performance of your apartment ad and make adjustments to optimize your results. Apartment social media ads can change regularly, so you must monitor them daily. Be highly cautious of letting ads run without any periodic updates. You can use Facebook Insights to track the performance of your ads and gather insights about your target audience.
Facebook Ads vs. Instagram Ads
Instagram and Facebook both offer apartment advertising options,, but there are some differences in terms of target audience and ad format. Consider the following when thinking of where to place your ads!

Instagram includes:

Younger demographic, with higher engagement from users aged 18-29
More visual elements, with a focus on image and video content
Ad format options include a photo, video, carousel, and stories ads
Facebook includes:

Larger user base, with a broad range of ages, interests, and types
More text-oriented platform, with a focus on news feeds and updates
Ad format options include a photo, video, carousel, stories, and Marketplace ads
If your target audience is younger, tech-savvy renters, then Instagram might be a better option due to its high engagement from users aged 18-29 and its visual benefits. You can showcase the aesthetic appeal of your property with photo and video content, and reach potential renters through Instagram's stories feature. Instagram Stories is a feature that allows users to share short-lived photos and videos that disappear after 24 hours.

On the other hand, if your target audience is a more diverse group of renters, then Facebook might be a better option. Facebook has a larger potential renter base with a broader range of ages and interests, making it easier to reach a wider group. You can also use Facebook's Marketplace feature to showcase your apartments to people in your area who are actively searching for a new place to live.

Ultimately, the choice between Instagram and Facebook advertising will depend on your goal audience and the objectives of your campaign. Both platforms can be effective, and a combination of both may be the best solution for some properties.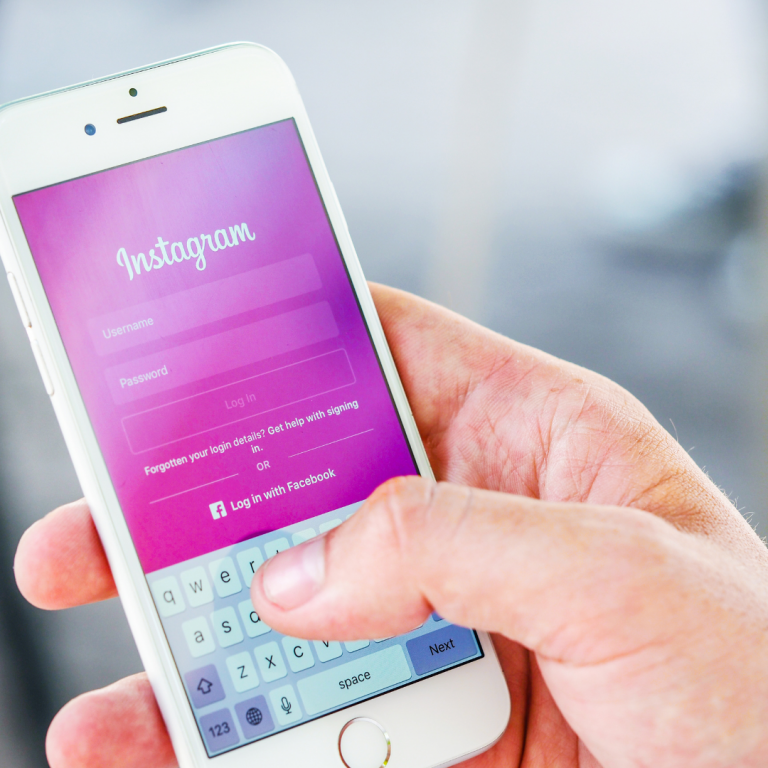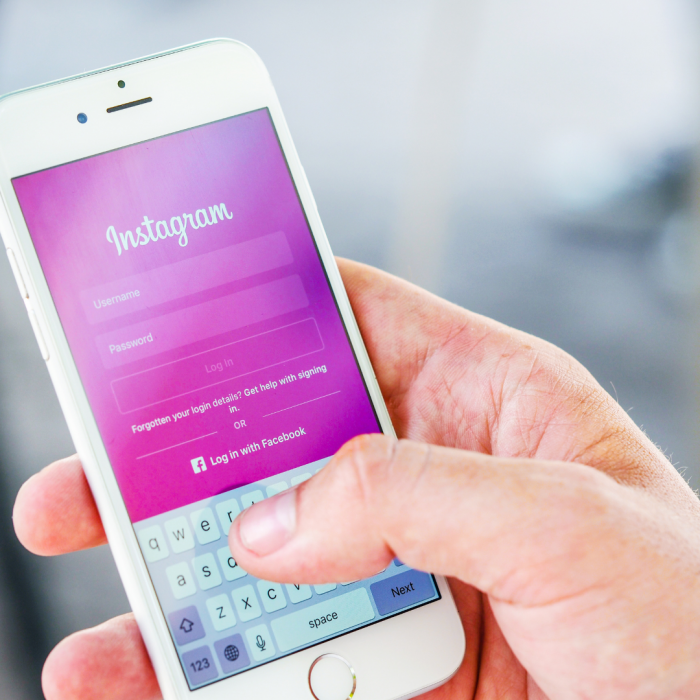 What is the cost of running Facebook ads?
The target market, ad format, ad location, and bidding strategy are a few variables that can affect the cost of running Facebook advertising. The advertisers can select from different bidding strategies, including cost per click (CPC) and cost per impression (CPM).
For instance, you can expect anything from a few cents to a few dollars per click or impression if you're targeting a large audience with a traditional news feed advertisement. On the other hand, if you're targeting a more competitive demographic or employing a more specialized ad format, such as an in-stream video ad, you may have to spend substantially more.
The precise cost of running Facebook ads will ultimately depend on knowing what to expect and the spending limit of your marketing campaign. It's typically advised to start with a small budget and grow it over time as you gain experience and more insight into what appeals to your target demographic. Additionally, Facebook offers a tool that can estimate the cost of your advertisement based on your budget and target market.
How do I target my renters on Facebook ads?

Your social media ads will not be effective if you aren't targeting the right renters. Finding your target audience is a crucial step to increasing your apartment traffic. To target your renters on Facebook ads, you can use the following targeting options:

Demographic targeting: Target your ads based on age, gender, education, job title, income, and more. The more you know your community, the better you will be able to find the right demographic for ads.
Location targeting: Reach people in specific locations, such as cities, regions, or countries. You will want to be as targeted as possible with location to ensure that you reach the prospects looking in your general area.
Interest targeting: Reach people based on their interests, such as rental properties, apartment living, or home design. The Facebook ads algorithm is very sophisticated and can use your audience's previous interactions to determine if they're looking for a new apartment.
Behavior targeting: Target people based on their online behaviors, such as past purchases, device usage, and travel patterns. Behavior targeting can help you narrow your target audience to a future resident actively engaged in the leasing process.
Custom Audience: Create a custom audience using a list of email addresses, phone numbers, or Facebook user IDs of people who have expressed interest in your apartments. Custom audiences can work well if you have many leads you hope to continue guiding through your marketing funnel.
Lookalike Audience: Create a lookalike audience based on a custom audience, reaching people with similar interests and behaviors. Lookalike audiences can be more advanced and are a great option if you're running a more targeted ad and have previous results to go off of.
It's critical to get your Facebook marketing ads right because they can be tailored to reach the particular audience you're after. Targeting the right audience is the key to reaping the benefits of Instagram and Facebook ads! The wrong audience will have minimal results and, unfortunately, cause your budget to waste.
Is it better to run ads through Facebook or Instagram?

There is a feature on both Facebook and Instagram called "Lookalike Audiences." Advertisers can then target prospects who are similar to their current customers or website visitors. The function analyzes data from Facebook's enormous user base to determine the traits of the advertiser's ideal clients, then looks for other individuals with profiles that are comparable.
Whether it's better to run ads through Facebook or Instagram depends on your specific goals and target audience. Here are a few factors to consider:

Audience: Instagram has a younger demographic than Facebook, which has a more diverse age range. Consider which platform your target audience is more likely to be using. If you have more Gen-Z renters, you may want to consider more heavily using Instagram and venturing to apps, possibly like Tiktok.
Ad format: Instagram is visually oriented and offers a range of ad formats, including photos, videos, carousels, and stories. If you have intense property photos and want to display more visuals, Instagram will be the best option. Facebook offers a broader range of ad formats, including video, image, carousel, and more.
Campaign goals: Consider your campaign goals and choose the platform that aligns best with them. For example, if your goal is to drive website traffic, Facebook may be a better option due to its broader reach. One benefit of Facebook is that the links are often more accessible and can result in more clicks. If your goal is to increase brand awareness, Instagram may be a better option due to its visually-oriented format.
Ultimately, running ads on both platforms is recommended to reach a wider audience. However, if you have limited resources, it's important to prioritize the platform that aligns best with your target audience and campaign goals.
Facebook Ads Manager offers A/B testing. Split testing, often known as A/B testing, is a strategy for comparing and assessing the performance of many variations of ads by dividing the audience into separate groups and presenting each group with a different version.
Once you have a few ads that are consistently working well, experimenting makes sense. You can also test and compare the performance of your ads on both platforms to determine which delivers the best results for your specific needs.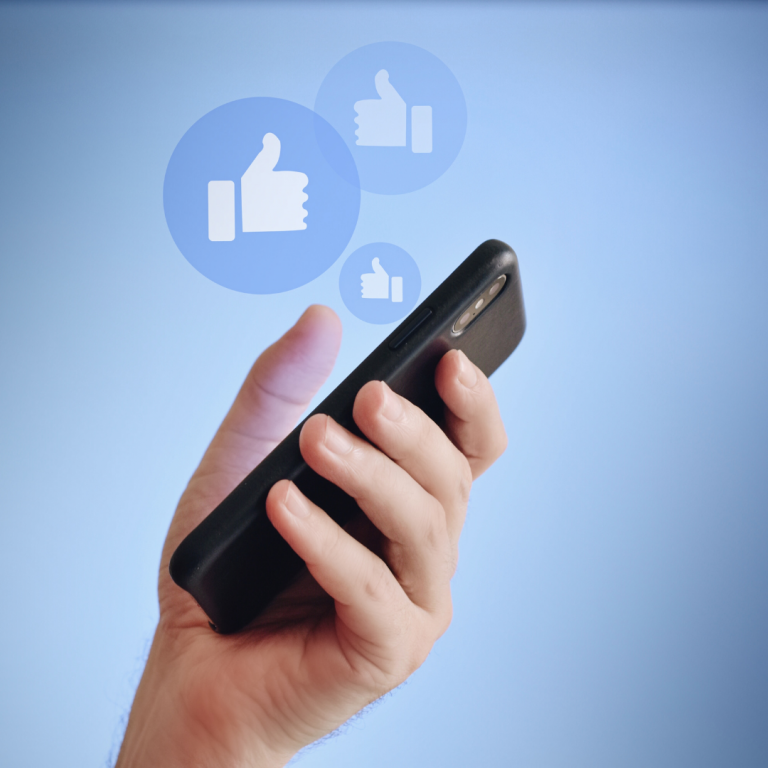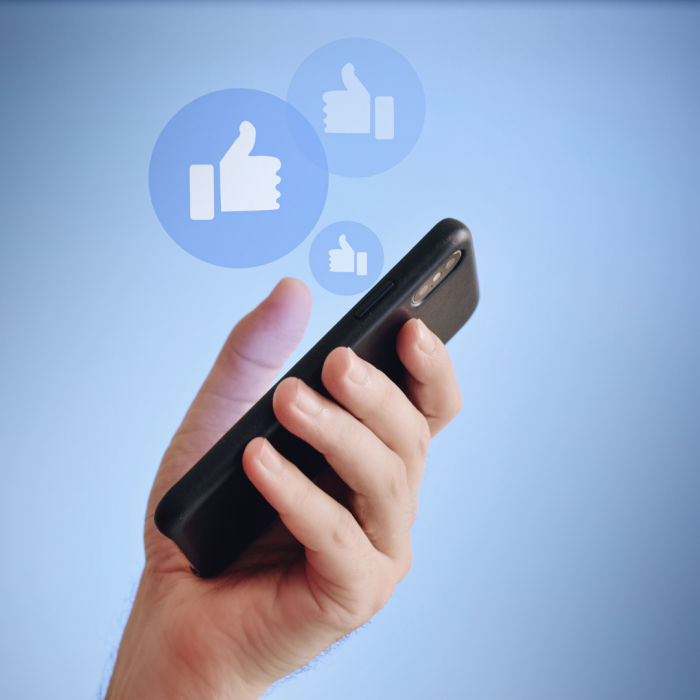 Why should apartments have a social media presence?

Social media is likely precisely what your apartment needs to reach a larger audience! There are several reasons why multifamily communities benefit from social media:

Reach a wider audience: Social media provides a platform to reach a large and diverse audience, including potential renters, current residents, and local community members. One of the main benefits of any social media app is it can result in more sharing online, causing you to reach an audience you wouldn't be able to otherwise!
Build brand awareness: Social media allows you to showcase your property and build brand awareness by sharing photos, videos, and information about your property, amenities, and surrounding area. Many prospects will look at your community Instagram before determining to move forward.
Engage with your audience: Social media allows you to engage with your audience and build a community around your property. Respond to comments, messages, and reviews to create a positive online presence. The power of social media also expands to your current residents as well.
Drive leads and conversions: By promoting your property and offering special promotions, you can drive leads and conversions from interested renters. Social media is one of the best ways to drive traffic to your apartment website!
Monitor and improve online reputation: Social media allows you to monitor online conversations about your property and respond to negative comments or reviews. The right social media strategy will help you create a positive online presence.
Stay competitive: Social media is becoming an increasingly important tool for marketing apartments, and staying active can help you stay competitive and reach a wider audience of potential renters. If renters decide between your property and another, they will likely compare the two on social media.
Keep your apartment digital marketing strategy current and up to date! By having a solid presence on social media, apartments can improve their online visibility, reach a wider audience of potential renters, and build a community around their property.
How do I market my property rentals on social media?

In social media marketing, social proof refers to the psychological phenomenon where people are more likely to trust and follow the actions of others, making it important for brands to showcase positive feedback and reviews from customers to increase credibility and engagement.
You can market your apartments on social media in so many ways! Many case studies have been conducted on Facebook and Instagram, with the results varying based on the study's unique focus. If your property isn't in the right place to start paid social media ads, you can continue to post organically and see results. To market your property on social media, you can follow these steps:

Choose your platforms: Decide which social media platforms your target audience is most active on, such as Facebook, Instagram, Twitter, or LinkedIn. Spending time on each platform daily is a lot of work, so narrowing it down will help you be the most productive.
Create a content strategy: Plan the content you will post, such as property photos, videos, virtual tours, testimonials, and promotions. The more you can plan your content out, the more consistent your growth will be.
Develop a posting schedule: Determine how often you will post and the times you will post. Get your team involved so you can continue your social media strategy regardless of who is in office.
Engage with your audience: Respond to comments, messages, and reviews promptly to build a strong community around your property. Social media algorithms are highly targeted around engagement, which will automatically increase your views!
Use paid advertising: Consider using paid advertising, such as Facebook and Instagram Ads, to reach a wider audience and drive more leads. Once you have established the right organic social media strategy, paying to advertise will be the right next step.
Monitor and adjust: Regularly monitor your posts' performance and strategy as needed. Use analytics tools to track the engagement and reach of your posts.
By implementing these steps, you can effectively market your property on social media and reach a wider audience of potential renters. Work with apartment advertising and social media agencies to help you maximize social media to its full potential!
In conclusion, property managers and owners seeking to connect with and engage potential tenants may find Facebook and Instagram ads to be great strategies. You can successfully reach and attract new tenants to your properties by using targeted advertising, displaying properties, promoting events, increasing website traffic, and boosting posts.
Additional Facts and Statistics on Facebook and Instagram Advertising
Demographics of Social Media Users: As per a survey conducted by the esteemed Pew Research Center, a whopping 69% of adults residing in the United States utilize Facebook, while Instagram is embraced by 43% of the populace. These statistics paint a vivid picture of the vast potential audience that apartment communities can connect with through these platforms.
Effectiveness of Social Media Advertising: A fascinating study by Statista revealed that a remarkable 74% of marketers firmly believe in the efficacy of Facebook for marketing purposes, while Instagram is deemed effective by 65% of these professionals. These findings strongly indicate that a majority of marketers place immense value on advertising their ventures on these influential platforms.
Mobile Usage: According to the Digital report by Datareportal, a staggering 98% of Facebook users and an astonishing 100% of Instagram users access these platforms via their trusty mobile devices. This significant data underscores the paramount importance of optimizing advertisements to cater to the seamless mobile viewing experience.
Video Content: An illuminating report by Wyzowl uncovers the fact that a staggering 91% of businesses incorporate video as a mighty marketing tool, with an astounding 93% of marketers recognizing its pivotal role in their comprehensive marketing strategy. These figures vividly highlight the potential effectiveness of video advertisements on renowned platforms like Facebook and Instagram.
Ad Spending: As disclosed by eMarketer, a mind-boggling $95.83 billion was expended on Facebook ads, while Instagram ads accounted for a substantial $13.86 billion investment by advertisers worldwide. These figures underscore the considerable financial resources allocated by businesses to these influential platforms.
Return on Ad Spend (ROAS): The notable study conducted by Merkle demonstrates that the average return on ad spend for Facebook stands at a commendable 2.3 times the initial investment, while Instagram boasts an impressive 2.2 times return. These findings strongly suggest that both platforms have the potential to yield a positive return on investment.
Engagement Rates: As per a comprehensive report by Rival IQ, Instagram boasts a noteworthy median engagement rate per post of 1.22%, while Facebook lags behind at a modest 0.08%. These intriguing statistics suggest that Instagram may offer superior engagement rates, although both platforms can effectively reach potential renters.
Ad Recall: Intriguing data furnished by Facebook suggests that individuals have the ability to recall a mobile News Feed ad after a mere 0.25 seconds of exposure. This staggering revelation underscores the utmost significance of crafting impactful and memorable advertisements to capture the undivided attention of the target audience.
Did you know that Instagram and Facebook ads for apartment rentals can be optimized by leveraging user-generated content? Encouraging current tenants to share their positive experiences and visually appealing photos of their apartments on social media platforms can create an authentic and persuasive marketing strategy. By showcasing real-life stories and visuals, potential renters can get a genuine sense of the community and lifestyle they can expect, increasing the effectiveness of these ads.
One lesser-known aspect of Instagram and Facebook ads for apartment rentals is the ability to target specific interests and behaviors. These platforms offer robust targeting options that go beyond basic demographics. For example, you can target individuals who have recently engaged with content related to moving, home decor, or apartment hunting. By narrowing down your audience to those who are actively seeking new housing options, you can increase the relevance and impact of your ads.
Instagram and Facebook ads can also be used to promote virtual tours and 360-degree views of apartment units. While the article mentions the effectiveness of showcasing high-quality images, incorporating virtual tours takes the experience a step further. By allowing potential renters to virtually explore the space from the comfort of their own homes, you can provide an immersive and interactive experience that helps them visualize themselves living in the apartment.
Another intriguing aspect is the use of dynamic retargeting in Instagram and Facebook ads. This technique allows you to show personalized ads to individuals who have previously shown interest in your apartment community or have interacted with your website or social media profiles. By tailoring the content specifically to their previous engagement, you can significantly increase the chances of conversion, reminding them of the benefits and unique features they found appealing.
One hidden insight is the importance of utilizing Instagram Stories for apartment rental ads. Instagram Stories offer a highly engaging and visually compelling format that captures users' attention. By creating short and captivating stories that highlight the key features, amenities, and lifestyle aspects of your apartment community, you can create a sense of urgency and exclusivity, leading to increased interest and inquiries.
Lastly, considering the rising popularity of influencer marketing, collaborating with relevant influencers in the real estate or interior design niche can be an effective strategy for Instagram and Facebook ads. By partnering with influencers who have a dedicated following and influence in your target market, you can tap into their credibility and reach a wider audience. These influencers can showcase your apartment community in a more relatable and aspirational manner, generating trust and interest among their followers.
Start your property social media ads today!
Categorised in: Apartment Marketing
This post was written by Isabella Housel
Isabella Housel is a passionate and versatile professional writer with a deep love for words and a commitment to crafting compelling content that engages, informs, and inspires. With many years of experience in the industry, she has honed her skills across various genres, from creative storytelling to informative articles and technical documentation.