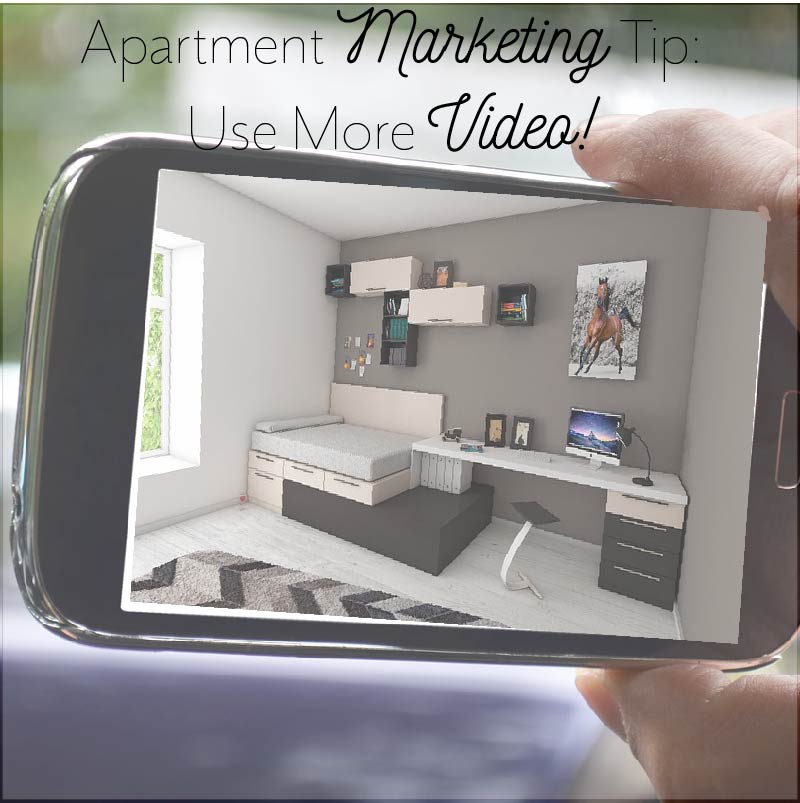 January 26, 2018 4:04 pm
Leave your thoughts
Last Modified: April 13, 2020 10:42 am
Reading Time:
2
minutes
Today's apartment marketing tip comes from our own experience: start using video on your apartment website! First, if you're wondering why you need to include video on an apartment site, consider these video statistics
With over a billion users, YouTube accounts for 1/3 of total internet users.
45% of people report that they watch over an hour of Facebook or YouTube videos a week.
87% of online marketers use video content.
The results are clear: 2018 is the time to use video on your website. The next question is, how? How can I incorporate video in apartments?? With that in mind, we asked our skilled team of marketers here at Market Apartments for their three recommendations on incorporating video into apartment marketing, and here are their three best ways to use video in your apartment website strategy:
Virtual Tours
If pictures are worth a thousand words, imagine how many leads a video is worth! With Matterport Virtual Tours, you can give residents a virtual experience, and they can tour your apartment from the comfort of their own home.  Virtual Tours look sleek, classy, and give the resident a feel of your property, leaving them wanting more. Take this example from our latest property!
Highlight Recent Achievements
Did your property partner with any organizations lately? Did you post a resident event that was well-liked? What about a new restaurant opening up down the street? Video is a great opportunity for you to let current or potential residents know about new developments.
One marketing strategy to consider is the "1 second a day" app, that compiles a video of clips you have taken over the course of year, each 1 second long. Each time you host a resident event, buy breakfast for the property, install a new pet amenity, or even when it snows, capture a 1 second video and add to your story! By the end of the year, you can post to your social medias and let your residents know what a year it has been (not to mention, remind them to renew their lease!).
Seasonal Promotions on Social Media

Social media presents great opportunities to capitalize off seasonal events and holidays. Utilizing hashtags and giving residents something to watch will pay off when it comes to retaining good residents and finding more.

For example, why not make a post about New Year's resolutions:

Or, post a sappy video on Valentine's Day? :

Well, are you feeling inspired?? If not, why not reach out to your marketing company?? That's what they're here for!

At Market Apartments, we believe in better apartment marketing. We believe in marketing companies that are passionate about what they do, and knowledgeable in transforming that passion into leads. Contact us today to find out more about digital marketing, video, and website design.

Tags: apartment marketing, apartment social media marketing, apartment video marketing, apartment website design, content writing, digital apartment marketing, online apartment marketing, SEO, video marketing


Categorised in: Apartment Marketing

This post was written by Market Apartments