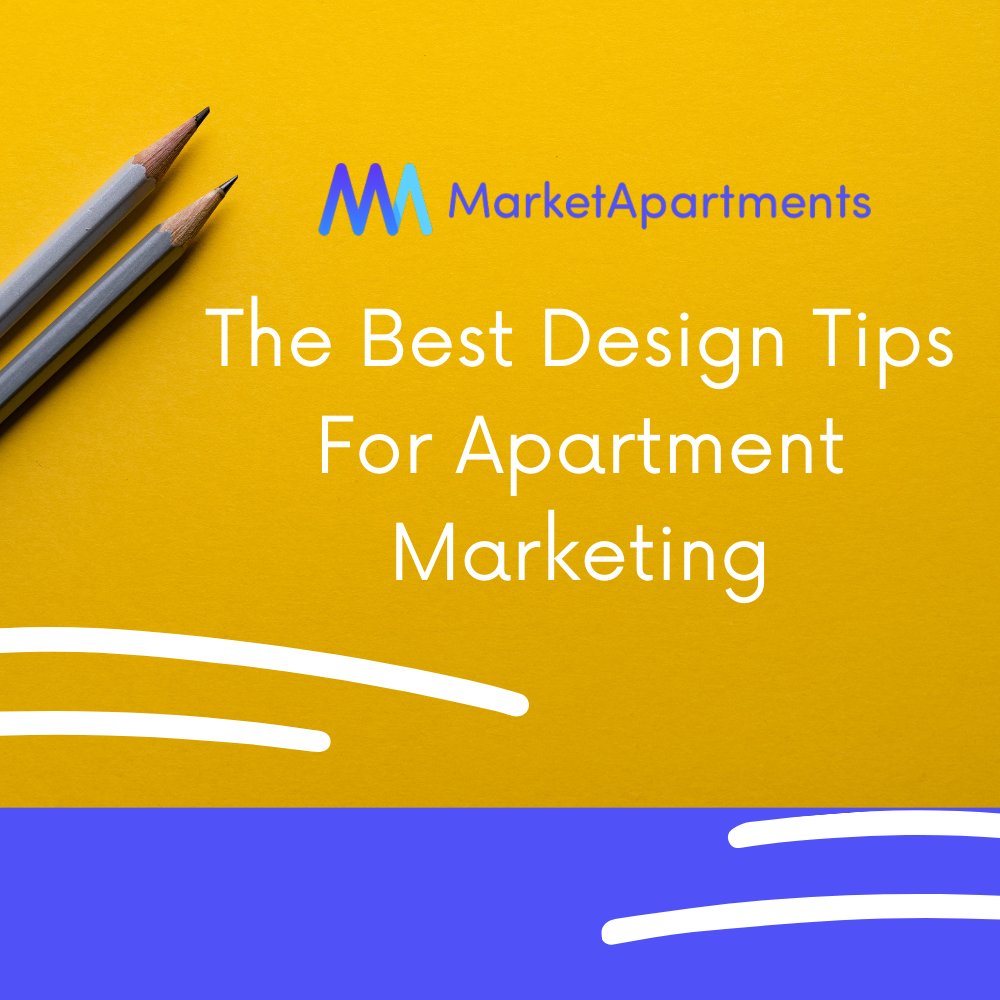 March 17, 2021 11:34 am
Leave your thoughts
Last Modified: June 14, 2023 3:35 pm
Reading Time:
4
minutes
It's no secret that a crucial part of your apartment marketing is the aspect of design. Design can mean various things such as brochures, flyers, logos, property maps, and rebrands. It is the visual elements that bring your property to life. Poor design can also lead prospects away and not advertise your apartments to the maximum potential. With professional design elements, you truly can take your community to the next level. Not to mention, it will allow your property to maintain a consistent feel. Your future renters want to live somewhere that is professional. To have a high-functioning apartment website, design needs to be at the front of your apartment marketing.
1 – Brochures
A professionally designed brochure can be the ideal introduction to your property. It can display information about your community in an organized way. A brochure can encourage your future renters to take action! After they read through the information, prospects are more likely to move forward. A brochure can also lend ideas of professionality and credibility to your community.
A brochure needs to be done well to work for your target audience. It's also important to have the right techniques and design so that it can work as you want it to! Adding a brochure to your apartment marketing design strategy will help you engage future renters on and off your property. It can be used in so many ways and is truly an effective source for advertising your apartments.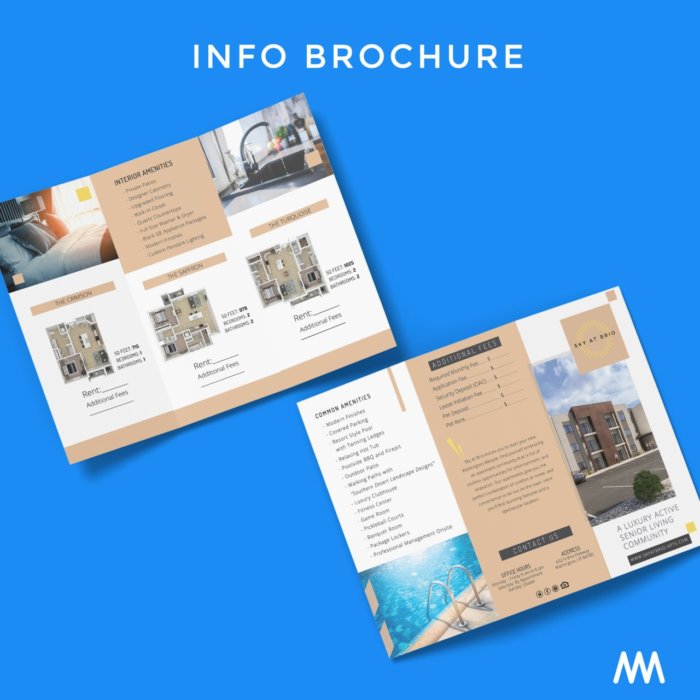 2 – Flyers
When they come for a tour or stop by, giving your prospects print materials is a huge aspect of apartment marketing! Most of your future renters want to review the information and think about a good fit for them. Therefore, the importance of having detailed flyers that break down your current specials or share further information about your property is absolutely crucial.
Flyers are also useful for resident events, giveaways, and other marketing strategies. Flyers, just as any other design material, can be branded to fit your property perfectly! They can truly be a great tool that you need to always have on hand. Rather than going with random design materials, flyers help to maintain your brand in every way.
3 – Logos

Is your logo the best that it can be? The chances are that it is probably time for a logo revamp! Many logos are difficult to read or have outdated colors and fonts. One of the best apartment marketing strategies is to enhance your logo with a brand new look. Your logo is the staple image of your community, and it stands as the recognizable of your entire property. It's what goes on your website, your social media, flyers, brochures, and more!
Your logo is truly the center of all of your apartment marketing, so it's necessary to make it spectacular. There are plenty of logo options that can truly take your property to the next level. Don't wait to update your logo, as you could be missing out on potential leads all the time because of it!
4 – Rebrand
It might be the perfect time for your design rebranding! Your logo may be outdated, along with other designs that you use for your internet marketing. A rebrand creates a new image and creative vision that often includes the remaking of the logo, new colors, and perhaps new flyers, brochures, and property maps. The benefits of rebranding are endless as it can connect you with a brand new audience as well as set you apart from your competitors. Not to mention, it will make your current marketing strategy better and allow it to be more appealing to future Gen-Z renters.
With better design, you will feel more comfortable marketing on social media. It can enhance your website and play a role in having prospects stay on your site for longer. A rebrand may be the exact marketing tool that will make your property amazing!
5 – Property Maps
A property map can be a massive game-changer to your apartment marketing. Many property maps are outdated and do not have adequate information to showcase your community. Common property map downfalls are that they may be hard to read or without color or branding. Another significant benefit of having an updated property map is that it can also be more appealing digitally.
Not only can it stand as a document you use while your prospects are touring, but it can also be a digital asset. The power of a fantastic property map is that it gives you the ability to show your future renters exactly where their apartments will be. All of this comes together to make a property map an irreplaceable tool!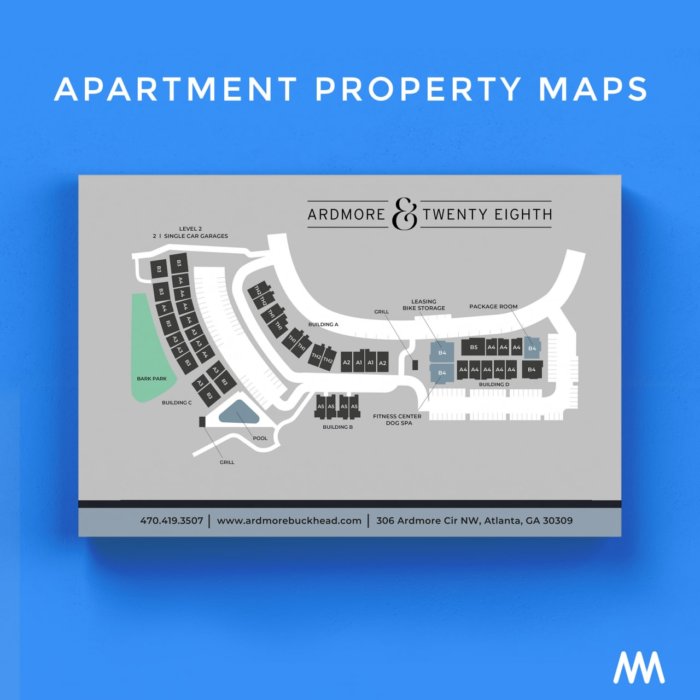 6. SEO
It is insufficient to simply have a website. Your website should be optimized for visitors and search engines in order to rank effectively and attract potential tenants. A well-designed website will improve your search engine ranking, leading to increased traffic and ultimately, more leads.
The user experience should be your primary concern when designing a website for an apartment community. Your website should be simple to use, with logically organized content and navigation that are clear and concise. A user-friendly website not only improves user experience but also enables effective website crawling and indexing by search engines.
Categorised in: Apartment Marketing
This post was written by Isabella Housel
Isabella Housel is a passionate and versatile professional writer with a deep love for words and a commitment to crafting compelling content that engages, informs, and inspires. With many years of experience in the industry, she has honed her skills across various genres, from creative storytelling to informative articles and technical documentation.