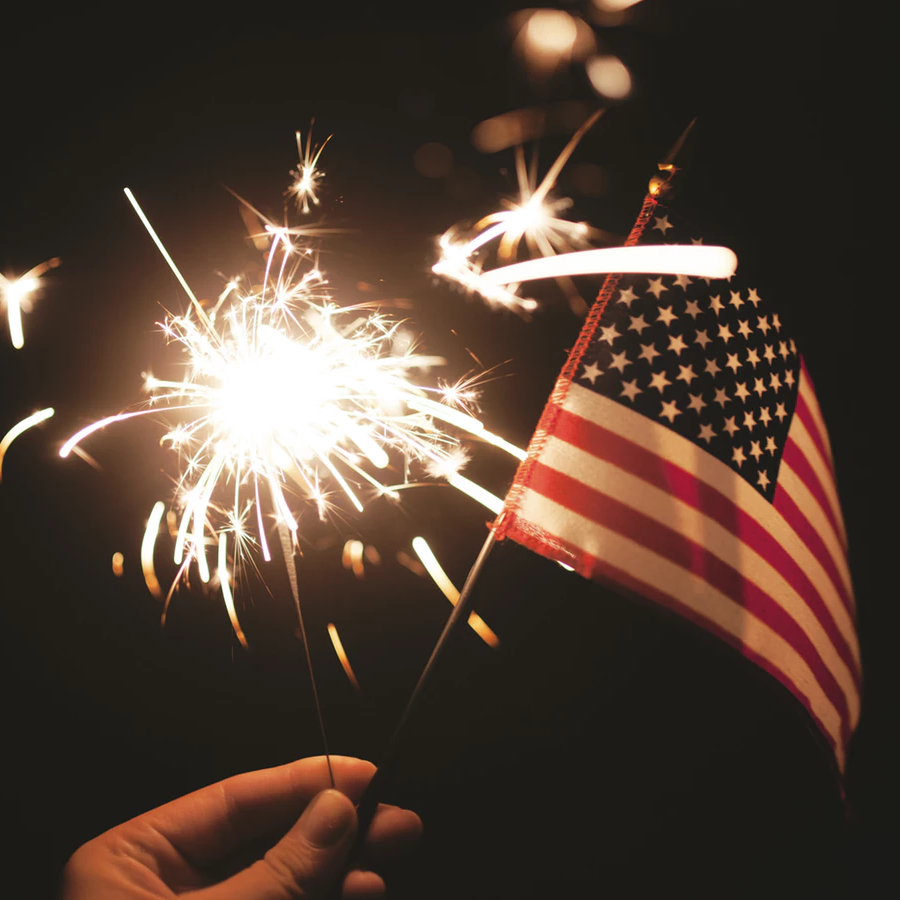 June 26, 2019 10:05 am
Leave your thoughts
Last Modified: August 2, 2022 2:35 pm
Reading Time:
4
minutes
DOWNLOAD OUR FREE 4TH OF JULY RESIDENT GIFT TAGS!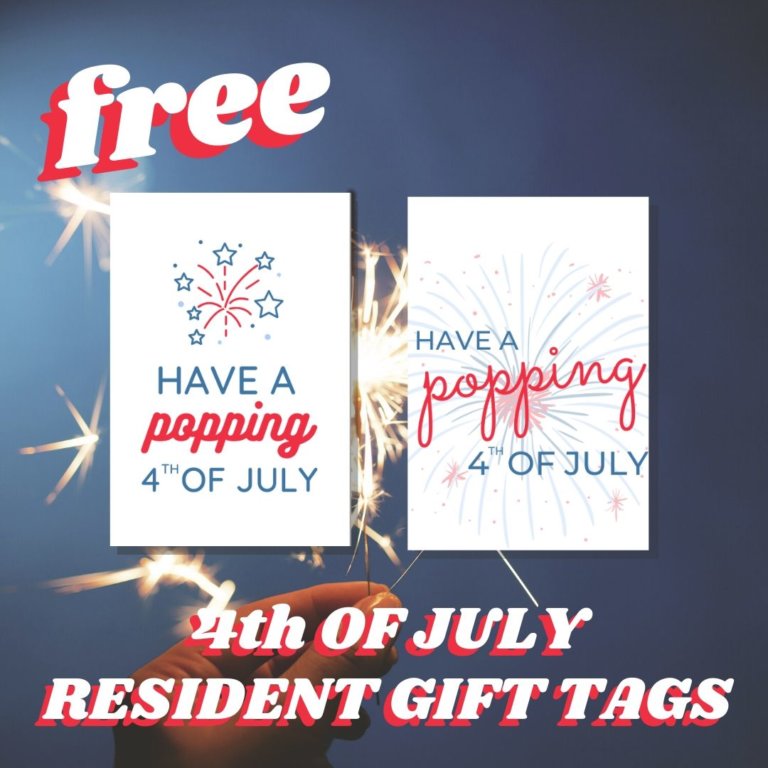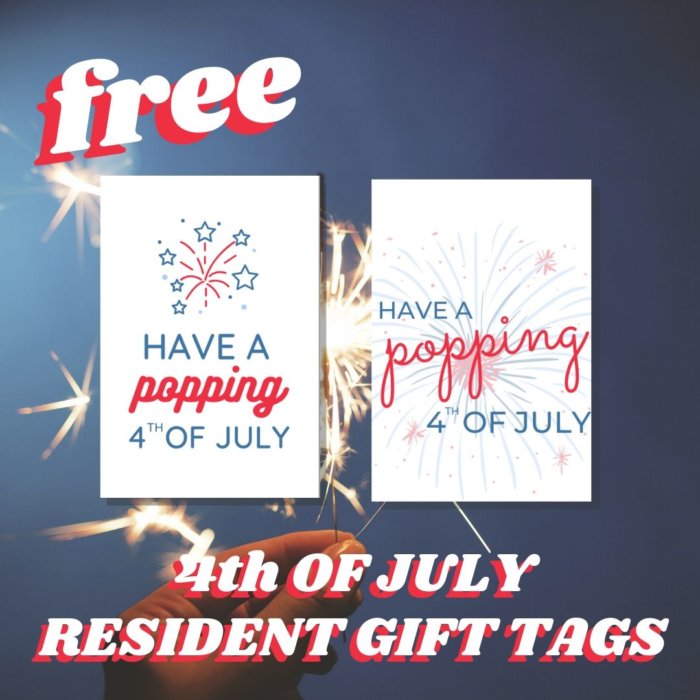 Every holiday should feel special at your apartment community! Let your residents know how awesome it is to be living at your community this 4th of July by hosting a fun 4th of July resident event. There are so many fun ways to celebrate. It was hard for us to choose just one. So, we've summarized our top 3 favorite ways to celebrate Independence Day with your residents. We'll also talk about ways to get more resident referrals along the way.
1) 4th of July Scavenger hunt.
Scavenger hunts are great for a 4th of July resident event because it's a fun way to get residents involved and they don't take a lot of time or money to put together. Residents will have a chance to explore the entire apartment community and may discover places they didn't know existed. Have residents look for items in the fitness center, picnic area, dog park, playground, tennis court, etc. There are so many places to find things.
Things to hunt for.
Keep your scavenger hunt challenging and have a theme in mind. If you're using 4th of July as your theme, you can have residents search for something red in the Courtyard, something blue in the Fitness Center, and something white in the Club House. You could also have a picture scavenger hunt, and have residents take pictures with the things they're hunting for. Utilize the items already in the area, like pinecones, leaves, signs, etc. For more scavenger hunt ideas, visit our Pinterest board, Resident Retention.
Make sure to use this opportunity to get people talking about your apartment community! When residents take pictures with their items, have them post it to your apartment's Facebook page. Share your 4th of July resident event with the public so others can see all the fun everyone is having.
2) 4th of July Social Media Contest.
Another fun idea for a 4th of July resident event is to have a social media contest. Many families will be having their own 4th of July events, but you can still get residents involved through social media. There are many resident contest ideas on Pinterest, but we've chosen our two favorites.
Trivia contests
Post a 4th of July themed trivia sheet and offer a prize to the first three residents to complete it. Ask questions like "Who was the 10th president of the United States?" or "What country gave us the Statue of Liberty?" Keep the questions challenging, but fun so that residents will want to get involved. Don't forget to include a prize and share the results on your apartment community's social media pages!
Picture contests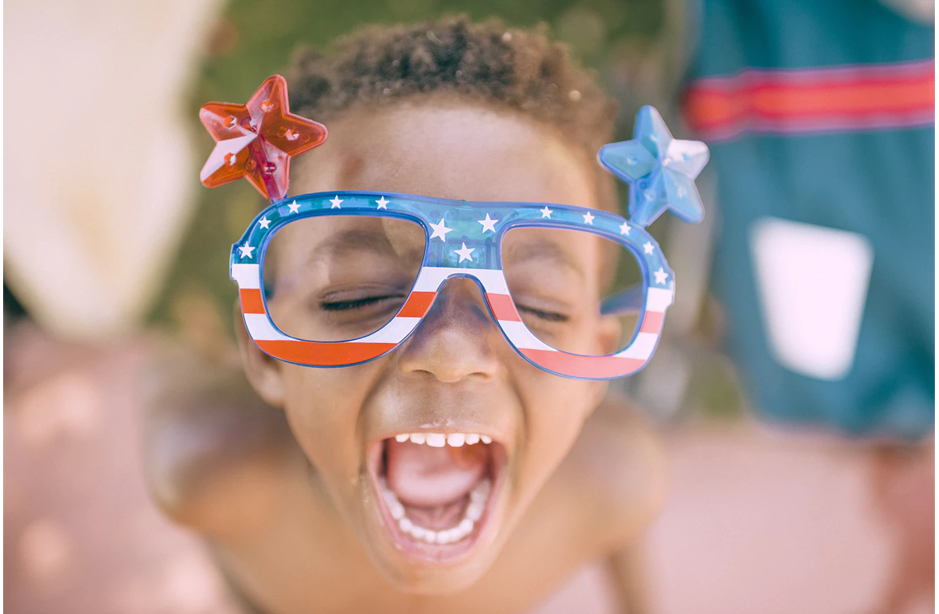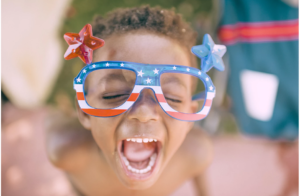 Have your residents share a picture of their family 4th of July activities on social media and tag your apartment community for a chance to be entered for a drawing. You could also have a patriotic theme, and have your residents send in their most patriotic selfies. Any way to make your residents feel part of their community is key. Adding fun photos to your social media pages will not only boost morale, but it also promotes your apartment community and highlights all the good things happening there.
3) 4th of July Themed BBQ.
Don't just have a regular BBQ, have a 4th of July themed BBQ! The key to having a themed BBQ is to have decorations, games, and food all tied to the holiday. You can find many great ideas on our Pinterest Board, but I'll explain some of them here.
Decorations
For the perfect 4th of July resident event, you'll need lots of decorations! The great thing about the 4th of July is you already know what colors to use for decorations. You guessed it, red, white and blue! You can find colored tablecloths, plasticware, napkins and many other 4th of July decorations at Wal-Mart and the Dollar Tree. Stars and stripes are also part of a 4th of July theme, so get creative and find ways to incorporate both into your décor.
Food
Decorate with the food you serve too! You can create the American flag with many different kinds of food. Bake a white cake and use blue and red berries to create the stars and stripes. Surprise your residents with 4th of July themed drinks by using red Fruit Punch and blue Gatorade. With food coloring, the sky is the limit. Let your creative juices flow.
Games
Make sure you have plenty of entertainment! Keep the kids busy with arts and crafts. Have families make the American flag using popsicles and paint. For the adult residents, you can play a game of 4th of July themed Scategories or Bingo. When you offer prizes or some type of incentive, more people will want to play. We've said it before people love competition! Don't forget to capture all the fun and post to your apartment community's social media accounts!
So there you have it. Three fun and unique ways to celebrate the 4th of July with your residents. Resident events are a great way to get them involved in the community. It's also a great way to bring new residents in. We want to know how your apartment community will celebrate the 4th of July. Use #Marketapartments when you post about your resident events to let us know how it turned out! Want to send an email blast to residents inviting them to the big event? Contact Market Apartments and we'll help you do that!
Categorised in: Apartment Marketing, For Property Managers, Resident Retention
This post was written by Dana Perez
Dana Perez is the operations manager and writer at Market Apartments. She writes about apartment marketing strategies and shares it with our audience.