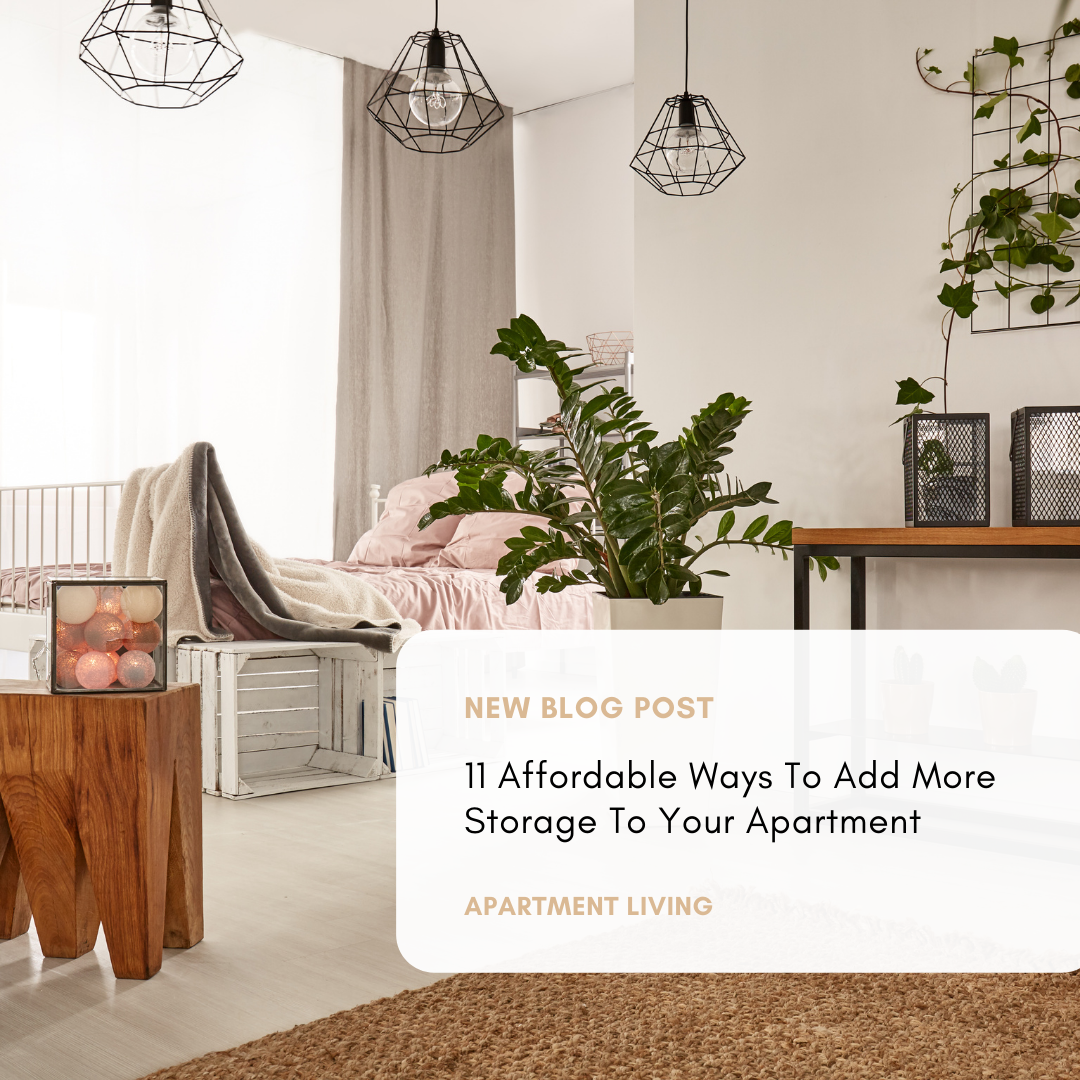 July 21, 2021 3:51 pm
Leave your thoughts
Last Modified: July 11, 2022 3:49 pm
Reading Time:
5
minutes
Most renters are looking for ways to add more space and storage to their apartments. Apartment layouts can often vary in size and places where you can keep your belongings. It isn't fun to live in a space that feels highly cluttered, and chances are you will feel better when things are organized. With rent becoming more expensive in most places, you may have had to end up in a smaller apartment.
The good news is that it doesn't take costly furniture to add more surface area to your square footage. There are simple and easy ways to upgrade your space with more room. From the proper storage bins to organizational hacks, there is a combination of things you can do to ensure that your area has a bit more space to offer.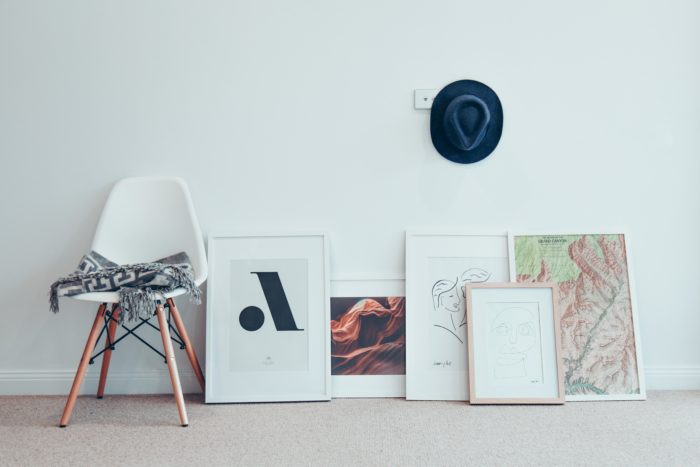 1 – A Storage Bed

One of the best and most effective ways to store more in your apartment is to invest in a storage bed. There are a variety of designs and options available so that you can find one that works for you and your budget. The benefit of a storage bed is that it frees up a lot of room for extra belongings that will also be completely hidden.
It will allow you to store the items that you don't need access to daily. Not to mention, there are a lot of trendy and modern storage beds that make the perfect addition to any space. 
2 – Behind The Door Storage

Don't underestimate the storage space that can be utilized behind your doors! Behind the door storage options is a great way to create more room. There is a variety of behind-the-door hooks, racks, and bags that you can use. This type of storage is perfect in the bathroom for towels and toiletries. It's also a good idea for storing shoes or extra clothing items behind your bedroom door. A perk of behind-the-door storage mostly appears hidden, making everything feel more tidy and spacious.
3 – Bathroom Ladder Shelf

Bathroom ladder shelves are a new way to elevate the storage in your bathroom. It's likely that if you live in a small apartment, your bathroom doesn't have many storage options. Bathroom ladder shelves are built to go directly above the toilet and utilize the vertical area above. These shelves are an aesthetic way to create more storage! If you want to enhance your bathroom with extra space, look into these types of possible options.
4 – Additional Clothes Racks

Clothing is often the culprit of taking up a lot of space! If you're finding that you have clothing everywhere, consider an additional clothing rack. Clothing racks can add another option for clothes storage and also make for a great decoration piece.
They can be styled to fit the feel of your apartment and realistically look good in any room. Not to mention, they're super affordable! Avoid being annoyed with your closet daily and purchase an additional clothing rack.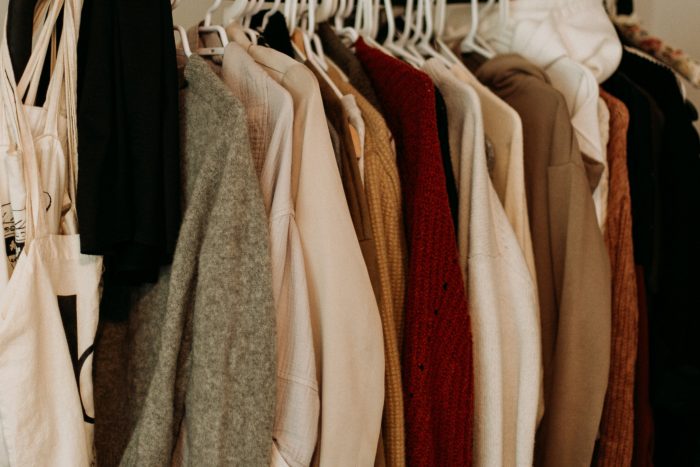 5 – Add Extra Hooks

A hack for adding more storage and avoiding clutter is to add more hooks to your space. Most disorganization or lack of storage can come from not having enough options to hang objects. With hooks like Command Hooks being so inexpensive, they are a fantastic option for becoming more organized.
You can use these also for keys, kitchen items, bags, and more! If you're finding that your belongings regularly end up on the floor, you may need to install more hook options.

6 – Use Rolling Storage Racks

One massive advantage of rolling storage racks is that they're portable and can be moved around if needed. Mobile storage is brilliant because it can allow you to move it where you need more space. If you're planning a dinner party or having a group of friends over, you will love having this as an option! Certain occasions and circumstances may require more space, so having a rolling storage rack on hand is highly beneficial. Plus, if you don't need it, you can store it away until next time!
7 – Categorize & Organize Your Belongings

It becomes much easier to store things when your belongings are sifted through and organized. Categorizing everything together will help you know what needs to be stored away and what needs to be accessed daily. It's challenging to create more storage space if you aren't sure what you need to use and when you need them. The reality is that we all have belongings that we could get rid of to make more space. Consider doing a deep clean and organization of what you have to create more room.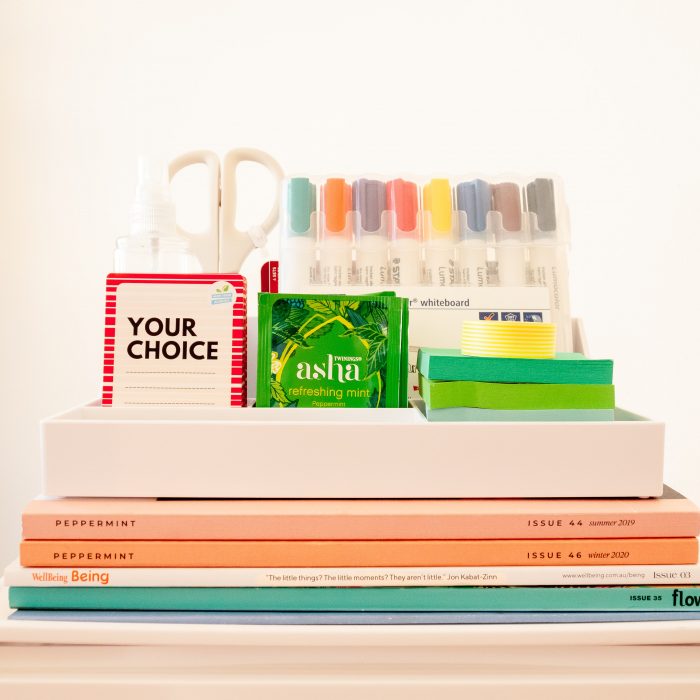 8 – Add Bed Risers

With bed storage being a fantastic option for extra space, look into using bed risers! Bed risers essentially can work on any bed to lift if further above the ground. This extra space will allow you to place more things underneath your bed. A higher bed can also look better as it creates a more elevated feel! Even if you don't need more storage space, you might love this addition just for the look.

9 – A Storage Couch

If you're going to be investing in a new couch soon, look into storage couch options. There are so many stylish storage couch options! A storage couch is another way to hide items that may not be accessed daily. It's also the perfect spot to store extra blankets and pillows. You will love that it's a hidden storage compartment, and it will free up even more space. Regardless of what you're going to store in it, it is the perfect option for anything.

10 – Use Wall Space

Don't underestimate how you can go vertical to create more storage space! The more you can get things off the ground and up into a vertical space, the better! Using more wall space will ensure that your furniture pieces and floors don't get too overcrowded for things. Consider how you're using your wall space and get creative with a few new ideas! Utilize your walls with shelves, hanging pictures, hooks, and more.

11 – Implement Floating Shelves

Floating shelves do wonders for a small space! If you need several more areas to place your belongings, you will want to incorporate floating shelves into your layout. The beauty of floating shelves is that they can be easily installed and make your space appear much more significant. It's also very convenient for getting your belongings off of the ground and into a higher area.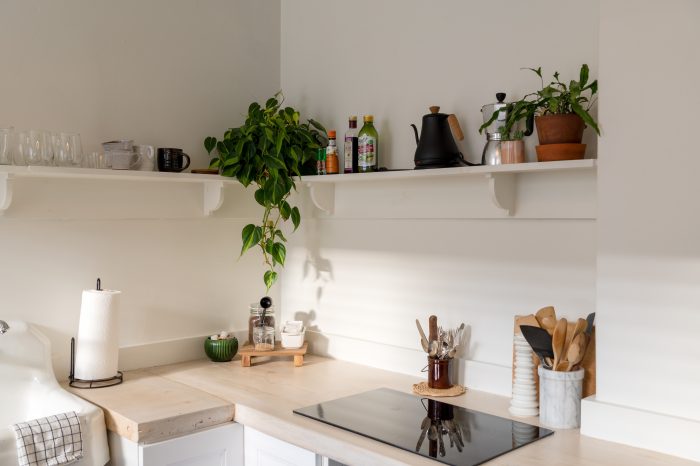 Find your next apartment today!
Categorised in: Apartment Living
This post was written by Isabella Housel