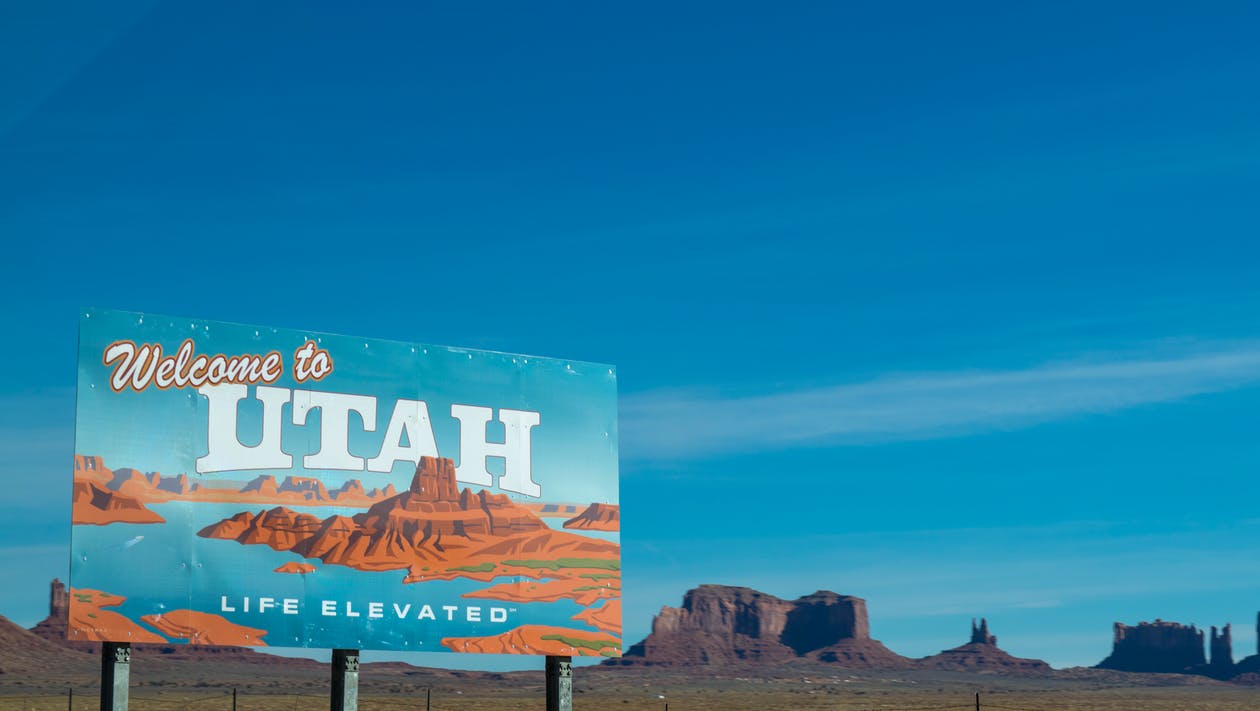 September 26, 2019 11:27 pm
1 Comment
Last Modified: May 17, 2023 9:24 pm
Reading Time:
8
minutes
This is Why Moving to Utah Could Be the Best Decision You've Ever Made
Moving to Utah could be the best decision you've ever made. A recent study ranked Utah as the second-happiest state in America, bested only by Hawaii. In other words, Utah is the happiest state in the continental US!
We know what you're thinking. "What makes Utah, of all places, such a happy state?" Or maybe you're thinking, "Forget the details, I'm packing my bags already!"
Whether you are still skeptical or you're ready to don your Beehive State baseball cap and call yourself a Utahn, we think you'll like what we have to say. The more you know, the better you'll be able to answer your friends and family when they ask, "Why are you moving to Utah?" And who knows, you just might convince them to come along! Stick around and find out why moving to Utah may just be the best decision you've ever made! We'll even help you find a place to live!
1. Updated Transportation and Roads
Utah has a well-maintained transportation system, to include a recently upgraded highway and the Salt Lake City International Airport, home to one of the largest Delta Airline hubs in the nation. Once you're settled into your new home, easily access other Utahn cities via the growing light rail system, TRAX. Depending on where you're coming from, you may be wary of public transportation. If you're moving to Utah, you can count on their award-winning public transportation to get you where you're going safely and efficiently.
2. Beautiful National Parks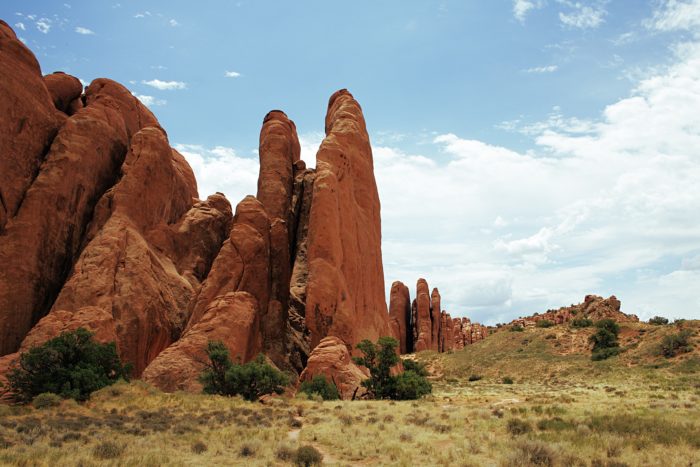 Utah boasts five national parks that will take your breath away. If you love a good natural sculpture, explore Arches National Park. Arches National Park features natural bridges, mountains with open-air arches, and sandstone towers you won't believe. If the Grand Canyon is your go-to vacation, you'll be thrilled to live in the same state as Bryce Canyon and Canyonlands. Hike to the top or travel by horseback to catch an incredible sunset over the water- and wind-worn sandstone ravines.
Capitol Reef may sound like a place filled with tropical fish, but it's actually a huge expanse of land surrounding a 65 million-year-old pinch point in the earth's crust. Known as the Waterpocket Fold, this landform extends over 100 miles!

Finally, enjoy the views from Utah's oldest national park, Zion. Hike the steep red cliffs or follow the Virgin River to the Emerald Pools to take in the hanging garden and waterfalls. You'll be amazed at all of the natural sights Utah has to offer!
3. Strong Job Market
Compared to the national average of 3.7% unemployment, the unemployment rate in Utah is remarkably low. In the summer of 2019, Utah's unemployment rate clocked in at 2.8%. In fact, Utah placed second in a national ranking of state job creation! All these great statistics are likely the result of Utah's diverse economy. Utahns work in sectors ranging from hospitality to software management to coal mining. Because the opportunities are so vast, Utah is ideal for recent high school or college graduates, or even people who are looking to start a small business!
4. Rising Housing Market
If you're moving to Utah, you should know that the cost of living in Utah isn't Utah's best feature, although it's not as bad as it might appear. Utah has the 28th lowest cost of living in the country, but there are a few things that skew that number a bit. Part of what raises that cost of living number in Utah's housing market. The average cost to buy a home in Utah is over $300,000, but even that number doesn't reflect all of Utah. For example, buying a house in Salt Lake City will cost over $200,000 more than buying a house in some of the smaller cities or suburbs. These high prices will work out for anyone hoping to buy now and flip later, as all predictions point to a continuing rise in the future. However, for those of you who want to live in, say, Salt Lake City, but don't have $500,000 to spend, why not look for an apartment? You'll find the apartments, even those big enough for a family, to be much more affordable!
5. No-Nonsense Taxes
Depending on where you're coming from, Utah's tax system may not be that pleasing. That being said, their taxes are straight forward and easy to understand, which is always a plus! For starters, Utah is a flat-tax state, which means the income tax is 5% across the board. What that means is that whether you make $20,000 or $200,000, 5% of your yearly earnings will go towards state-run services and programs. The cost of homeownership may be high, but Utah's property taxes are low. There are no estate taxes whatsoever, so there's no need to worry about additional costs coming in from any inherited property. Utah's sales taxes, coming in at about 6.94%, aren't far off from the national average. Based solely on taxes, Utah may not be the most retirement-friendly place. They do tax Social Security benefits and withdrawals from retirement accounts. However, they're certainly not the only state to do this, and their rates aren't exceptionally bad. On the bright side, all those taxes will go towards state programs like those great highways and public transportation we mentioned earlier!
6. Good Colleges
Utah is home to several colleges and universities both public and private. If you're looking to further your education, why not consider one of Utah's several schools? If you're looking for a great school-life balance, check out the University of Utah. It's located in the heart of Salt Lake City, offering its students tons of urban experiences and opportunities! If a private school is more your speed, you may want to look into the well-ranked Brigham Young University. For a private school, the tuition is fairly low and it is located in Provo, Utah, where the cost of housing is low, as well. Bear in mind that it is a religiously-affiliated school with strict expectations and conservative politics. Utah has tons of schools to choose from, whether you're looking for a 4-year university or a 2-year associates program!
7. Great Opportunities for Creatives
Salt Lake City was recently chosen as one of the top cities for young professionals, particularly in creative fields. Salt Lake City is home to a number of graphic designers and their job market continues to flourish. 
Utah is also home to the renowned Sundance Film Festival, the largest independent film festival in the United States. Each year, Sundance takes place in Park City, Salt Lake City, and Sundance Resort, a ski lodge in Provo. 
If you're looking to launch a career in film, where better to live than one of Sundance Film Festival's locations? There are some impressive names attached to Sundance Film Festival! Directors like Quentin Tarantino, Steven Soderbergh, Darren Aronofsky, and more got their first big break after entering their films in Sundance. Whether your passion is graphic design or screenwriting, consider launching your creative career in one of Utah's bustling cities.
8. Fun Specialty Foods
Every state has its favorite foods, and Utah is no exception. Whether you're dying for some Fry Sauce from Arctic Circle or funeral potatoes, a Utahn specialty made of hashbrowns, cheese, and corn flakes, Utah is sure to please! If you're moving to Utah, you can skip the national fast-food chains and head straight for Crown Burgers, established as a Utah burger joint in 1978. They may not have Arctic Circle's fry sauce, but they do have the juiciest quarter pounder you'll ever eat! These burgers are so monstrous, they've been featured on Food Network's Man vs. Food.
Looking for something sweet in Salt Lake City? Drive up to Iceberg Drive Inn and order one of their famous thick milkshakes. You may need a spoon for this one! Worried that you might not find the best food if you're living in one of Utah's many rural towns? Take a look at Hell's Backbone Grill in Boulder, Utah, serving up locally-sourced goodies in one of Utah's most remote areas. You don't need to live in Utah's cities to get great food!
It's worth noting that Utah also offers plenty of breweries for your sipping pleasure. There's a popular misconception that Utah is a "dry" state, but that is not the case!
9. Historical Equality
It may be surprising that a predominantly conservative state has landmark protection laws for the LGBTQ community, but, in fact, they do! In 2015, Utah lawmakers passed a bill that banned discrimination against members of the LGBTQ community. The bill protects this community from being discriminated against when seeking employment and housing. An overwhelming majority of Utahn politicians stood in support of this bill, surprising the country and thrilling Utahns! Whether you are part of the LGBTQ community or want to live in a state that treats its residents as equals, moving to Utah may be a great choice for you!
10. Low Crime Rate
Across the board, Utah ranks extremely well when it comes to crime rates.
They have the 9th lowest amount of violent crimes per year in the nation. Their nonviolent crimes are a bit higher, particularly in relation to porch theft, but these numbers are driven up by a few cities, alone. Salt Lake City, in particular, has an issue with the nonviolent crime, but there are plenty of places, like Saratoga Springs, that are very safe! Whether you're relocating to Utah with young kids or sending off your oldest to live on their own for the first time, you can rest easy knowing that in Utah, crimes are few and far between.
11. Winter Sporting Opportunities
With an average snowfall of 48 inches, you better believe that Utahns love their winter sports! If you're a skier, snowboarder, or just love flopping down on an innertube and zipping down the side of a mountain, Utah will be a dream come true. Better still, winter sports are a huge part of Utah's economy! People come from all over the country to experience Utah's winter season, so there are plenty of work opportunities in the mountains.
You might just get paid to do what you love! (If you're not a big winter person, don't worry! Utah is well-rounded when it comes to the four seasons, and you're nice, dry summer is right around the corner!) move there!

What is the Best City in Utah?
This whole time, you've probably wondered if there was one city, in particular, that outshines all the rest. We're here to tell you… that there's no right or wrong answer! Utah is such a beautiful state with so much to offer that finding the best city comes down to your own preferences. If you love the city lights and always want a new restaurant to try, Salt Lake City will certainly do the trick! If you're drawn to natural beauty and don't want to drive more than an hour to get to it, smaller places like Springdale, located right outside of Zion National Park, will probably be more your speed! What's the best way to find out the best city in Utah? Take a trip and see for yourself! You just might find a city or town so incredible, you'll have to
Pack Your Bags, You're Moving to Utah!
By now, you've seen so many of the things Utah has to offer–and that's only the beginning! Moving to Utah is the only way to find out exactly why it's the second happiest state in America! But first, you're going to need a place to live, right? That's where we come in! At Market Apartments, we do our best to match our clients with the Best Apartment for them. Cater your search by city, number of bedrooms, and even number of bathrooms! On a budget? You can set a maximum price to filter your results! Need to make sure Fluffy can come along? We can filter for pet-friendly apartments, too! Stop asking yourself, "Should I move to Utah?" and start asking, "What do I want in an apartment once I get there?" Just fill out our online form for apartment listings in Utah and we'll handle the rest. Your dream apartment is out there!
Categorised in: Apartment Living, Apartment Search, Apartment Tips
This post was written by Isabella Housel