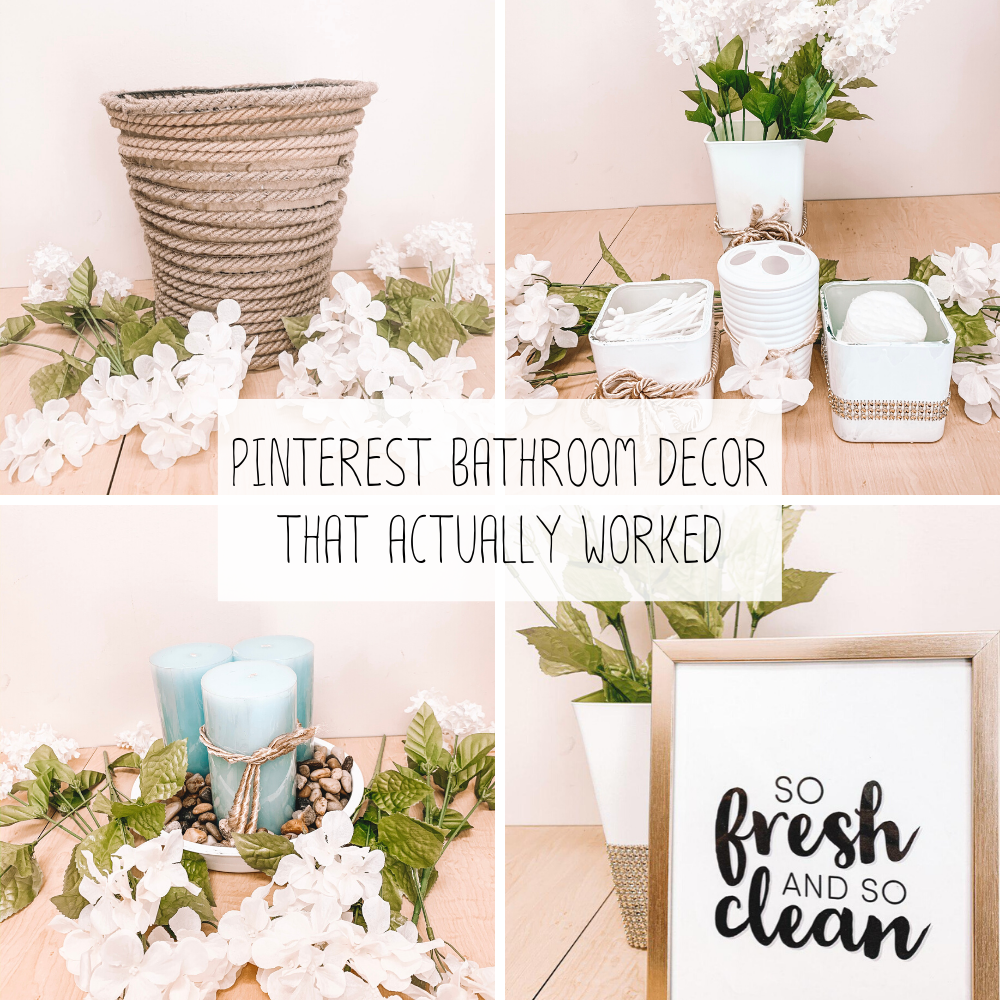 November 22, 2019 8:35 pm
Leave your thoughts
Last Modified: August 11, 2022 6:44 pm
Reading Time:
5
minutes
In the last few years, Pinterest has completely taken off as the world's largest online forum for decorating ideas. You can easily search Pinterest bathroom decor ideas, and find millions of different projects.
So how can you determine which Pinterest ideas will work, and which won't?
As great as Pinterest is, there isn't really a filter to show you which ideas are legit. The cover pictures and final products can be very misleading.
The phrase "Pinterest Fail" has recently been trending on the internet, as people try to attempt projects that seem simple, but end up getting very different results.
We wanted to make this easy for you, and determine what Pinterest bathroom decor actually works.
Our Market Apartments creative team took on the challenge of doing our very own DIY bathroom makeover. We searched Pinterest for hours and chose the bathroom decorating projects that we thought would be the most successful. These were the projects we decided to attempt!
4 Pinterest Bathroom Decor Ideas
Bathroom Wall Decor
Painted Supply Holders
Zen Candle Garden
Rope Trash Can
The first Pinterest bathroom decor we chose was very simple.

In fact, we saw copies of this sign on Pinterest selling for over $20. That is way more expensive than what we made it for!

If you want to make your own sign you can use free programs like Over, or Adobe Illustrator.
You can also use our free printables!
Download them now, and get started on this project.
Pinterest Bathroom Decor Free Printables
We bought our frame at Dollar Tree and printed the sign for free in our office. This idea turned out super great!
We would definitely put this in our bathroom as a decoration.

Sadly, our $1 frame did end up breaking.
Remember that sometimes, where you save, you might end up spending more later.
Total Price: $1
Materials: Picture Frame, Printed Sign
Store: Dollar Tree

The next project we did took a little extra creativity as some things didn't go as planned.

Dollar Tree didn't have actual mason jars, so we ended up purchasing a standard glass container.

Unfortunately, we couldn't find spray paint at the Dollar Tree so we adventured over to Hobby Lobby.

We picked up two kinds of spray paint. One was acrylic paint, and the other was just a regular standard spray paint. None of us had tried acrylic spray paint before and we were a little hesitant of how it would turn out.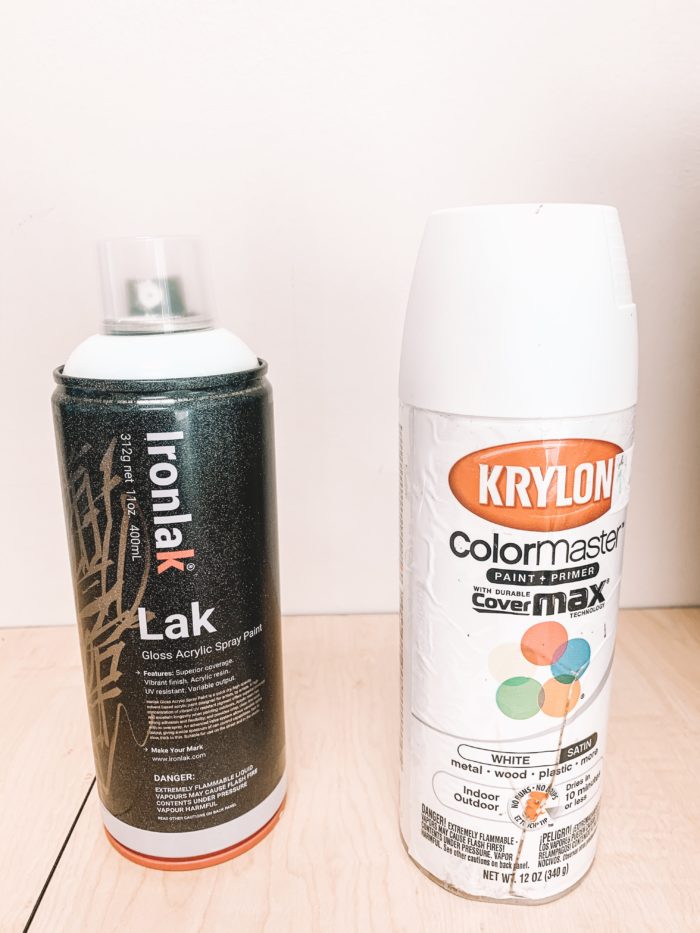 We did some quick research to find out that before you spray paint glass, you have to rub the surface with rubbing alcohol.

First, we spray painted each container with two coats, and then let them dry.

Then we used rope from Dollar Tree, and adhesive gold wrap to spice them up a little.

We actually really liked the way this project turned out!
If we had to do it again, we would make sure that we had a paintbrush nearby for the acrylic paint. The paint can be runny and it may need to be smoothed out. It took several coats of spray paint to fully cover the glass container.
Total Price: $4 (not including spray paint)
Materials: Picture Frame, Printed Graphics Sign
Stores: Dollar Tree, Hobby Lobby

3) Zen Candle Garden

This project ended up probably being the easiest and the least amount of work. It also turned out to be one of our favorites!
They did not have the candles that we were looking for at Dollar Tree.
We ended up purchasing three candles from Hobby Lobby. The candles were a bit more expensive than we had anticipated.

First, we spray painted the pie tin with the acrylic spray paint.

Then we put the candles in and covered the rest of the space with the rocks.

Lastly, we used the Dollar Tree rope to add a gold accent around one of the candles!

Total Price: $10 (not including spray paint)
Materials: Pie Tin, Rocks, Candles, Rope,
Stores: Dollar Tree, Hobby Lobby

Our last Pinterest bathroom decor idea was to upgrade a regular trash can to something that was more stylish, and fitting with the other decorations!
We purchased the simple black trash can from Dollar Tree and hoped to find some rope there as well, but couldn't locate any.
At Hobby Lobby, we found a rope and fabric combo that seemed to work really well. Ideally, you could use any rope to layer the trash can, but you will need to be cautious of exact amounts, and sizing.

This project was fairly easy to assemble and only took about 15 minutes total.

We did have to use a hot glue gun to get the rope to stay on the trash can. Depending on what type of rope you use, you may be able to use rubber cement or fabric tape.

This is a really easy way to turn a trash can into something that looks better, and less messy. It goes with the theme and ties everything together.

We would definitely recommend throwing one of these together to finish your bathrooms off!
Total Price: $5 (not including hot glue gun)
Materials: Trash Can, Rope, Hot Glue Gun
Stores: Dollar Tree, Hobby Lobby
Decorate your bathroom on a budget!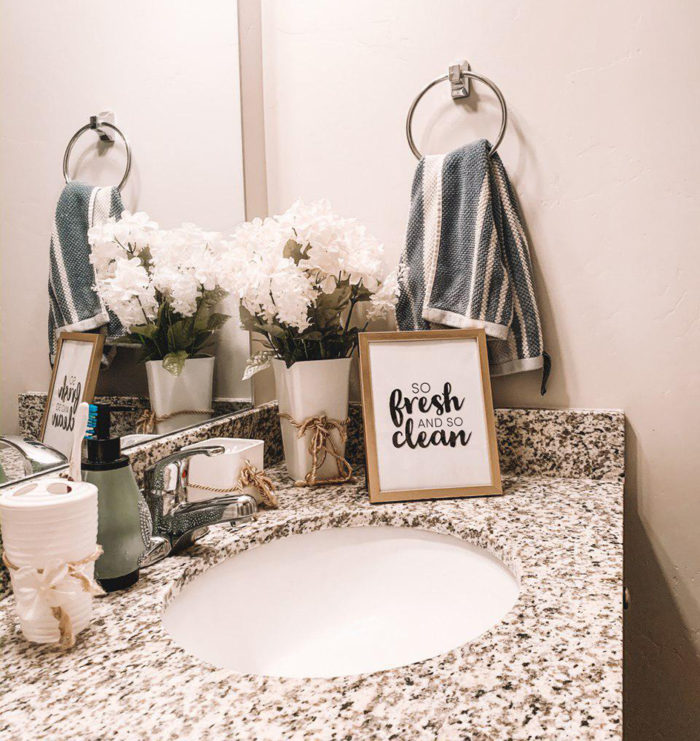 In all honesty, this was challenging, and a lot of fun. Unfortunately what can sometimes seem like a really easy, and cheap project can turn into the opposite. There are definitely some of the decorations that we would prefer to buy, and not waste our time on.

However, we did learn a few really easy ways to make simple decorations.

The truth is that you don't have to always buy elaborate, and expensive decorations. Not only will you end up with something that saves you money, but you'll also get a creative experience.

Sometimes it's not always about the outcome, but learning new skills along the way.

Get together with your friends, and host a night where you can try these Pinterest bathroom decor ideas. Bounce ideas off of each other, and help each other make your apartments feel like home!
Looking for your new apartment? Read these simple moving hacks to have a fully stress-free moving experience. Search for your dream apartment on our apartment search page!
Read up on other apartment living tips, and get decorating!
Did you give these projects a try?
Let us know in the comments how your projects went, and learn more on our Pinterest.

Categorised in: Apartment Living
This post was written by Isabella Housel