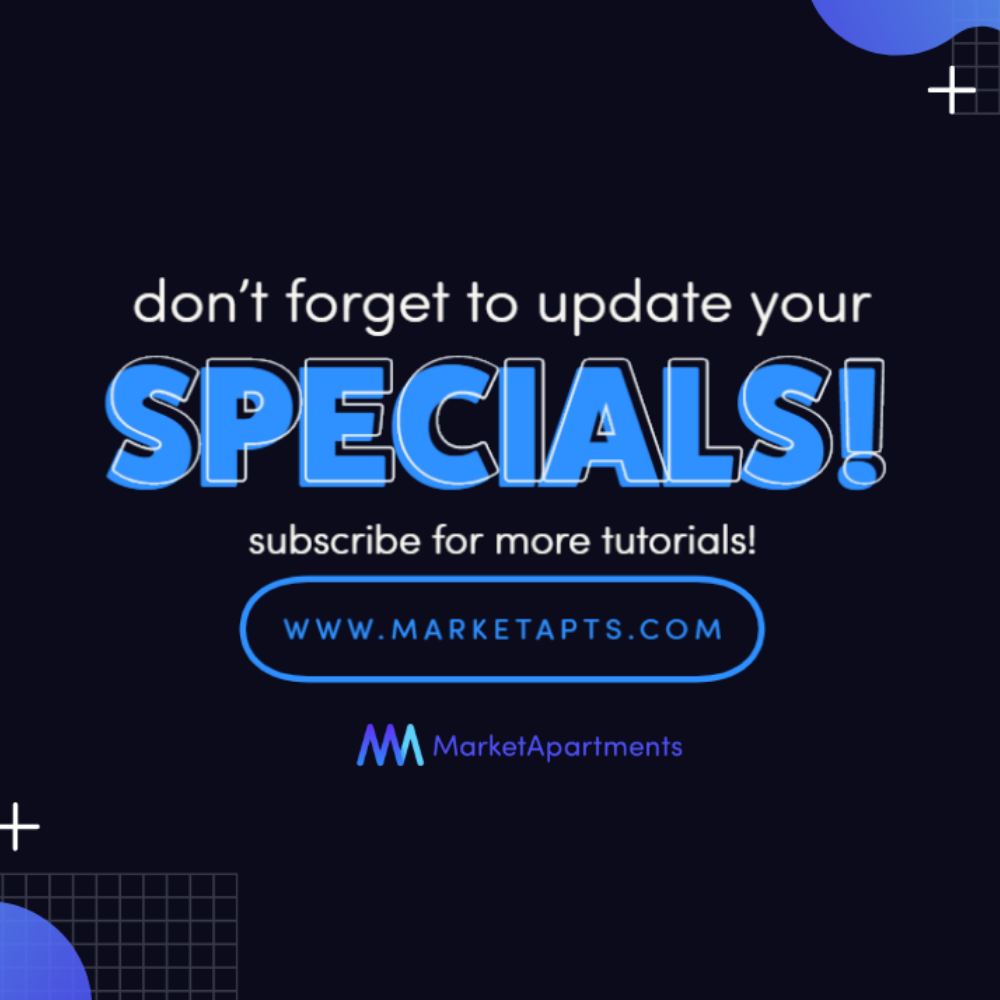 November 27, 2019 9:42 am
Leave your thoughts
Last Modified: August 10, 2022 9:15 pm
Reading Time:
4
minutes
Updating your monthly specials is one of the most important marketing strategies you can use to turn leads into leases! The most common questions and concerns that come from property managers are usually centered around website editing and administration. Websites can be confusing as not everyone has a background in coding and template editing. An apartment's website consists of extremely valuable information, and it needs to be in the best condition in order to attract prospects.
Today we want to focus on one aspect of an apartment's website: updating your monthly specials.


Updating your monthly specials on a regular basis is so important. Through updating them, you'll be able to turn more leads into leases. When a prospect is scrolling on your website, it is extremely enticing when they can directly see what your specials are at that time. Monthly specials can help give prospects the confidence, and enticement they need to keep moving forward.
Monthly Special Ideas
One of the trickiest parts of updating your monthly specials can be finding unique ideas, that will stand out as awesome specials. We've compiled a huge selection of great apartment slogans, that can be transformed into monthly specials. Check out these new ideas on our Pinterest.
Market Apartments Admin Dashboard
At Market Apartments, we facilitate an Admin Dashboard. This dashboard is available to our clients using our apartment website templates. An Admin Dashboard is basically a one-stop-shop for all of your apartment website needs. It is an easy, and simple way to edit specials, manage pet fees, view conversions, and review your analytics. Through using the Admin Dashboard, you can stay on top of all of your marketing tasks.
The rest of this article is going to be focused on the process of updating your specials through The Market Apartments Admin Dashboard.
If you do not have a Market Apartments Admin Dashboard/Website and want to learn more about having one in the future, send us your information.
How To Update Your Monthly Specials
Log in to the admin dashboard.
Select Specials from the menu on the left side.
Review Website Specials screen.
Scroll all the way to the right and select the "edit" icon, which is the green pencil.
Review the Edit Specials screen.
Change/Add the name of the special, unit number, and expiration date.
To end the special, choose an expiration date that has already passed.
Click Update Special.
Refresh page to see real-time changes.
Use the same process to update floor plan specials and pop-ups.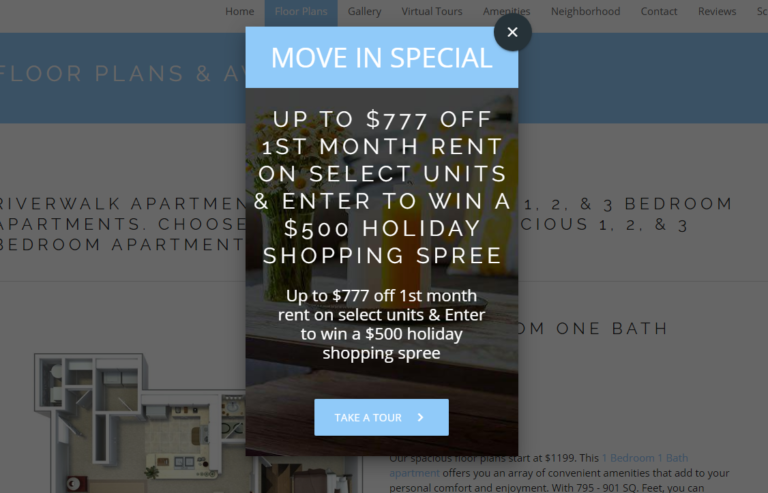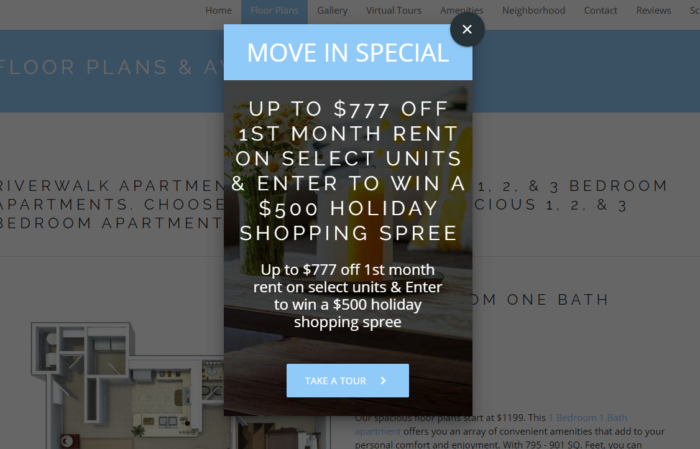 Step 1 – Log onto Admin Dashboard
So the first step demonstrated in this video is logging into your dashboard. You will see a menu on the left side with a few different options to choose from.

Under the specials tab, it will say the name of your property, and you can click that tab. (In this example, we clicked on Riverwalk.) This will take you directly to the page that you will be editing.
Step 2 – Select Website Specials Tab
From here, you should see a screen pulled up that says "Website Specials".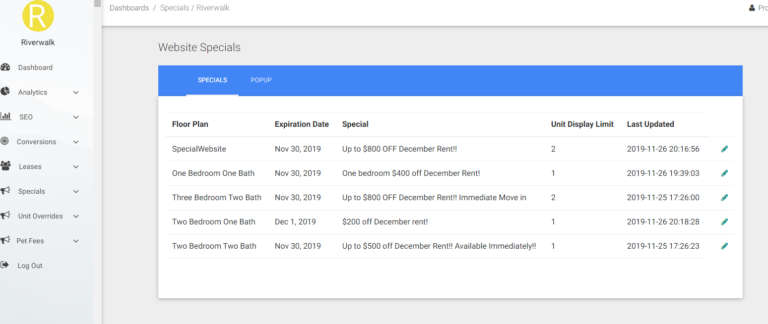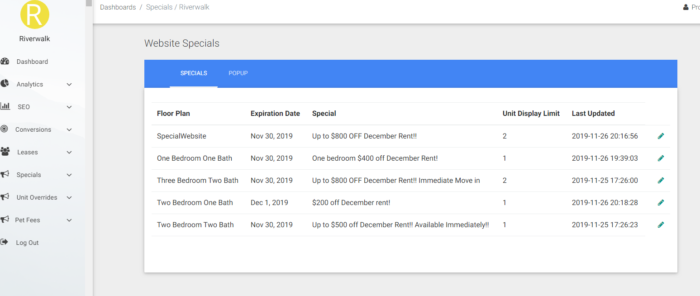 The Website Specials screen will show you a chart of floor plans, expiration dates, specials, and the unit display limit.
Step 3 – Select Edit Icon & Update Information
Next to each special, there is a green pencil, or "edit" icon next to the date. By clicking directly on this icon, I will then be able to go in and edit the specials.

When I click on the edit icon, a screen pops up that says Edit Specials. This screen will allow you to directly implement different names, units, and expiration dates.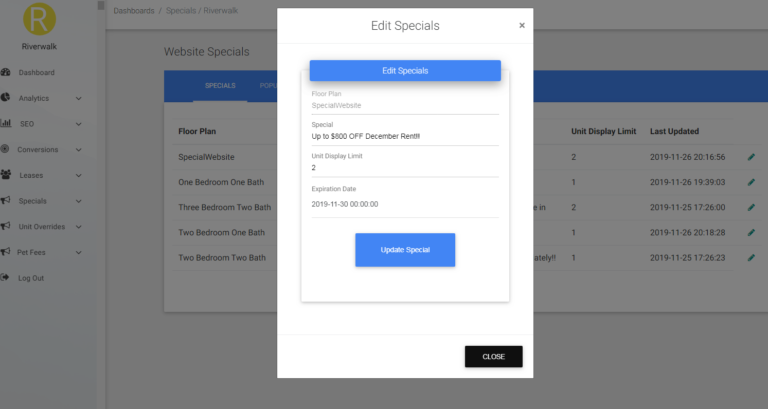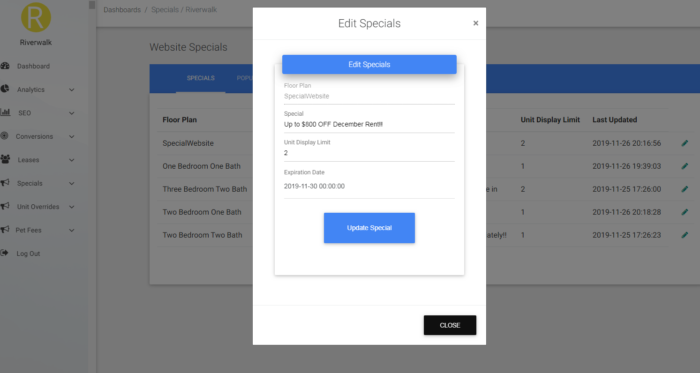 It is important to pay attention to the expiration date. I can navigate around the calendar to choose the exact day that the special will no longer be occurring.

If I do not want that specific special to show anymore, I will choose an expiration date that was the day prior to it ending. For example, in this video, I chose the date of November 25, which was the day before I was actually doing this. (November 26) Since I chose a day prior, the special will no longer appear on the screen.

Step 4 – Refresh Screen

Since I want the special to appear, I am going to click on the "edit" icon again (green pencil), and select a different expiration date that has not passed yet. Once I select "update special", and refresh the screen, the special is now displayed directly on the website.

You can also use this same process to update your floor plan specials and pop-ups.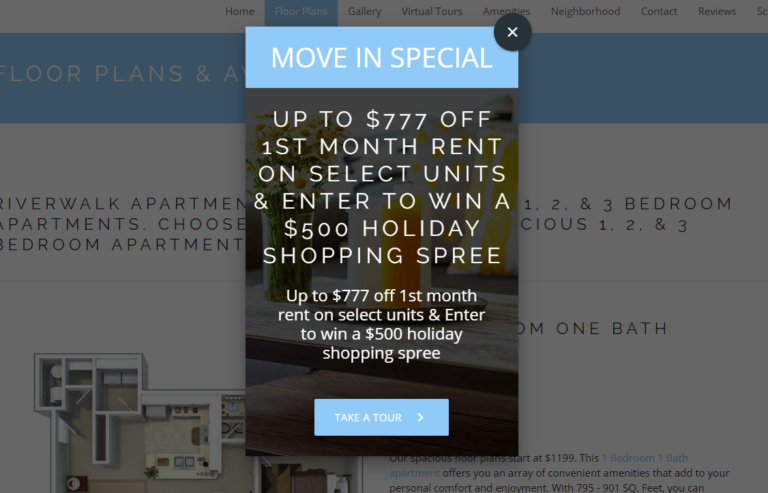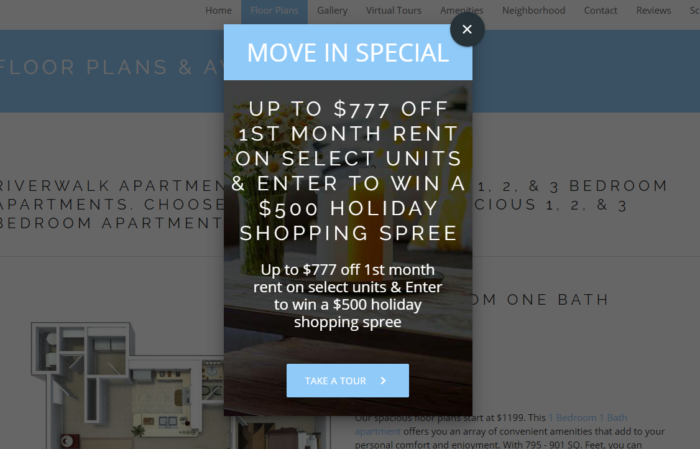 KEY POINTS TO REMEMBER

The website updates in real-time, so with a simple refresh you'll be able to see the change immediately.
Make sure you choose an expiration date that is in the future, or else the special will not show.
If you do not want the special to show any longer, simply choose an expiration date that is in the past, and it will no longer appear.
If you want a pop-up special to be edited, it has to be edited through the pop-up tab.
Questions?
If you have any questions or would like to learn more about Market Apartments Website Templates, and the Admin Dashboard, review the information on our website.
Updating Monthly Specials makes a huge difference!
Good luck in all of your marketing efforts to turn leads into leases. We highly encourage focusing on monthly specials and updating them through your website regularly.
Check out our youtube channel for greater insights into the apartment marketing world.
Categorised in: Apartment Marketing, For Property Managers
This post was written by Isabella Housel