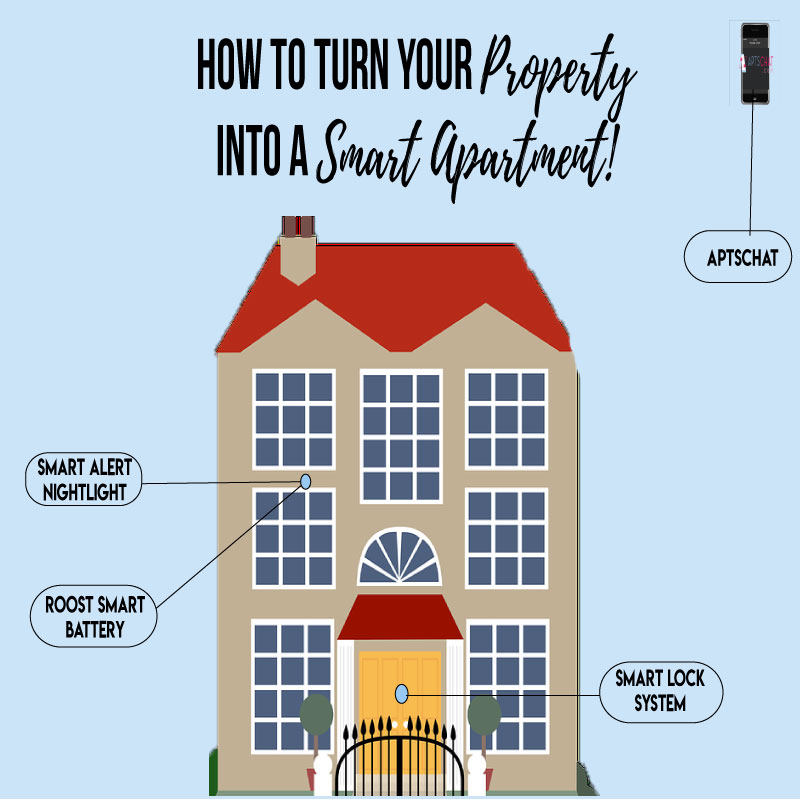 November 6, 2017 2:24 pm
Leave your thoughts
Last Modified: August 24, 2020 12:01 pm
Reading Time:
3
minutes
If you're like me, and you stayed up late watching Disney's 1990s film "Smart House," starring Katey Sagal (pre-Sons of Anarchy) and Kevin Kilner (post-Home Alone), then you're probably wondering how you can turn your home into a smart house–minus the domineering robot of course. If you live in or manage an apartment, you might think you can't have a smart house. Not true! We're here to give you all the tips and tricks to turn your apartment into a smart apartment, for both residents and property managers!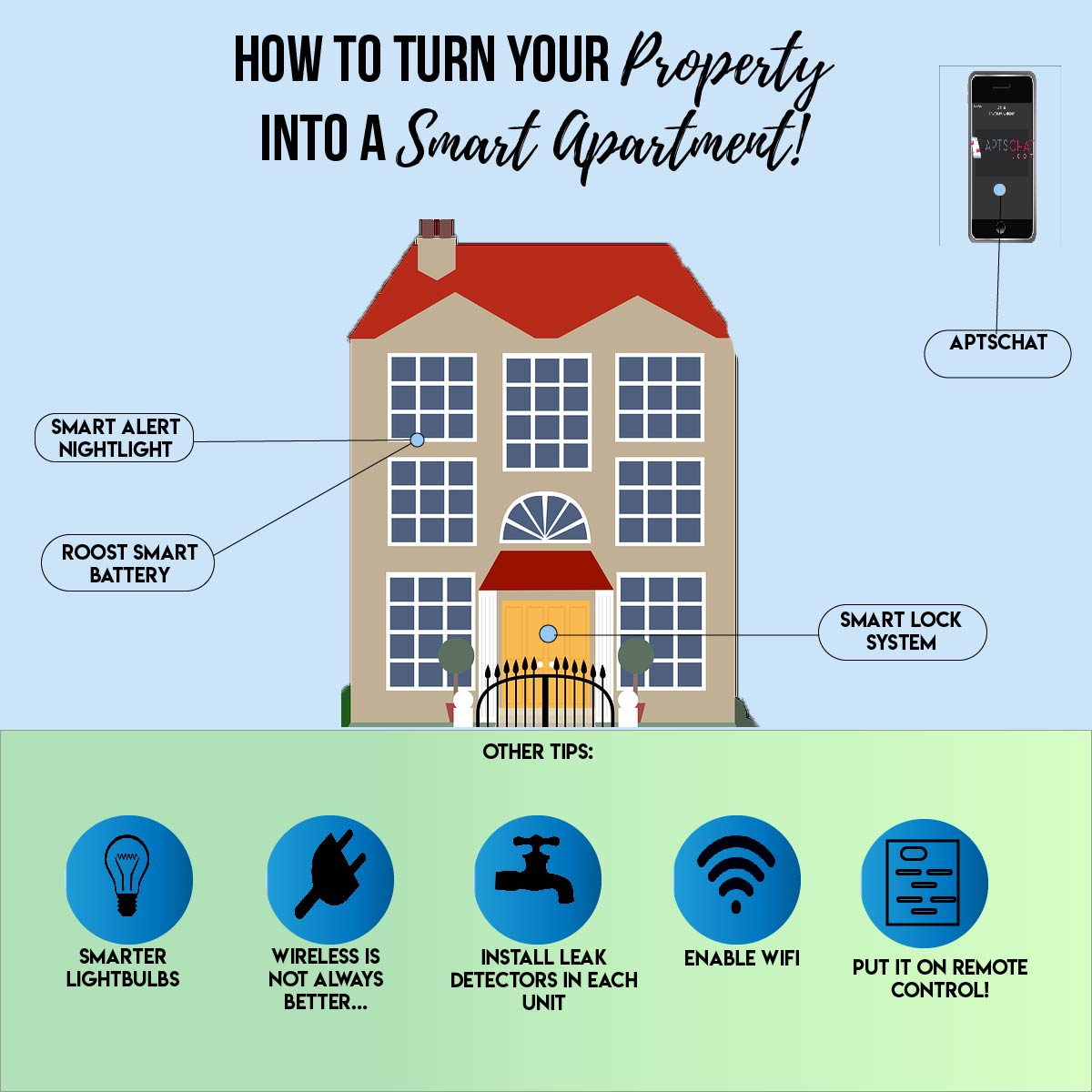 Alert Systems
Smart Alert Nightlight
This smart alert nightlight plugs you into the wall, and gives you alerts if your smoke detector or carbon monoxide alarm goes off when you're not home. Perfect for both residents and landlords, this alarm will protect your home even when you're not there.
Roost Smart Battery
Similar to the Smart Alert Nightlight, Roost also monitors the alert systems in your home. As simple as a battery pack, Roost attaches to your smoke detector and sends you emergency alerts, but goes farther and will alert you to leaks, humidity levels, and low battery warnings.
One plague that never seems to stop haunting landlords is that of the water leak. Whether it comes from a faucet, a dishwasher, or a water heater, water leaks almost always signal trouble and an expensive payout. This detector is as small as a battery, and sends updates to your phone whether the problem is dripping or pooling water.
Smart Lock System
With smart lock systems like this one, you'll never get locked out of your apartment again! Property managers can put them on lobby doors, secure entrances, or residents can outfit their individual units. These smart locks let you virtually unlock your apartment through your phone, and makes entries much safer.
For Property Managers
AptsChat
For property managers, apps like AptsChat are a lifesaver. Texting all of your residents at once, with personalized templates just feels….smarter! AptsChat also lets you send out scheduled monthly rent reminders, or just send out a meme with a friendly reminder: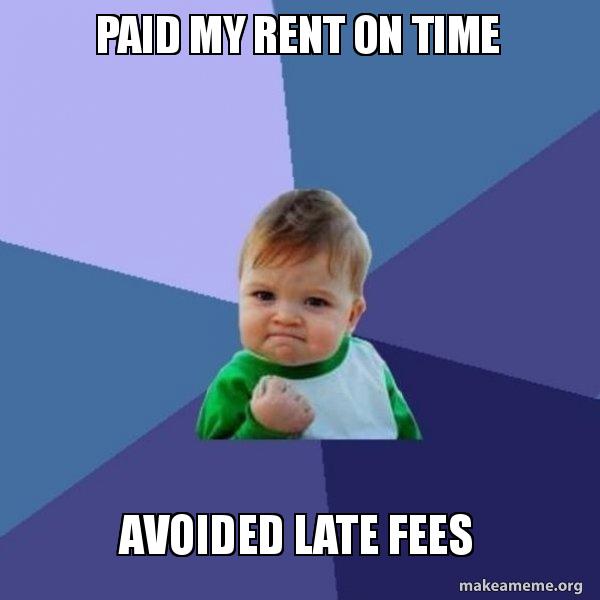 Lightbulbs
While it might not seem like the typical "smart house" feature, switching out your old lightbulbs for energy-efficient ones IS smarter, and will ultimately save you money in the long run (not to mention, it'll save the planet some green as well). Landlords tend to pay less on electric bills if they have energy-efficient lightbulbs installed, which makes sense. If it's saving you energy, it's also likely saving you some money. Now that seems pretty smart to us!
There are also truly "smart" bulbs that you can buy and control with your phone. Systems like this one by Phillips also lets you change the color of the bulb, should you wish.
Lobby

Your apartment lobby is one place you can really turn into a smart hub. Now. your initial response might be to try to make everything wireless. Wireless means better and newer, right?! Well not exactly. In fact, there are very few machines that run better if they are wireless versus wired into a connection. If you do have a wireless router in your lobby, be sure to avoid placing it near any concrete, metal, or fish tanks. Instead, place it in an open area where it won't have to fight with other materials to get a signal through.

One nifty feature you can use to make your lobby seem high-tech is by controlling everything from the thermostat to the lightbulbs with your phone. Guides like this one from the New York Times will show you how to get started in transferring all the switches in your lobby or apartment over to your phone!

There are so many ways to make your apartment homes smart! Be sure to check out BroadBandSearch for even more ways to be safe and save money! Businesses must keep up with modern society, and it's especially true for apartment communities. Your apartment residents will want to know they're saving both energy and money with all of the newest smart home gadgets offered today.

However smart your apartment is, one of the smartest decisions you can make for your property is to invest in a good marketing plan. Contact us today at Marketapts for more information on a free demo! We love everything about apartments and would love to help you and your property.

If you're interested in getting more apartment tips like this one, email us at sales@marketapts.com or visit our website!

Tags: apartment marketing, for landlords, for property managers, smart apartment, smart home, smart house, turn your apartment into smart home


Categorised in: For Property Managers

This post was written by Market Apartments