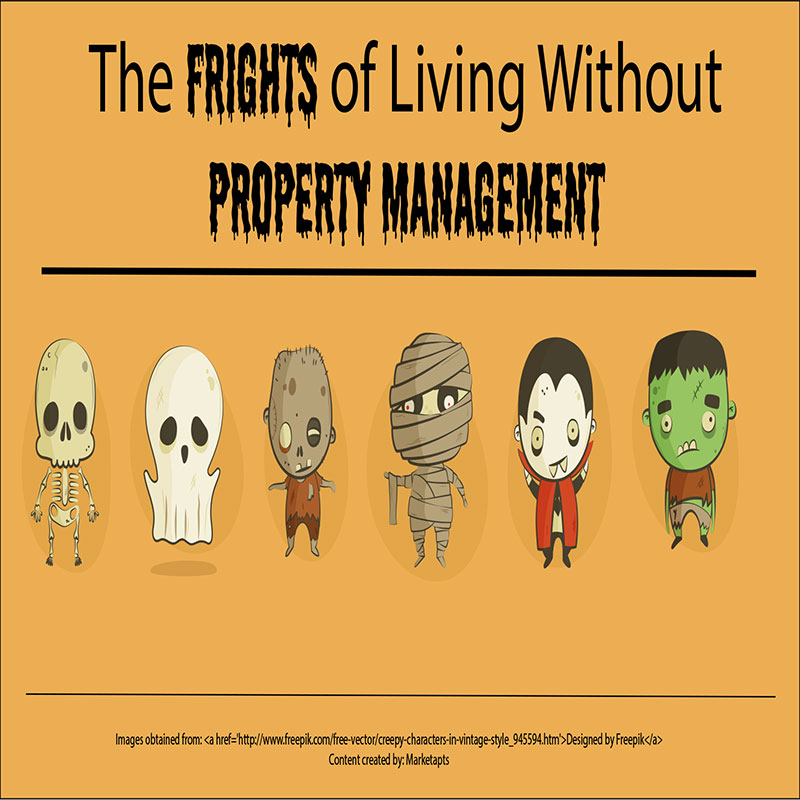 October 10, 2017 9:44 am
Leave your thoughts
Last Modified: November 13, 2023 2:03 pm
Reading Time:
3
minutes
As you shop for apartments, you might notice that some apartment communities are managed through a property management company, while some are just rented through landlords or (even worse) subletted through tenants. So, why go with a property manager? In honor of October, we've composed our six frights of living without property management, to help you make an informed decision about your apartment!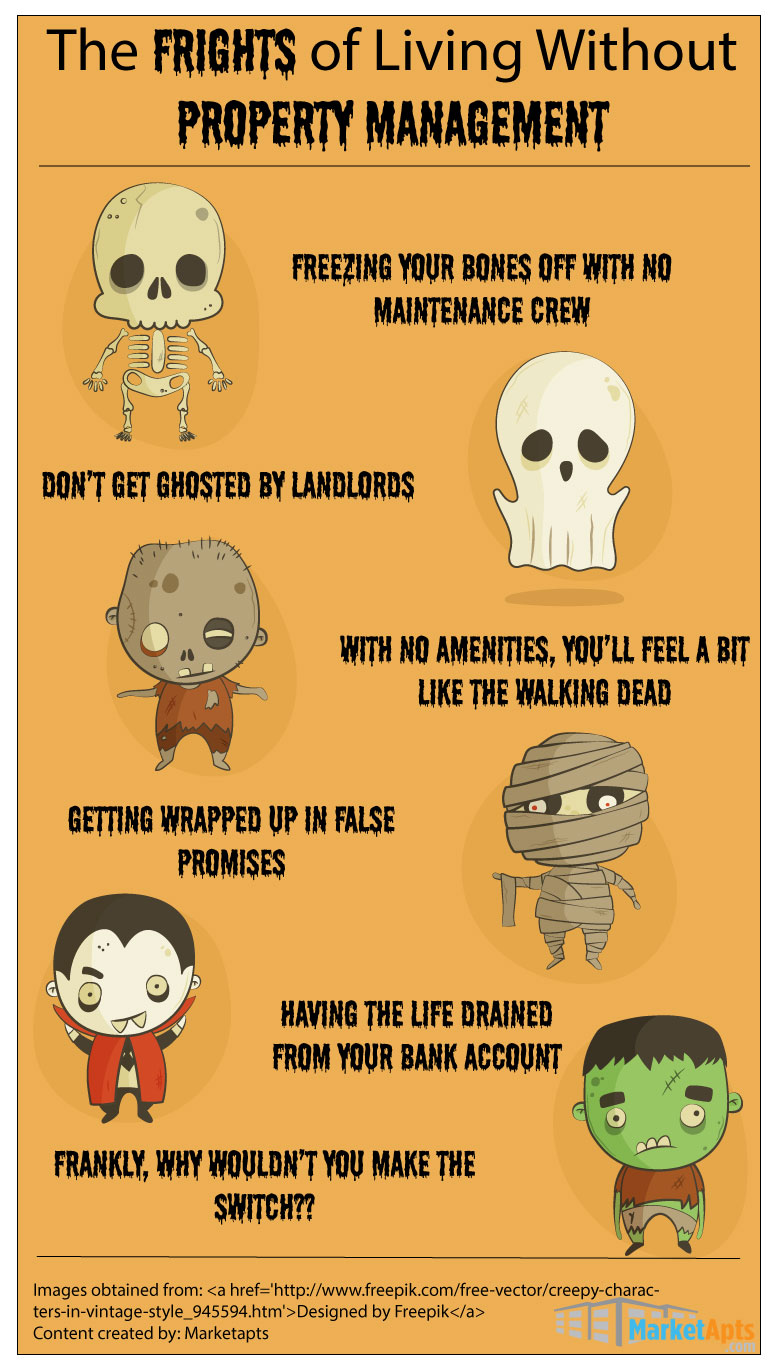 1. Avoid Freezing your Bones Off!
The air is chilly and you don't want to feel like the fake skeleton that's a decoration for your front lawn for Halloween! Stop us if you've heard this one: it's December. Your radiator breaks and your landlord assures you that she will come out to fix it as soon as she's done with her nephew's birthday party.
Six days go by with no word from your landlord. Meanwhile, your toes have turned blue, and you've piled every blanket in your apartment on top of you and your dog for warmth!
With a property management company, there are on-site maintenance crews whose entire jobs revolve around fixing your unit in a timely manner. No more out-of-state landlords who have a cousin to fix your appliances when they can, or a busy landlord with five other properties. And the best part is, you can reward your property management group when they do a good job with a good review, unlike a landlord!
2. Don't Get Ghosted by Landlords!
You may or may not be familiar with the term "ghosting," but in modern slang, it refers to the concept of heavily texting/communicating with someone when all of a sudden, they disappear! They won't answer your calls or texts. They've turned into a "ghost" of sorts. Yikes!
As terrible as this is when it happens to someone you're dating, it's even scarier if it happens with your landlord! Maybe there's a leak in your roof. Perhaps you've found some pesky pests in your trash. Whatever it is, you call your landlord about it, and they don't return your calls!
Property management companies have an office onsite as well as an office number where you can physically talk to the company about your problem. No ghosting here!
3. Feel too Much like a Zombie Walking Through your Apartment?
The difference between a good apartment and a great apartment is, of course, the amenities included! A pet-friendly apartment is good. A pet-friendly apartment with a bark park, dog-washing stations, and onsite dog walkers is GREAT! Let your apartment show you how much it cares through its actions.
Does it take care of you in the summer with a shady outdoor pool? Does it warm you in the winter with a hot tub? Without amenities, do you feel like you're just walking through life but not really living up to your potential? Don't be a zombie this winter! Warm up your life with a 24-hour fitness center or a grill area!
4. Getting Wrapped Up in False Promises or Having your Bank Account Sucked Dry.
We know, we know. Some independent landlords promise you A LOT! They promise a fast and easy mode of communication, cheap rates, and a laidback attitude. Sounds great, right? Not so fast…
The truth is that property management companies can just be better suited to handle communication with their residents. Property managers can offer residents online bill pay services, maintenance requests submitted through texting, and online applications, among other services.
Don't get wrapped up in the allure of landlord promises, and don't have your bank account sucked dry! Research your apartment community and find the right package for you!
Frankly M'dear, Find Someone Who Gives a Flip About You!
Apartments can be a good place to live, cozy even. But as a resident, you deserve the best! All treats, and no tricks! Find the apartment today that gives you more of a reason to celebrate October's spookiness, rather than fear it.
If you liked our article, please subscribe today to our newsletter! We'll send you more just like this!
If you're more interested in apartment marketing or our services, contact us today! We'd love to hear from you.


Categorised in: For Property Managers, For Renters
This post was written by Market Apartments