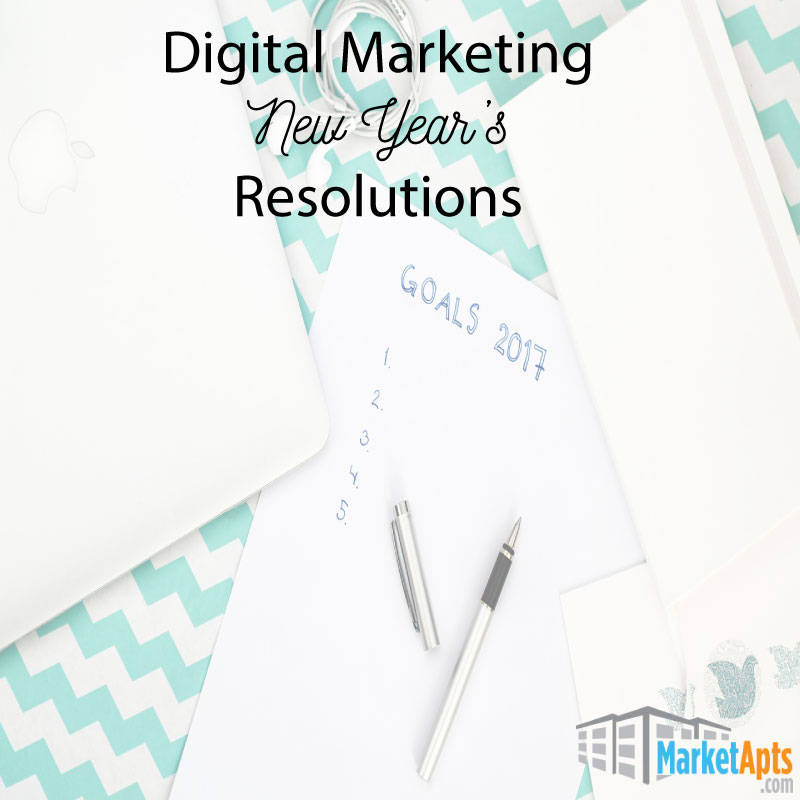 December 28, 2017 1:09 pm
Leave your thoughts
Last Modified: November 14, 2019 9:17 am
Reading Time:
2
minutes
The New Year is a time for self-improvement and resolutions. This next year, why not apply some of those good thoughts and vibes to your digital marketing? As a digital marketing company specifically dedicated to apartments, we've come up with our four best digital marketing New Year's resolutions for apartment communities: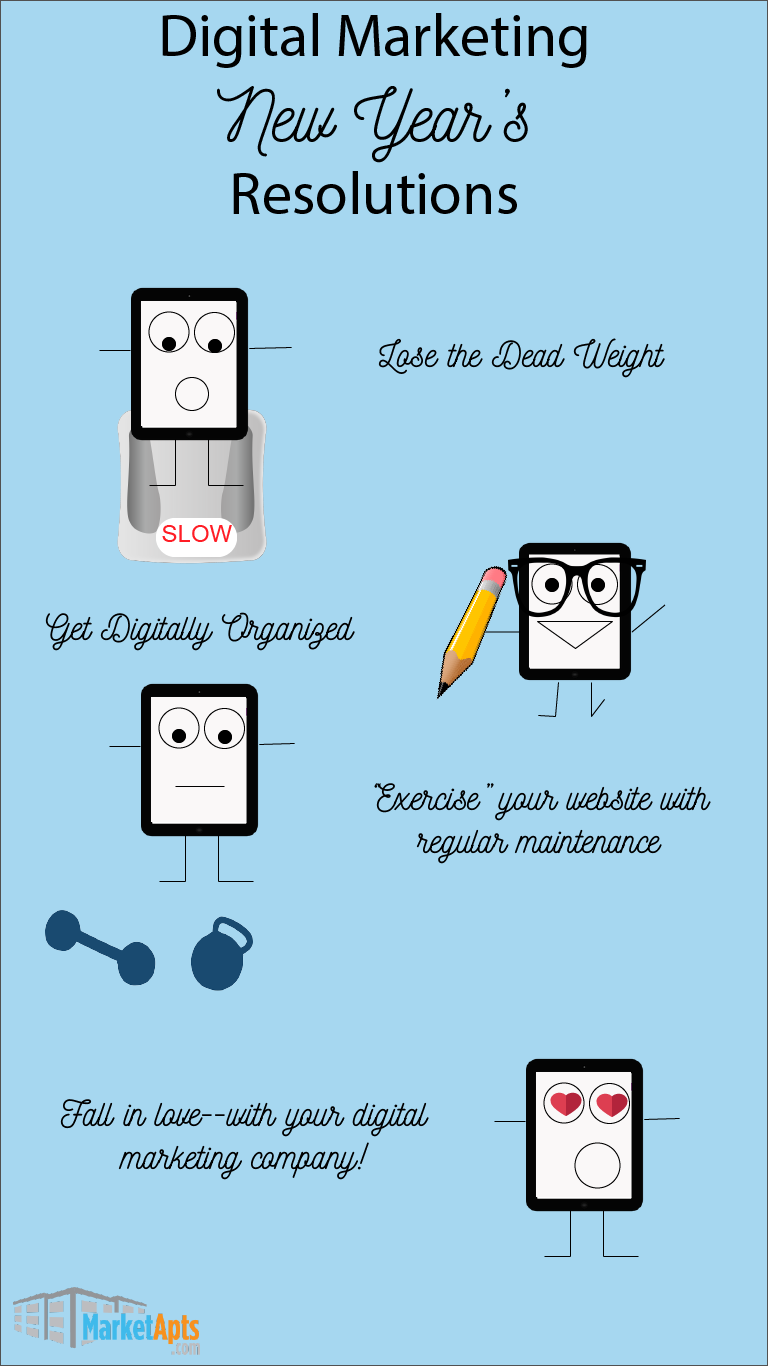 Help your website lose the dead weight….of slow loading times!
Losing weight is considered the number one New Year's resolution on people's lists. But what about your website? Have you considered helping your website shed some dead weight, in order to help it load more optimally?? Just like you, your website runs faster the less it carries. In this case, start with images that are large and unnecessary text. We suggest this New Year's, in order to help your website stay in prime condition, to compress your images and run regular speed tests.
Get organized! Digitally organized, that is.
Starting your 2018 year off organized is critical for your digital marketing strategy. Consider keeping a social media campaign calendar  to help keep on track for your digital posts, as well as keep cleaning checklists on hand in your lobby for residents at move-out. While there are many companies out there to help you organize your digital efforts, there are also many templates to keep your own calendars, including the ones we've linked above! The key to staying organized in your digital marketing is to keep good records!
Make sure your website stays fit and healthy.
Just like you, your website needs regular maintenance to stay fit and healthy. We strongly recommend keeping regular tabs on your SEO to ensure that your website is getting traffic that converts into leases. Google algorithms change constantly, and you'll need to be monitoring how your title tags, meta descriptions, and keywords are performing. There are many online tools to help you monitor SEO performance, including Moz, where you can see top keyword searches, or even through Google Analytics.
Of course, you can also just go to your digital marketing company, which (if they're worth their salt) will already be monitoring this information! Which leads us to our last resolution….
Fall in love! ….with your digital marketing company.
Your apartment website deserves a digital marketing company that cares about you and cares about your digital presence. Look for digital marketing companies that offer you quality websites, constant SEO monitoring, personalized content, and … To learn more about what a digital marketing company can do for you, your property, your social media, your website, and your online presence, try out a free demo!


If you liked this story and want more information on digital marketing, please visit Market Apartments!

If you'd like to see more content like this, leave your email and we'll sign you up for our weekly newsletter!

Tags: apartment digital marketing, apartment resolutions, digital marketing, for property managers, new years resolutions, new years resolutions for digital marketing


Categorised in: Apartment Marketing

This post was written by Market Apartments