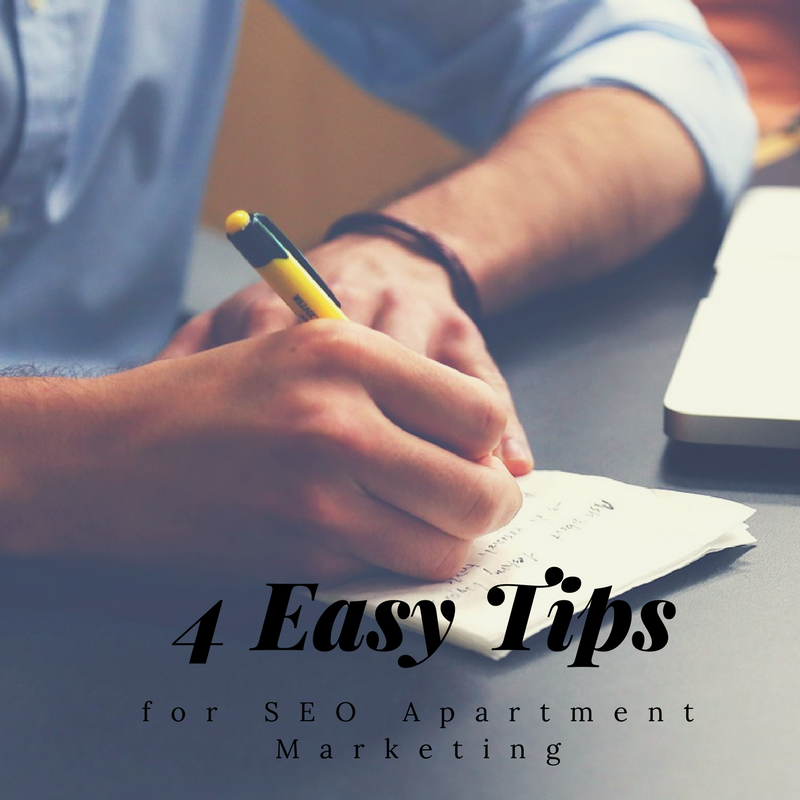 November 21, 2017 2:50 pm
1 Comment
Last Modified: May 15, 2023 3:58 pm
Reading Time:
4
minutes
Quick! You're at a trivia competition and someone asks, what is SEO? Here are some options:
You've probably figured out by now that the option is D, all of the above! But ok, we all know the importance of SEO and apartment keywords. Everyone talks about it. But just what is SEO?
Search Engine Optimization
SEO stands for "search engine optimization," and it refers to the probability of ranking high in an internet search for your business. For instance, if I type in "apartments for rent in Salt Lake City, Utah," you would use SEO tactics to ensure that your apartment appears on my first page of Google searches.
The Importance of Apartment SEO
But just how important is search engine marketing for apartments? There's a popular computer joke that goes "where's the best place to hide your secrets? On the second page of Google!" The joke works because very few internet users make it past page 1 of Google. How few?
Academic research indicates that 91% of searchers do not go past page 1 of the search results and over 50% do not go past the first 3 results on page 1. In a time when most apartment searchers are using the internet to find their next homes, you'll want to be in their top searches.
SEO is also one of the most effective (and cost-effective) ways to rank higher and get more organic traffic to your website. When you optimize your website content for search engines, you get more leads and build more trust with potential tenants,
How to Use Apartment SEO
Now that we've established the importance of using SEO, let's see how we can ensure a top place on Google searches. Google uses complicated algorithms to figure out who should get top billing on the search, but luckily for you, we've studied these algorithms for years so you don't have to!
SEO above all is an art form. There are no quick fixes or guaranteed results, but there are some well-used practices for good apartment SEO that you can implement today: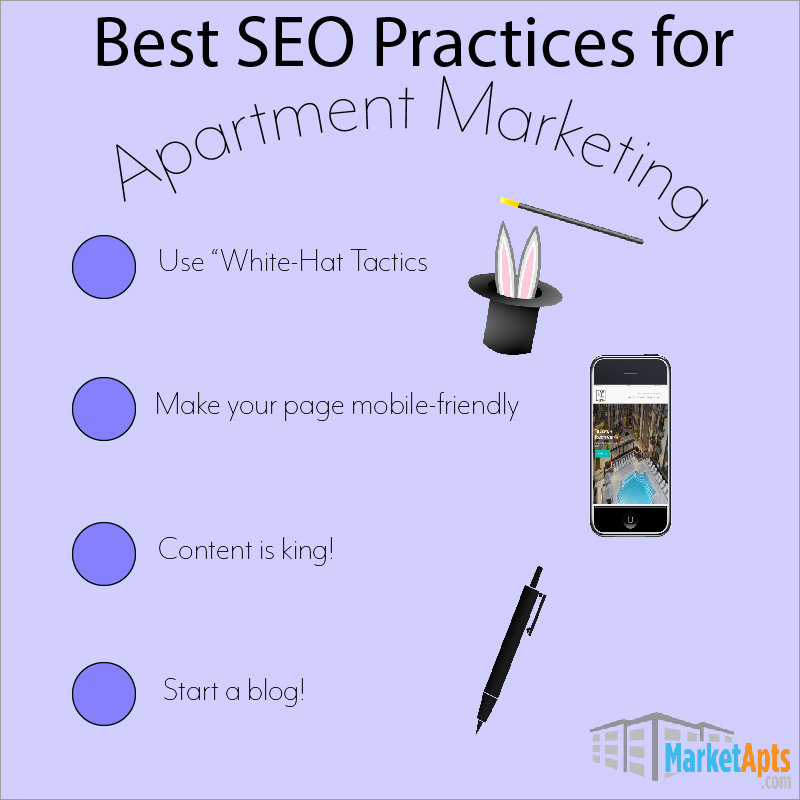 4 Easy SEO tips for Apartments
Use "white-hat" tactics. Many SEO companies will promise unbelievable results fast. These deals are often too good to be true and employ what we call "black-hat" practices. These practices are very spam-y, and annoy internet users due to their aggressive sales techniques. These practices focus on "fooling" Google's algorithms to get a top spot, rather than catering toward a human audience. Google has gotten quite good at spotting black hat practices, and will penalize you heavily for using them. If you get caught using black hat practices, Google will bury you on page 10, possibly fine you, and cost you thousands in lost revenue. It is NEVER a good idea to hire a black-hat company, so don't be fooled by these empty promises.
Make your website mobile-friendly. With so much mobile traffic these days, it is imperative for your site to be accessible on cell phones. This includes shortening the load time, and making sure your images are sized correctly for mobile. If your users have to wait more than 3 seconds for your site to load, you've likely already lost them to another site.
Focus on good content. There's a saying among SEO nerds that "content is king." Things like keywords, great title tags, and solid meta descriptions all help your SEO to rank first, but nothing can beat producing quality, shareable content. If you produce a digital product that people like looking at or reading, then you will get traffic to your site. It's that easy!
Start a blog! Starting up a blog for residents or prospective leads does several things: it increases the amount of shareable content you are producing, it gives you the opportunity to collect backlinks (imperative for SEO), and it funnels traffic to your site. Create something beautiful, and you'll see a difference.
The Bottom Line
SEO can be tricky. Even the best in the business have to constantly review Google's latest algorithms, Bing's upcoming projects, and Yahoo's practices. SEO errors are really common and can hurt your online visibility, but they are also avoidable. With a little basic knowledge and clever keyword research, you can make the most of all a search engine can do for your apartment website.
If you're not dedicating some serious time to studying SEO, it can seem very overwhelming, but we want to help! Contact us today at marketapts.com/apartment-marketing, and we can set up a FREE demo of our blog services, a free marketing consultation, or talk through web design with you.
We love everything apartments, and we'd love to see you again! Contact sales@marketapts.com to get on our newsletter and receive posts just like this one, delivered right to your front email inbox!


Sources:
Using the Internet: Skill Related Problems in User Online Behavior; van Deursen & van Dijk; 2009
Categorised in: Apartment Marketing
This post was written by Market Apartments