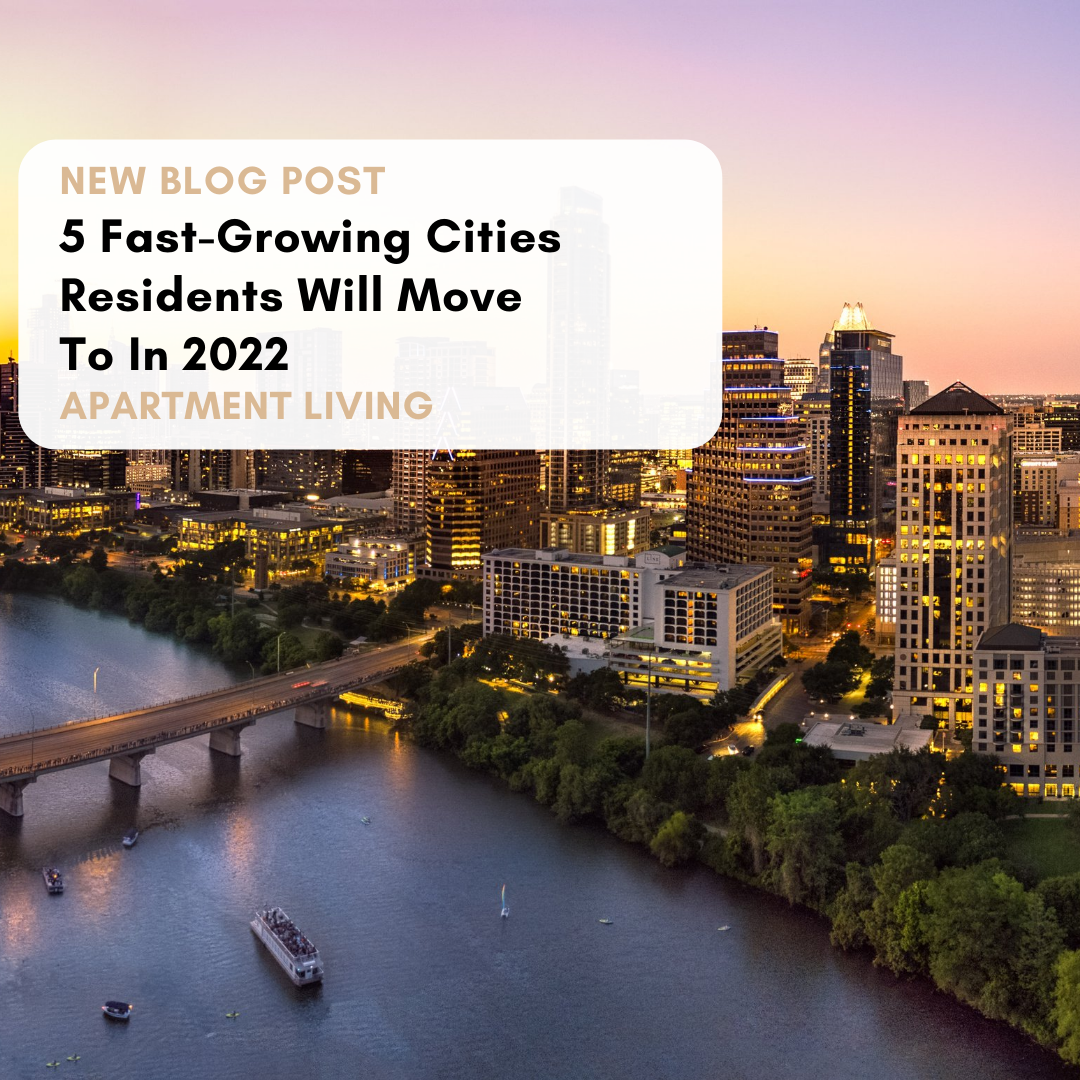 January 19, 2022 8:00 am
1 Comment
Last Modified: August 15, 2022 6:54 pm
Reading Time:
4
minutes
2022 has brought several new places onto the fastest-growing cities list! With economic changes everywhere, new and old cities alike are finding themselves with rapid growth. You may be surprised with the cities taking off and flock to be a part of them.

Chances are, you're right around the corner from new opportunities and a new lifestyle. Apartment living starts and ends with your location, so it's time to find a place that you love to live. If you're in the process of relocating or looking for a new adventure, explore the cities below.

1 – Austin, Texas

Austin, Texas, is becoming the new hip spot to live! Austin is known for having friendly locals, a delicious food scene, and a generally low cost of living. The economy of Austin is on the rise, and the unemployment rate is steadily decreasing. It is known for being one of the most sustainable cities in the country! If going green is important to you, you will love living in Austin.

If you're a fan of consistently good weather, then Austin might be the perfect spot for you. Year-round warmer temperatures allow for more opportunities for water sports and outdoor recreation activities. Austin is known for being a diverse city with many cultural highlights. Residents embrace trying new food and finding new hobbies. If you want a fast-growing city that's on the rise, then look on further than Austin!
2 – Denver, Colorado

Are you looking for the perfect blend of nature and city life? Denver, Colorado might just be the place for you! However, the main reason people are flocking to Denver is the number of job opportunities. The average income is growing along with career possibilities. The unemployment rate is constantly getting lower in the Mile High city. If you have been thinking of starting over or searching for a new job, Denver will be an excellent option for you.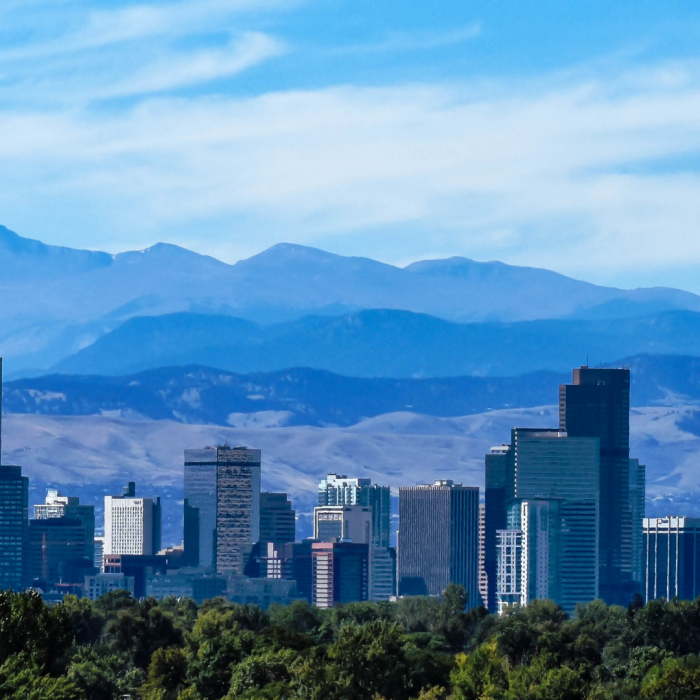 Colorado is known for being a safe and affordable place to live! With great restaurants, hiking and biking trails, and mountains close by; it's a palace of nature. Living in Denver gives you the option to dive into whatever hobbies you want to enjoy. Here, you can also embrace all the seasons of weather! For many years, it was underrated, and residents are now starting to realize its greatness.
3 – South Jordan, Utah

South Jordan brings the world of Salt Lake City to your fingertips! Located about 20 minutes south of Salt Lake, you'll still have the same excellent access to everything that the city has to offer. There are many reasons why South Jordan, Utah is one of the fastest-growing cities. Neighborhing cities, including Draper, Lehi, and Bluffdale, are booming with job opportunities. New tech companies are spreading throughout Utah Valley, making it feasible for most people to dive into a new career!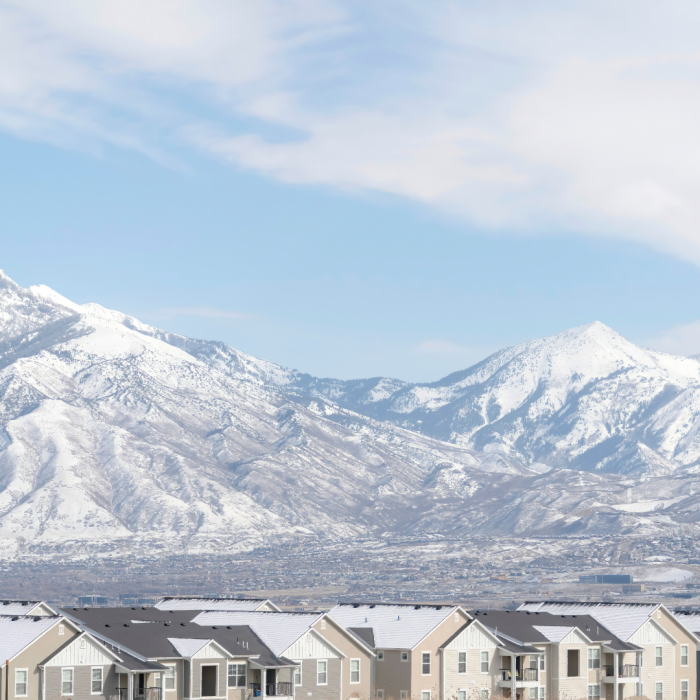 Utah continues to rise as one of the fastest-growing states and economies, but that isn't all Utah has to offer. Don't miss out on endless outdoor opportunities and stunning local attractions. Utah's residents follow in love with the mountain views and picturesque landscapes. If you're looking for a family-friendly city that also places you near gorgeous opportunities to enjoy nature, then Utah is the place for you.
4 – Henderson, Nevada

Calling all warm-weather lovers! Henderson, Nevada, is becoming one of the best places to live with its year-round sunshine and endless opportunities. For people who are seeking to live the Nevada lifestyle but don't want to be located in Vegas, Henderson is the perfect place. It gives you close access to entertainment and outdoor recreation while keeping you in the suburb feel.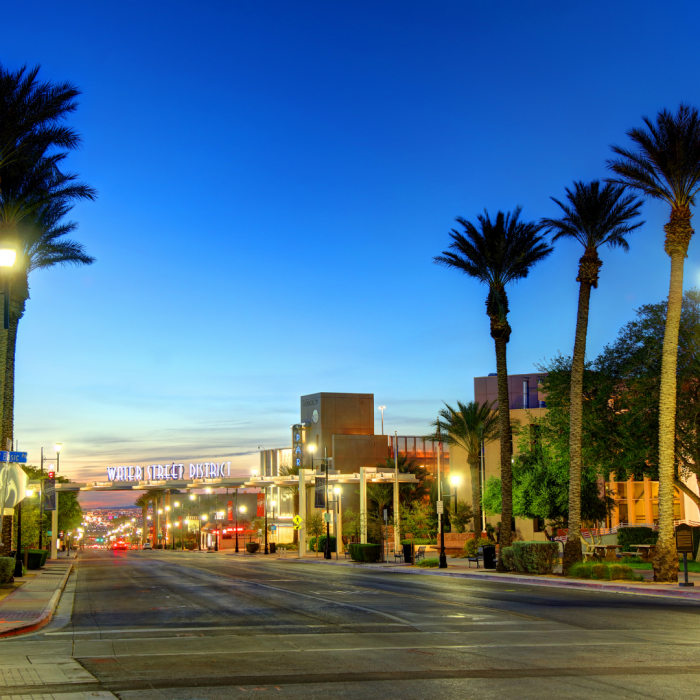 Henderson also provides an excellent central location that is close to California as well as Utah and Arizona. If you're looking to travel locally, it's a great option! Not to mention, you can also save money. The desert landscapes require little to no yard maintenance plus you will have low heat bills in the winter. If you're ready to dive into the pool all year long, then Henderson is definitely for you!

5 – Meridian, Idaho

Boise has been on the list of fastest-growing cities for the past several years, but what about its neighboring city, Meridian? Meridian is the perfect example of what happens when a large city begins to grow. Often, the neighboring cities will start to take off around it! Meridian is next to Boise and still provides you with all of the access you're looking for to shopping, dining, and local attractions.

Meridian also features incredible recreation opportunities for outdoor lovers. It is a highly family-friendly city that offers also has low crime rates. One of the major perks of living in Meridian is affordability. Many people say that it is a fantastic place for everyone to live!
Categorised in: Apartment Living
This post was written by Isabella Housel